Have you ever seen a vintage postcard from Hawaii? Then you must have seen an outrigger canoe. It is a sleek and long vessel that ancient Hawaiians have used for centuries. Incidentally, the same vessels were the ones originally used to discover the Hawaiian Islands.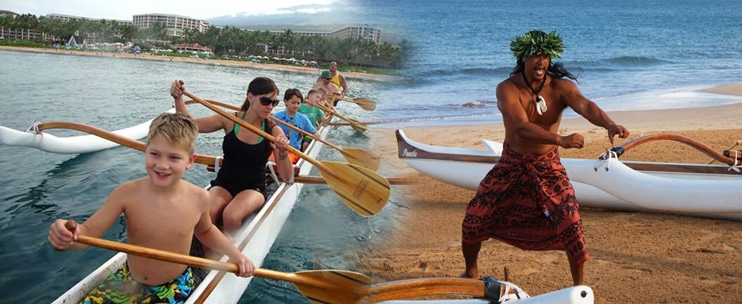 These days, these vessels are utilized for water activities, including intramural racing and whale watching. 
Did you know that visiting Hawaii is not complete without listening to its marine life, culture, and history? What if we tell you that you will hear all of these right from the majestic Hawaiian waters, while paddling on your canoe? Join Hawaiian Outrigger Experience in a unique, fun-filled canoe tour while reliving a part of ancient Hawaii. Learn about the art of canoe paddling and the navigational techniques used by Polynesian explorers when they sailed the Polynesian Triangle, from New Zealand to Napa Rui To Hawaii! This could be a good alternative for visiting museums, so tag along with your kids, spouses, partners, and friends and start creating a long-lasting memory! 
Before checking-in, remember to bring essentials that you need in this exploration, including towels, swimwear, reef-safe sunscreen, sunglasses, and of course a water-proof or underwater camera! Remember everything on your canoe will become wet. Who wants to miss capturing all the stunning views and beautiful marine life you will see? Also, you might not resist taking selfies with those beautiful turtles or colorful species of fish once you see them.
Hawaiian Outrigger Experience offers three canoe tours: Cultural and Turtle Tour, Snorkel Tour, and the Whale Tour. Starting off your journey at Wailea Beach on South Maui, paddle off your canoe to Turtle town where you can see honu and honu'ea or Hawaiian green sea turtle and Hawksbill turtle. You can swim with them or simply watch as they swim alongside your canoe. As you paddle, your guide will narrate stories, myths, and other informative facts about the area, as well as the sea life. The water here is calm mostly in the morning, so this activity is ideal for families with small kids, first time paddlers, and individuals who are looking for calm ocean experience.
Are you a snorkeling fan? Then you might find the snorkel tour interesting! Snorkel above vibrant coral reef gardens and swim with turtles and species of fish that you can find only on these islands. Your knowledgeable guide will look for the best spots where not a lot of people are snorkeling, so you can get closer to these lovely creatures.
Another exciting canoe tour is the Whale Tour, which is only available from December to April. If you are lucky to visit the island at these times, you will be treated with Humpback Whales or Kohola sightings during this trip. No experience needed – from children to elderly or wild travelers, this will be an epic experience for everyone!
Here's a little trivia for you: Did you know that these gigantic marine life travel 3,500 miles from their feeding grounds in Alaska to Hawaii to mate and give birth? During the summer season, they feast on schools of krish and small fish, and when the Alaskan waters become too cold, they migrate to the tropical waters of Hawaii. So, it's most likely that you will see many baby whales on this tour.
Special Instructions
Cultural & Turtle Tour: 7:00 am, 8:00 am, 9:00 am, 10:00 am, 11:00 am (1 hour tour)
Snorkel Tour: 7:00 am, 8:30 am, 10:00 am (1.5 hour tour)
Whale Tour (Dec-April): 7:00 am, 8:30 am, 10:00 am (1.5 hour tour)
Check-in time:

15 minutes before your scheduled tour time at Wailea Beach 
Directions:

The check-in location is in between the Grand Wailea and Four Seasons resorts. From the Wailea Beach public parking lot, walk down the beach access stairs to the right. Check in is under the orange umbrellas.
Restrictions:

Children must be at least 5 years old to participate. All tours are dependent on safe weather conditions.

Operations:

Daily

Duration:

1-1.5 hours

Capacity:

Maximum of 6 participants