Lucky are those who live in Maui for they get to wake up with its beauty and gift of nature every day.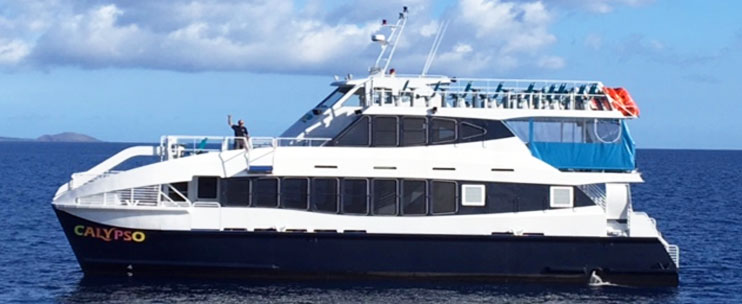 If you're one of those countless people who are mesmerized with such paradise, there's one exciting adventure that's worth your Maui bucket list. 
Why don't you try the Sunset Dinner Cruise on a Calypso Catamaran? It's a stable, comfortable and triple deck vessel that provides all you need in a dinner cruise, highlighted by a mouthwatering dinner and refreshing beverages. It departs from Ma'alaea Harbor, sailing across the Hawaiian waters with stunning views on sight, including the beautiful sunset with entertaining live music in the background. So, what are you waiting for? Book your tickets now because it sells too fast!
Calypso Sunset Dinner Cruise: What to Expect?
Check-in at the Ma'alaea Harbor at least 30 minutes before it's departure at 4:30 pm (October-March) or 5:00 pm (April-September). You can park near the boat for a very minimal fee. There is no dress code for this trip, but we recommend bringing a hat or something that protects your face because the front of the boat gets too sunny or windy. You don't want a sunburn or windburn when you leave the vessel. 
Take your time exploring Calypso to find the right spot to hang around for the next two and a half hours. Well you can move, but there is always a favorite, isn't it? It is 4,000 square feet so don't be surprised with its roomy space, inside and outside the cabins. In fact, it can also accommodate large corporate events, and you will see tables for two up to ten. All three comfort rooms are on the lowest deck, in case you missed. Once you find your perfect space, settle in and order a tropical-style drink as the boat starts to sail.
A friendly crew tends the bar, where you can order mai tais, blended drinks, wine, or beer for your two complimentary beverages. You can ask for more if you wish, at a reasonable cost. And then, music starts to play in the background. That's their talented musician who will play old and new songs throughout the cruise. 
When it's time for your most-awaited dinner, the onboard Chef starts carving the flavorful, juicy prime rib. Upon booking, choose from a wide selection of their entrees such as a lobster tail, baby back ribs, drunken chicken, roasted prime rib, or an island-fish (mahi mahi or ono). You can also request for some meal adjustments if you're following a particular diet, or have some food allergies. The latest time to let them know is until noon on the day of your booked schedule. The professional Chef is more than happy to modify your menu for your enjoyment. All of these main courses are accompanied by mashed potatoes, vegetable medley, salad, and a delicious dessert. 
While indulging in your food, the crew keeps coming back to you for whatever you need, and at the same time, wipes away whatever is unnecessary on your table. They care for the ocean, so nothing is thrown on the water.
After Dinner Treat
After the meal, it's time for another round of fun. You may carry your drinks and find another area to watch the beautiful sight that's surrounding you. Of course, outdoor is the best place to watch the islands of Kaho'olawe and Lanai from a distance. You would also see the historical Molokini Crater. Did you know that the American soldiers bombed this island for practice in World War II? Now it has become popular, primarily for snorkelling and scuba diving that could be your next exploration. And don't forget the magnificent sunset, which emanates a beautiful blend of orange and red.
Closer from the vessel, you can see the 1.7 million years old Kahalawai Mountains in West Maui. Have you readied your camera yet? You should have taken a multitude of pictures by now. But this time, it's different. Because if you get lucky, you can spot marine mammals like humpback whales that are visiting from the islands of Alaska. Savor each moment while it lasts because at around 7:30, you're on your way back to the Ma'alaea Harbor.
MENU
Entrées (Choose one per person):
8oz Lobster Tail with drawn butter cooked onboard
Hawaiian Prime Rib (hand-carved by the Chef onboard) with Au Jus and Horseradish Sauce
Smoked Baby Back Ribs with Sweet and Tangy Barbecue Sauce
Drunken Chicken (with Maui Brewing Company's Coconut Porter) accompanied with Sweet and Mild Barbecue Sauce
Sauteed Mahi Mahi or Ono on a Bed of Spinach and Tomatoes Topped with Lemon Caper Butter
Veggie Option: Mushrooms, Grilled Zucchini with Spinach, and Onions
*All selections are served with: 
Mashed Red Potatoes with Gravy
Caesar Salad with Parmesan Cheese and Croutons
Sautéed Vegetable medley
Fresh dinner rolls with butter
Dessert: Sweet chocolate cake or cheesecake
Beverage: All Hawaiian-style must-have cocktails including Mai Tai and Pina Colada (first two are free)
ALL FEES INCLUDED
Operates daily
If booking Friday night, please call for availability.
Reception Plans require 24 hours notice to book.
Please see our Holiday Cruises for Valentines, Easter, Father's Day, July 4th, & New Year's Eve.
Special Instruction
Where and When: Sept. 16th – March 14th: Check-in at 5:00 pm. Departure at 5:30 pm. Return at 7:30 pm.
March 15th – Sept. 15th: Check-in at 5:30 pm. Departure at 6:00 pm. Return at 8:00 pm.
Departs from Ma'alaea Harbor, Slip 82 (Once you pass slip 80 you will see the vessel.) View Map
Parking is free at Ma'alaea Harbor.
Restrictions: There are no specific restrictions for this activity.
Operation Days: Monday, Wednesday, Friday & Sunday
Duration: 2 hours
Vendor: Calypso Charters
Island: Maui
Capacity: 120 passengers
Equipment: The Calypso is a spacious, 149 passenger power catamaran designed by Incat Crowther in Australia and built by Navatek on the Island of Oahu. Some of the Calypso's most exciting features include 4,000 square feet of comfortable and covered passenger seating spread throughout three separate decks. The catamaran is equipped with three restrooms, including an ADA accessible restroom.