This is a Maui ocean adventure that is one for the books!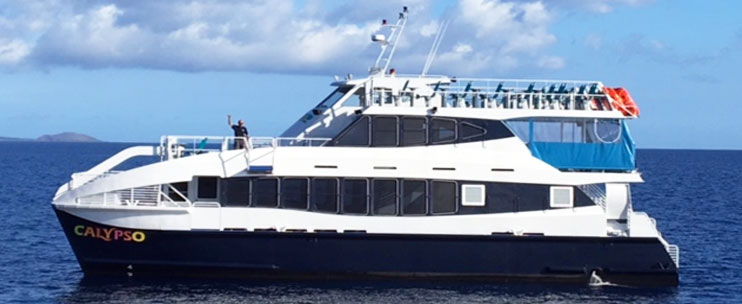 Calypso Charters' Molokini Snorkel and SNUBA Adventure is perfect for the thrill seekers and adventure lovers, as it features not just one but two prime snorkel locations on Maui Island! If you want to fully experience the spectacular beauty of Maui underwater and make your trip to Hawaii an amazing and memorable one, then this tour package is certainly what you are looking for. This is a booking you will not regret, that's for sure!
Calypso Charters' Molokini Snorkel and SNUBA Adventure utilizes a high-powered catamaran that can comfortably seat up to 149 passengers. Designed by a well-renowned Australian company, Incat Crowther, this vessel, proudly called the Calypso, is especially customized with cushioned seats, spacious view decks, two freshwater showers, and, best of all, a jump platform and water slides for that exciting drop into the clear, turquoise Maui waters! 
This is what's awesome about going on this Calypso Charters tour — the cruise alone on board the Calypso is already a treat on its own. You and your companions will surely enjoy the smooth and comfortable ride en route to the best snorkel sites along the scenic South Maui coastline!
As mentioned, Calypso Charters' Molokini Snorkel and SNUBA Adventure will bring you to two identified spots with the best underwater views! One of these snorkel sites is Molokini, a crescent-shaped volcanic islet that is known to be one of the best snorkel locations in Hawaii and the whole world. Here, prepare to see vibrant coral reefs, untainted rock formations, and diverse sea life, all of which you will get to easily and comfortably view because of Maui's pristine waters. Another popular spot that you will get to visit and explore in this tour is Turtle Town, where you will catch sight of underwater lava arches and a lot more of Maui's beautiful reefs and marine organisms. Truly a spectacle that is quite like no other!
Calypso Charters does not only feature an amazing sightseeing and marine encounter experience, but it also offers two scrumptious meals to ensure that you are loaded and energized for your Maui adventure. Without a doubt, this Molokini Snorkel and SNUBA Adventure tour package is a feast for the eyes and the senses, and the tummy, too! Don't miss out on this opportunity — book a slot now!
Tour Highlights:
Get a chance to visit two top-rated snorkel sites on Maui Island, Molokini and Turtle Town, where you can spend more than an hour at each site if the water and weather conditions permit!

Take lots of picturesque shots of the beautiful scenes above and below water

Ride the Calypso, a high-powered catamaran, complete with amazing features
Tour Inclusions:
Calypso Charters' Molokini Snorkel and SNUBA Adventure is inclusive of the following:
Snorkel equipment and flotation devices *

Continental breakfast with drinks

Hawaiian barbecue lunch with drinks **
* Wetsuit is not inclusive but is available for rent for a certain fee. Another optional add-on is the SNUBA (single dive), which is available for guests aged 10 years old and above.
** Vegetarian options are also available but must be requested prior to scheduled tour departure (request during booking). Complimentary beverages include water and soda. Alcoholic beverages are available for purchase on-board.
Breakfast Menu:
Ham and eggs

Pastries

Fresh fruits

Kona coffee

Hot chocolate

Herbal tea and juices
Lunch Menu:
Teriyaki glazed chicken or pulled pork barbecue sandwich

Macaroni salad
Note: Breakfast and lunch food options are subject to change without notice.
Special Instructions:
Check-in time is at 7:00 AM. Make sure to check in early as the tour will depart at exactly 7:30 AM.

Check in at Ma'alaea Harbor, Slip 82.

There are no age restrictions for this activity, but if you wish to avail of the SNUBA optional add-on, note that SNUBA divers must at least be 10 years old to dive.

Calypso Charters may allow rescheduling within 24 hours of your scheduled tour date, but such changes are subject to a rescheduling fee of $40 per person, which is subject to change without notice.

Take note of this tour's operation days:

Tour duration is approximately 5 hours. Tour is set to return at around 1:15 PM.