What better way to maximize your Big Island getaway than by going on a Kona Coast ocean adventure!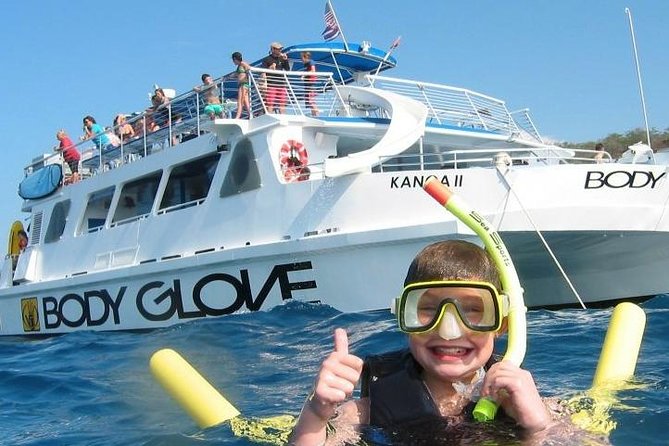 Come and join Body Glove's most popular tour package, the Deluxe Morning Snorkel and Dolphin Watch, for a morning of breathtaking views and marine life encounter in a tropical paradise that is Kona. If you are looking to make things more fun and exhilarating, then this activity is exactly what you need!
For this excursion, Body Glove Cruises utilizes the Kanoa II, a state-of-the-art catamaran that promises a safe and smooth ride to your destination. Equipped with great amenities like flat screen televisions and a full sound system, restrooms and showers, swim platforms, and shaded, cushioned seats, your utmost comfort and enjoyment are ensured on-board. The vessel's viewing decks are pretty spacious as well, so if you want to enjoyably gaze at the views of Kona on your way to your tour's designated snorkel destination and catch sight of playful spinner dolphins while you're at it, you will certainly get that, too! Sit back, relax, and enjoy the scenes; your Deluxe Morning Snorkel and Dolphin Watch is just about to get better!
After taking delight in that above-the-surface spectacle, it's time to check out what Kona Island has to offer down under! Kona Coast is a marine sanctuary home to crystal clear waters, preserved coral reefs and formations, and vibrant and diverse sea life, and this, precisely, is what awaits your arrival. Once Body Glove's expert staff and crew have assisted you in the proper snorkeling equipment and have discussed with you all that you need to know about snorkeling and Big Island's marine life, you're ready to have some sensational underwater fun! Get a glimpse of different species of vibrant reef fish, green sea turtles, dolphins, and many more, as they swim and enjoy themselves in their natural habitat–absolutely a spectacular sight that will leave you lost for words!
Body Glove's Deluxe Morning Snorkel and Dolphin Watch guarantees two full hours of water time, and when two hours has lapsed and it's time to head back, you will be served a scrumptious barbecue lunch to re-energize you after that action-filled morning! Relish the food, along with the views and the breeze on the way back, as you
Tour Highlights
Go on a relaxing sightseeing cruise along the scenic Kona Coast

Snorkel at a top-rated snorkeling location on Kona Coast, where you get to enjoy two hours of water time

Get an up close encounter with Big Island's diverse marine life, including reef fish, turtles, dolphins, and more

Have a smooth and enjoyable ride on the Kanoa II, equipped with a water slide, restrooms and showers, cushioned seats, and many more amazing amenities
Tour Inclusions
Body Glove's Deluxe Morning Snorkel and Dolphin Watch is inclusive of the following:
High quality flotation devices, toys, and complete snorkeling equipment (Action cameras and wetsuits are available for rent on board.)

Pre-dive briefing and safety instructions facilitated by Body Glove's Lifeguard-trained crew

Continental breakfast of:

Tropical fruits

Scones and other assorted pastries

Yogurt

Barbecue lunch of:

Grilled chicken sandwich

Sides of red cabbage slaw and chips

Cookies
 NOTE: Food options are subject to change without prior notice. Body Glove Cruises also reserves the right to amend tour inclusions in light of the COVID-19 safety measures and protocols in place at the time of the tour.
Special Instructions
Check-in time is 7:30 AM. Make sure to check in early as the tour will depart promptly at 8:00 AM.

Check in at Body Glove Cruises' main office in North Kona Shopping Center, located at 75-5629 Kuakini Hwy, Kailua-Kona, HI 96740.

In light of the circumstances brought about by the COVID-19, all guests must certify that: "I and anyone in my group are not displaying COVID-19 symptoms and have not been in contact with an individual confirmed with COVID-19 in the past 14 days. I accept to be subject to a non-contact temperature check, with the condition that any guest with a temperature of 100.4 F or higher will not be permitted to board. Lastly, I agree to wear a nose and mouth covering on the vessel, except when eating, drinking, and coming into and from the water."

If you are to bring your own snorkel gear, note that full-face snorkel masks are not allowed to be used in this tour.

The vessel is wheelchair-accessible (on the lower deck). If you are boarding a wheelchair, please inform in advance so that an appropriate pier parking slot will be reserved for you. Do not forget your handicap placard to take advantage of this offer.

This tour operates every Tuesday, Thursday, Saturday, and Sunday.

Tour duration is approximately 4.5 hours. Tour is set to return at around 12:30 in the afternoon.

NOTE: A portion of all proceeds of this tour is donated to non-profit organizations for the preservation and restoration of Hawaiian seas, sites, culture, and history.