Enjoy a fun ride on an underwater scooter and see Oahu's fascinating marine life up close.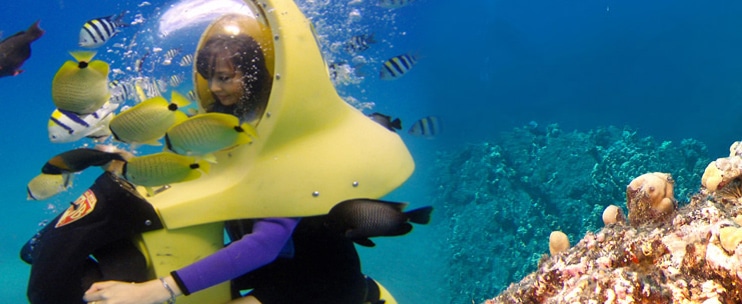 While sitting comfortably on a seat of a submersible scooter, your head will be in a clear acrylic Breathing Observation Bubble (or BOB for short), which is filled with air from a storage tank. The scooter is powered by a thrust motor that can reach a top speed of 2.5 knots. No scuba diving experience is necessary. The underwater scooter is easy to operate and also gets you away from the constraints of traditional scuba gear.
The tour begins at the Koko Marina Shopping Center in Hawaii Kai. After a short orientation session that includes complimentary coffee and tea, you will board the shuttle boat and cruise out to Maunalua Bay. A group of three people will submerge at one time, and a master diver will accompany and guide you. After the BOB adventure, you are free to swim or snorkel in the beautiful Maunalua Bay.
Tour Highlights
Fun ride on an underwater scooter
See plenty of tropical fish
Short ride on a shuttle vessel – great photo opportunities of Oahu's scenic south shore
Special Instructions
Where and When
Check in no later than 8:15 am at the Koko Marina Shopping Center (Suite E111)
7192 Kalanianoale Hwy, Honolulu, HI 96825. View Map
Waikiki Transportation
If pick up is selected please look out for a 14 passenger white Chevy van. Your exact pick up time and location will be in your confirmation email.
Restrictions
Participants must be at least 10 years old
Must be 4'0″ (122 cm) in height but less than 6'8″ (203 cm)
Must have no medical conditions.
Weight limit: 270 lbs.
Special Notes
Guests to provide own swimwear, cover-up clothing, towels & sun lotion.
Operation Days:
Mondays – Saturdays, 9:00 AM – 12:00 PM
Duration
3 hours
Equipment
Submersible Scooter with a Breathing Observation Bubble (BOB)