Escape from the hustle and bustle of the city and let the spectacular waters of Oahu's south shore in Waikiki relax you.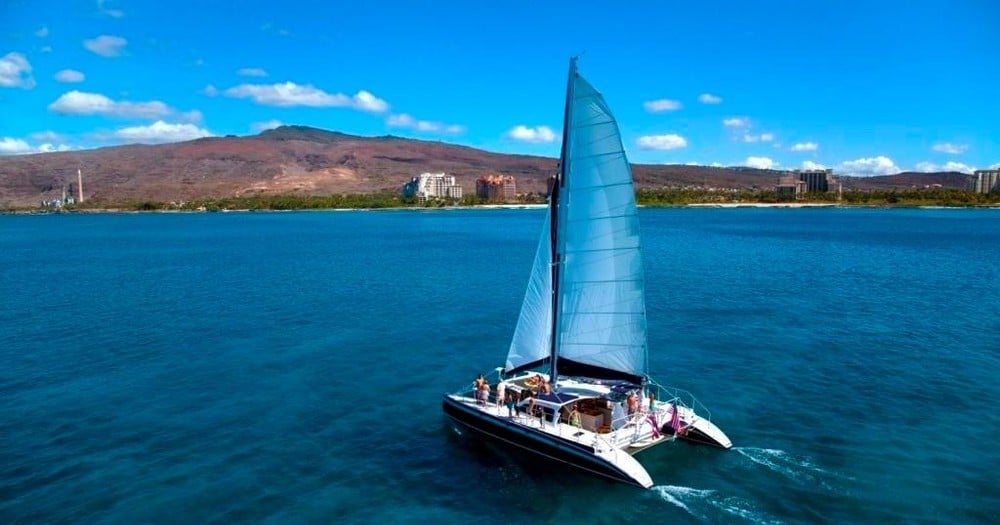 If you are looking forward to an intimate adventure with your friends or family, The Adventure Boat got your back! With their Boat and Snorkel tour, enjoy coastal sightseeing, marine life watching (turtles, fish, dolphins, and whales), and snorkeling.
Without the atmosphere of a crowded cruise, this trip is all about you! No other guests on the boat but you and your party. So, you have the focus and attention of the crew to ensure your safety and ultimate enjoyment. The best thing about this adventure is that you get to choose what kind of activities you would like to do. If you're thinking of something else not on their list, let them know, and your wish is their command! Book your tickets now and splurge in a customized unique Hawaiian escapade.
Sea Life Watching and Snorkeling
Before boarding on the boat, don't forget to apply sunblock, especially if your trip is after 10 AM. The sunlight in Hawaii gets to the brightest from 10 AM to 4 PM, so the ultraviolet rays (UVR) are more damaging at these times of the day. Also, ensure to bring swimming attire and towels because you get soaked along the way. A wide hat and sunglasses may help as protection from the sun, as well. 
Your trip typically lasts for 2.5 hours, and you are free to bring food and drinks in case you get hungry along the way. They supply you with bottled water, soft drinks, and snorkel equipment anyway.
Starting at Ala Moana Blvd, you depart from the Ala Wai Yacht Harbor and head towards Oahu's south shore. Their boats are known for their stability, versatility and speed, which were specially designed for Hawaiian waters adventures. This trip accommodates up to 6 individuals, but actually, it can carry as many as 20 people with its 30-foot length. But they want you to have a private moment with your company with ample space on the boat. And don't worry about your safety because your captain is an expert and professional in the water more than you'll ever know.
Along the way, the staff tells stories, history and legends about the place. You are guaranteed a good laugh with their humor. Your captain and his crew ensure to bring you to the perfect spots where you could watch sea turtles, fish, and dolphins up close. Sometimes you get to see whales during the winter season. Humpback whales migrate to tropical waters like in Hawaii in winter to give birth. Some guests who prefer not to snorkel take as many pictures of the stunning scenery. 
When you are at the right spot, the crew attends to you in every way they can. Gear up and start swimming with the sea turtles and fish below. Make sure to practice safety precautions so as not to scare these marine lives. After your charter, you return to your starting point and sail towards the Diamond Head State Monument.
Ocean Sightseeing
Sailing around the turquoise blue waters below the Diamond State Head Monument with a speed of up to over 45 knots and a range of 250 miles, feel the warm breeze of the Pacific Ocean wind on your skin. Your captain may slow down a bit to allow you to have 360-degree views of the ocean. If you haven't heard it yet, the Diamond Head is a volcanic cone, which is a part of the Koolau Range of volcanoes that started erupting below sea level 2.6 million years ago. And the crater was created from a single eruption some 300,000 years ago. When you are there, your crew tells you more in detail about these historical events that will surely amaze and probably surprise you.
Not far away is Waikiki Beach. Your captain maneuvers heading to this famous beach to continue your coastal sightseeing. From here, you can also see a stunning view of the Diamond Head. This world-class beach is perfect for almost all water activities. Whether you are looking forward to canoeing, surfing, snorkeling, sightseeing, sunbathing, or swimming. Not to mention sunset gazing. The best thing about it is that whichever part of the beach you'll end up to, there is always something interesting to do.
KNOW BEFORE BOOKING:
Upon booking, you can choose from a wide range of activities as follows:
Snorkeling/Swimming

Wildlife watching (dolphins, turtles, fish, and others)

Coastal sightseeing

Fast thrill ride

Suggest whatever you have in mind
Bottled water, soft drinks, and snorkel equipment are included in your package

This activity has a maximum guest of six, and you can bring food and beverages.

Most travelers can participate but not recommended to pregnant women, individuals with back and heart problems, and other medical conditions.

This activity is NOT wheelchair-accessible.