Are you ready to explore Kauai in an all-in-one tour that features kayaking, snorkeling, beach combing, and bird watching on four different gorgeous rivers and beaches? Book your reservations now and join Kayak Kauai on this unique trip!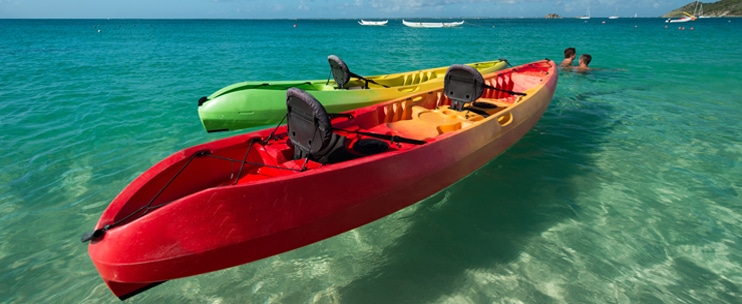 The best thing about this activity is that you can bring your small children who are over five years old, as long as they feel comfortable in the water. Besides, their expert guides will help you all the time. Prior to check-in, remember to bring the must-haves on this trip so that you can fully enjoy it. First of all, we suggest you wear a bathing suit under your clothes or bring extra clothes. Also, you must bring towels, a hat, sunglasses, reef-safe sunscreen, light footwear for the beach, and of course your waterproof or underwater camera! You should never miss capturing the beautiful memories you will create in this journey, plus all the amazing views and beautiful marine life you will see.
After checking-in, you will be transported by a comfortable and air-conditioned 14-passenger van towards the launch area in North Shore called Hanalei Pier – a historical pier that was originally built out of woods in 1892. This also used to be one of the busiest piers in Hawaii, where traders loaded on and off sugar and other goods to and from ships. Kicking off here, you start paddling its calm waters through the Hanalei Heritage River, where you will spend some time exploring. Along the way, your friendly and professional guide will entertain you with informative facts about the place, as well as interesting legends and folklores that Kauai is known for. 
As you paddle, traverse the Hanalei Bay and enjoy the scenic views of the pyramid-shaped Bali Hai or also known as Makana Mountains. The Hawaiian word "Makana" means a reward or "gift from heaven" in English, which perfectly describes its beauty. In fact, the 1960-movie South Pacific was filmed here. As you continue with your journey, appreciate the stunning panoramas of the nearby prominent ridges of Namolokama, Mamalahoa, and Hihimanu Peaks. You can usually see these three mountain peaks dripping with cascading waterfalls, covered with dreamy mist.
Watch out for Hawaiian Green Sea Turtles and Spinner Dolphins in this area, as well as birds like the Boobie and Laysan Albatross. You might also see some shore birds and river birds, including Wandering Tattler, Gallinule, and Black Capped Night Heron.
You will, then, paddle towards either the west along the sandy shores of Hanalei Bay and the lovely waters of the Wai'oli Stream or the eastern part to the breathtaking sandy beach of Hideaways for snorkeling and some beach combing. Your destination depends on the weather and the group dynamics. If the condition of the bay gets dangerous during the winter season, you will spend more time paddling on the calmer and panoramic upper reaches of the Hanalei River instead. Either way, both are truly magnificent! You will also feast on your delicious lunch here, which include sandwiches and cold tropical beverages.
Tour Highlights
Paddle along the scenic Hanalei Heritage River

Bird watching to see various shore birds and river birds

View Kauai's three prominent pyramid-shaped mountain peaks

Snorkel and beach comb on a breathtaking sandy beach

Eat delicious lunch at the beach while enjoying the view
Tour Inclusions
Guide(s) who are CPR & First Aid, and Water Safety Certified

Personal Flotation Devices (life preservers)

Double kayaks

Snorkel gear

Water-resistant bags

Lunch: Sandwiches (deli made ham, turkey, roast beef, salami, or vegetarian), Refreshments (Hawaiian style tropical juices and bottled water)
Special Instructions
Check-in time and location:

 
DURING COVID: Guests will not be transported, but are asked to arrive at the launch area on or before 9:30 am.
DURING NON-COVID: Check in at 8:45 am at the Wailua Marina Shop, 3-5971 Kuhio Hwy, Kapaa, HI 96746. Tour starts at 9:00 am.
➤Participants should be comfortable in the water and must be in good physical condition.
➤Participants should not be prone to seasickness.
➤Participants must be at least 5 years old.
Note: Tour includes 3 hours of intermittent paddling.
Operations:

Everyday except Sundays

Duration:

5 hours
Capacity:

Maximum of 15 participants
Equipment: Personal flotation devices (PFD's) life preservers, Double sit on top kayaks, Walking sticks