Take things up a notch by booking a Kauai ocean adventure tour! The island of Kauai is home to quite a number of spectacular tourist destinations, and two of which are Na Pali Coast and Niihau Island.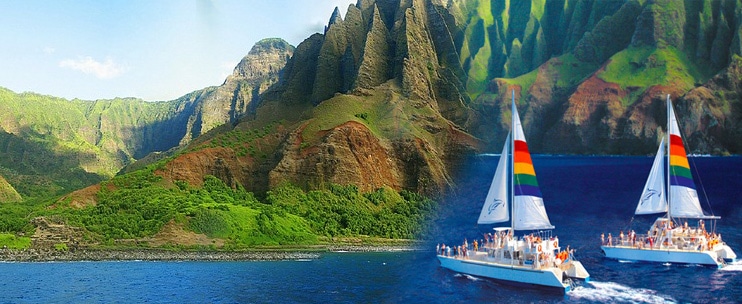 For as long as you love nature and the waters, and are up for some exploration and adventure, you are welcome to join and go on SeaFun Kauai's Beach Snorkel Tour!
Kauai's south shore is home to beautiful and uncrowded beaches, pristine turquoise waters, magnificent coral reefs and land formations, and, of course, a wide variety of marine life. This, precisely, is what SeaFun Kauai's Beach Snorkel Tour is going to let you see and experience. Lawai Beach or Anini Beach is one of the two beach locations that you will get to visit on this tour, with the exact destination to be determined by the captain depending on the water and weather conditions on your tour day. Either beach is a top-rated location on Kauai's south shore, as both of these popular spots boast an extraordinary kind of beauty, immaculateness, and splendor. Whichever it is that your captain brings you, you will absolutely enjoy the spectacular views down under! Prepare to see different species of tropical reef fish and many other marine organisms, as well as vibrant coral reefs where these species swim about and frequent. If you are an advanced snorkeler, SeaFun Kauai's expert guides may bring you to another lovely location, where the sight of Hawaiian green sea turtles awaits! Truly, this experience is one that you should not pass up on, especially since it's not everyday that you get to go on a trip to beautiful Kauai.
If the idea of swimming in open waters makes you anxious, fret not! SeaFun Kauai's Beach Snorkel Tour has a specialized activity for beginners, or those who do not feel comfortable going far and deep. Its experienced snorkel guides have soft and large surfboards with handles on their edges, specifically designed and brought for non-snorkelers. Of course, apart from the equipment, SeaFun Kauai's guides will closely supervise all guests to ensure everyone's comfort, safety, and utmost enjoyment. What's great is that they will take pictures of you, too, as you go on your chosen ocean activity, copies of which you can purchase once you are back from the trip. In SeaFun Kauai's Beach Snorkel Tour, leave all your fears and apprehensions behind—you are sure to have a safe, pleasurable, and picture-filled time here!
SeaFun Kauai's Beach Snorkel Tour can be enjoyed either in the morning or in the afternoon, depending on your schedule and preference. Whether you are travelling alone, with a travel buddy, or with a big family, you will most certainly not regret booking this tour package!
Tour Highlights
See the breathtaking views at Na Pali Coast

Go on a snorkeling adventure on Niihau, a top-rated ocean adventure destination on Kauai

Get an up close encounter with Kauai's diverse sea life

Partake in other water activities with noodles, boogie boards, and a water slide

Be in the company of friendly and well-trained staff and crew

Enjoy deliciously prepared meals and refreshing drinks on board
Tour Inclusions
Blue Dolphin Charters' Niihau + Na Pali Coast Snorkel Tour is inclusive of the following:
High quality flotation devices and snorkeling equipment (snorkel, fins, mask)

Equipment for other water activities (noodles, boogie boards, water slide)

Pre-dive briefing and safety instructions facilitated by Blue Dolphin Charters' expert staff and crew

Continental breakfast, deli-style lunch, and refreshing drinks

A 63-foot well-built catamaran equipped with restrooms, a water slide, comfortable seats, and other amenities
NOTE: In light of the circumstances brought about by the COVID-19 pandemic, some tour inclusions may be changed for the health and safety of all. Blue Dolphin Charters reserves the right to amend tour inclusions and instructions without prior notice.
Special Instructions
Check-in time is 6:00 AM. Make sure to check in early as the tour will depart promptly as scheduled.

Check in at Port Allen, Ele'ele. Look for Blue Dolphin Charters' retail office, located in the port's industrial complex.

The following are the requirements and restrictions to participate in this tour:

Children below 5 years old are disallowed from joining.

No pregnant women will be allowed to join the tour. 

Those with neck, back, and knee problems or those who have recently had serious surgeries are also not allowed to join.

Those will wish to go scuba diving, note that the minimum age is 12 years old. Certified divers must bring their valid dive cards and sign a medical and liability waiver prior to the tour.

All passengers will also need to sign a liability waiver before participating in this activity.

Wheelchairs will not be allowed on-board. Guests must be able to walk onto the boat and up and down the ladder stairs by themselves.

No shoes will be allowed to board, as all of Blue Dolphin Charters' tours require barefoot boarding. Kindly inform the staff ahead of time if you have a medical/health concern about barefoot boarding.

Adults who wish to consume alcoholic beverages on board must bring valid IDs with pictures as proof of maturity and identity.

This tour operates every Tuesday and Friday.

Tour duration is approximately 7.5 hours. Tour is set to arrive back at Port Allen at around 2:00 PM.