Are you a honeymooner, family, or group of friends looking for a thrill in Kauai?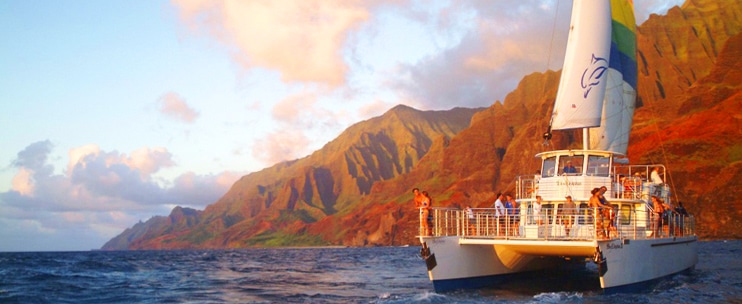 If you happen to be in the "Garden Island," why don't you try the Na Pali Sunset Dinner Cruise of Blue Dolphin Charters? One of their spacious, modern, and stable catamarans lets you cruise along the Na Pali coast to experience the gift of nature. 
We know there's a lot of cruises out there, but why Blue Dolphin? Because when you step on the boat, the crew and Captain welcome you with so much Aloha. They ensure your safety, comfort, and enjoyment throughout the trip. The dynamic Captain tries his best to find a perfect spot so you could see marine lives. At the same time, the team shares informative facts about Hawaii as you sail along. Most of all, they prepare a delicious meal, refreshing beverages, and just provide you pure fun and a one of a kind adventure.
Blue Dolphin's Na Pali Sunset Dinner Cruise: What to expect?
You must check-in earlier than 1:45 or 2:30 pm at Port Allen, depending on the season. Anyway, all information will be included in your voucher after booking. We recommend you bring your camera, sunscreen (reef-friendly), light jacket or a windbreaker, sea motion meds and of course your ID. They require it if you consume alcohol. This is a barefoot trip, and you have to climb up and down ladder stairs, so you need to remove your footwear before boarding. However, if you have conditions that you need to wear shoes, you can tell them ahead of time so they could arrange it. 
Choose your most comfortable space and settle down. There is a shaded cabin with freshwater bathrooms, but this tour is aimed to let you see the beautiful seascape and the sunset, so it's best to stay outside the cabin. This is why you're bringing a light jacket because it gets windy on your way, plus you can get splashed with water, especially when you're seated at the bow. If you usually experience seasickness, consider consulting a doctor beforehand. Nevertheless, the highly-trained crew takes care of you along the way. 
You can order drinks as soon as you leave the harbor. They have one of the best island-style mai tais, along with wine and beer. While sailing, watch out for some sea creatures, especially whales during the winter season. Here's a little whale trivia for you: Humpback whales usually travel even up to 3,000 miles during the cold seasons to the warm Hawaiian waters from their feeding grounds in British Columbia, Russia, and Alaska for breeding. So, if you happen to visit Hawaii in winter, then it's most likely that you could watch them from your boat.
As you cruise, the magnificent 4,000-foot Na Pali cliffs are on sight. Did you know that these cliffs are known to be the greatest barriers on earth? It is almost inaccessible by land, so this cruise is the best way to view it closely. Better prepare your camera and capture this awe-inspiring sight. You can also see that the afternoon sunshine adds beauty to these ridges as it highlights the green color of the trees and grasses that blend with the blue ocean. If it's your first time in Hawaii, sometimes you wonder how did all of these mesmerizing seascapes and landscapes fit in such a small island. 
While the crew walks around to fill up your cups, they narrate stories, fun facts, and legends regarding these sights. Throughout the 4-hour trip, the Captain positions the vessel where you could spot sea turtles, dolphins, manta rays, and humpback whales. A lot of guests have been so lucky to watch mommy whales and their calves, playing up to 15 minutes. Some took pictures of sea turtles and manta rays, too. Hopefully, you could see some of them as well. Anyhow, the Captain knows what he's doing.
After pampering your eyes with these stunning sceneries, luau-style buffet dinner is served. What is its difference with the other dinner cruise? Well it's common to see foods in Hawaii that you think are foreign. This is because Hawaii is considered the melting pot of cultures from all around the world, including Japanese, Filipino, Chinese, Korean, Native Hawaiian, Portuguese, Puerto Rican, Thai, and Vietnamese, among others. So Blue Dolphins wanted you to experience luau (feast in Hawaii, accompanied by entertainment and foods) aboard their vessel.
Just as the sunset starts to take over the Hawaiian skies, you get to indulge in Kalua pork (cooked in an underground oven), and teriyaki chicken, which is claimed to have originated in Japan invented by Japanese Chefs in the 17th century. These are served with white rice and Caesar salad. A typical meal in the Pacific Islands. Finish off your dinner with sweet chocolate chips cookies. And drinks are still served at this time at the bar. In this trip, make sure to savor each moment while it lasts because as the sun dips down below the horizon, you will head back to the harbor. But before that, you will celebrate the sunset with a champagne toast.
LUAU BUFFET-STYLE DINNER MENU AND BEVERAGES:
Kalua Pork

Crispy and Juicy Japanese-style Teriyaki Chicken

White Rice

Green Salad of Romaine Lettuce and Croutons 

Chocolate Chip Cookies 

Beverages: Beer, Wine, Mai Tai
*Stir fry vegetable is available for vegetarians per request before the cruise.
Know Before Booking:
Check-in time is usually at 1:45 pm or 2:30 pm. The exact time of your departure will be indicated in your voucher after booking.

The parking space is in the gravel lot on the right, just after the Port Allen Marina Center. The designated area is in the middle of the lot.

After parking, head to the office for check-in and meet the Captain and crew for a safety briefing before boarding. 

This tour is prohibited to children under the age of 2 and is not recommended to pregnant women.

The vessel doesn't cater to guests in a wheelchair.