A night on the island of Kauai cannot get any more dazzling and exceptional than this! Blue Dolphin Charters' Na Pali Snorkel and Dinner Sail is a seasonal tour that combines two Kauai activity favorites to end your day with a bang.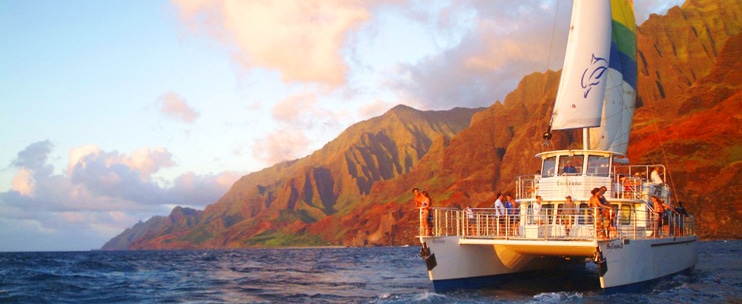 Kicking off with an afternoon snorkeling at lovely Na Pali and then capping off with a delightful dinner cruise on Kauai's beautiful waters, this tour package is surely going to be one of your favorite memories from your Hawaiian escapade!
Blue Dolphin Charters' Na Pali Snorkel and Dinner Sail departs directly from Port Allen Harbor a little around after lunch via the Blue Dolphin, a 65-foot deluxe high-powered catamaran that promises a safe and smooth ride to your destination. As the Blue Dolphin is also equipped with comfortable seats and a spacious viewing deck, you will certainly enjoy the cruise to Na Pali Coast. Savor the views of the pristine turquoise waters and Kauai's scenic west shore, as well as the warm afternoon sun and breeze. Make sure your camera is ready as this cruise offers picturesque scenes you would definitely want to perpetuate through photos!
At Na Pali Coast, it's time to appreciate the magnificent views down under! After Blue Dolphin Charters' excellent staff and crew have properly briefed you on snorkeling basics and safety instructions and have assisted you into the proper snorkeling gear, you're ready to have some underwater fun! As Na Pali Coast is an uncrowded, non-commercial area, it is thus home to the cleanest waters, well preserved coral reefs, sea cliffs, and other formations, and, of course, an abundant sea life like tropical reef fish, green sea turtles, spinner dolphins, and more! Kauai above water is stunning, true, but trust that these underwater features are an extraordinary spectacle you would not want to miss out on.
Just as the sun is about to set and your tour is bound to end, it's time to feast on some scrumptious luau-style dinner to perfectly cap off your Blue Dolphin Charters' Na Pali Snorkel and Dinner Sail experience! This deliciously prepared grub, the refreshing drinks, and the absolute satisfaction from your sightseeing and snorkeling escapade are, without a doubt, what makes the best finish to a fun, adventure-filled day.
Tour Inclusions
Blue Dolphin Charters' Na Pali Snorkel and Dinner Sail is inclusive of the following:
High quality flotation devices and snorkeling equipment (snorkel, fins, mask)

Pre-dive briefing and safety instructions facilitated by Blue Dolphin Charters' expert staff and crew

A luau-style buffet dinner that comes with refreshing drinks and an open bar

A 65-foot well-built catamaran equipped with restrooms, comfortable seats, and other amenities
Luau-Style Buffet Dinner Menu
Proteins of teriyaki chicken or Kalua pork (Vegetarians may make a special request for a larger portion for the salad in substitution for the meat. Kindly make this request when making your reservation.)

Sides of caesar salad and white rice

Chocolate chip cookies

Drinks and an open bar for alcoholic beverages (beer, wine, Mai Tai)
NOTE: In light of the circumstances brought about by the COVID-19 pandemic, some tour inclusions may be changed for the health and safety of all. Blue Dolphin Charters reserves the right to amend tour inclusions, dinner menu, and instructions without prior notice.
Special Instructions
Check-in time is 1:15 PM. Make sure to check in early as the tour will depart promptly as scheduled. 

Check in at Port Allen, Ele'ele. Look for Blue Dolphin Charters' retail office, located in the port's industrial complex.

The following are the requirements and restrictions to participate in this tour:

Children below 2 years old are disallowed from joining.

No pregnant women will be allowed to join the tour. 

Those with neck, back, and knee problems or those who have recently had serious surgeries are also not allowed to join.

Those who wish to go scuba diving, note that the minimum age is 12 years old. Certified divers must bring their valid dive cards and sign a medical and liability waiver prior to the tour.

All passengers will also need to sign a liability waiver before participating in this activity.

Wheelchairs will not be allowed on-board. Guests must be able to walk onto the boat and up and down the ladder stairs by themselves.

No shoes will be allowed to board, as all of Blue Dolphin Charters' tours require barefoot boarding. Kindly inform the staff ahead of time if you have a medical/health concern about barefoot boarding.

Adults who wish to consume alcoholic beverages on board must bring valid IDs with pictures as proof of maturity and identity.

This tour operates every day from June to August.

Tour duration is approximately 5.5 hours. Tour is set to arrive back at Port Allen at around 6:00 PM.