Perfect for those who are looking for some thrill and adventure, Blue Dolphin Charters' Na Pali Coast Rafting and Snorkeling is a tour package that will definitely jumpstart your day.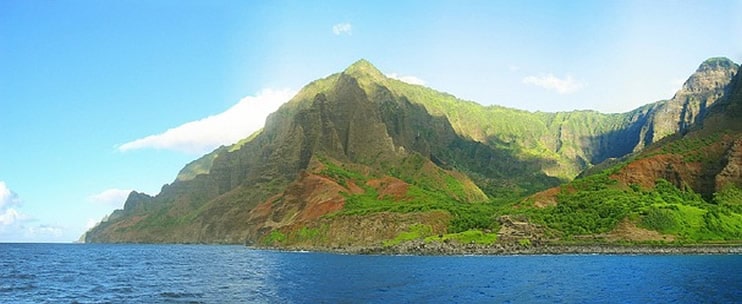 This activity does not only let you go sightseeing at Na Pali Coast, but also go on a rafting and snorkeling excursion for some excitement and exhilaration! If you want to give a bit of more zing to your already amazing Kauai getaway, then this is something you would not regret booking.
One of Blue Dolphin Charters' small-sized passenger capacity tours, the Na Pali Coast Rafting and Snorkeling utilizes a 25-foot rigid hull raft, one of the newest and most high-speed rafts on Kauai Island. It can accommodate from 6 passengers up to a maximum of 14 guests per trip, and it promises a fun, action-packed ride to Na Pali Coast! Na Pali Coast is a top-rated destination on Kauai Island and is, in fact, also called as the "Jewel Of Kauai" because of its extraordinary charm and natural beauty. This, precisely, is what you will get to explore, experience, and appreciate when you book this tour package!
What sets Na Pali Coast Rafting and Snorkeling apart from the other tour packages being offered by Blue Dolphin Charters is that this is its only package that ventures into the sea caves along Na Pali Coast, should the water and weather conditions during your tour day permit. Thus on this tour, you do not only get to go on an adventurous raft ride and catch sight of precious underwater views via snorkeling, but you also get to go to unexplored Na Pali sea caves! What a treat, indeed!
If you think that is all, think again. Blue Dolphin Charters' Na Pali Coast Rafting and Snorkeling is also inclusive of a delicious packed lunch, which you will get to enjoy by the end of your tour. Surely, after that jam-packed morning, a scrumptiously prepared meal is what you need to re-energize and perk you up for some more views and attractions that Kauai has in store for you!
Tour Inclusions
Blue Dolphin Charters' Na Pali Coast Rafting and Snorkeling is inclusive of the following:
A dry bag for towels, cameras, mobile phones, and other personal belongings

Complete snorkeling equipment *

A packed lunch

Beverages of water, fruit juice, and soda
* Underwater cameras and wetsuits are also available, but these have to be rented for a fee. Kindly note these special requests upon making your reservation.
Special Instructions
Check-in time is 7:00 AM. Make sure to check in early as the tour will depart promptly as scheduled.

Check in at Port Allen, Ele'ele. Look for Blue Dolphin Charters' retail office, located in the port's industrial complex.

The following are the requirements and restrictions to participate in this tour:

Children below 8 years old are disallowed from joining.

No pregnant women will be allowed to join the tour. 

Those with neck, back, and knee problems or those who have recently had serious surgeries are also not allowed to join.

All passengers will need to sign a liability waiver before participating in this activity.

Sea cave exploration is not guaranteed. Water and weather conditions must be called safe before the tour group is able to include this in the itinerary.

This tour is subject to cancellation if the minimum number of six guests is not met. Note that the maximum number of guests per trip is 14.

This tour operates every Wednesday, Thursday, and Saturday.

Tour duration is approximately 5 hours. Tour is set to arrive back at Port Allen at around after lunch.