Big Island's Kona Coast is known for a lot of beautiful things, and perhaps, at the top of the list is its abundant and diverse marine life.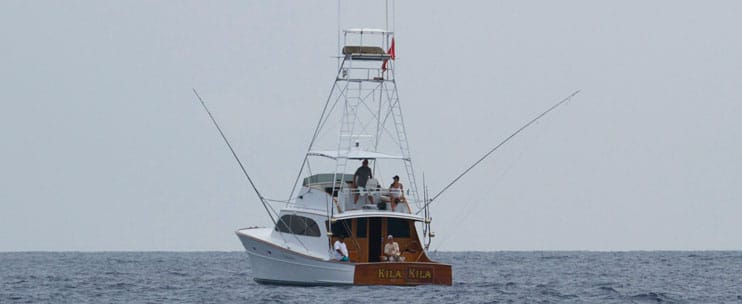 Kona is well-deserving of the label "fishing mecca of Hawaii" because its waters are home to a variety of big game fish and other sea creatures. Of course, there is no better way to take advantage of this than to go on a Kona fishing adventure yourself! Bite Me Sportfishing offers several fishing tours and charters, and one of which is its luxury vessel called the Kila Kila! Come aboard the Kila Kila for an exciting fishing expedition with Bite Me Sportfishing!
For years, Bite Me Sportfishing has been voted as the "Best of West Hawaii", so booking any of its tours, getting to experience first-hand its world-class facilities and services, would definitely be worth every buck.
 For this tour in particular, guests will ride the Kila Kila, a 53' Merritt, esteemed for its luxury and comfort it provides its passengers. The Kila Kila is a classic sportfishing boat, which is guaranteed clean and well-maintained, so you will surely enjoy your time aboard this luxury vessel. In the Hawaiian language, 'kila kila', in fact, means strong and majestic, and so the name is just apt for this high-powered well-built luxury boat!
Bite Me Sportfishing's Kila Kila is dubbed as a luxury vessel precisely because its amenities are state-of-the-art. Its decks are made of teak, which is naturally resistant to rots and pests despite being constantly exposed to water, and is also naturally rough for that safe anti-slip flooring. It also has three staterooms to accommodate you and the rest of your tour group, all of which are furnished with comfortable seats and spacious areas for resting and relaxing. Most boats only have one bathroom on board, but the Kila KIla has two, so you and everyone else on board won't have to share just one bathroom throughout the duration of the tour. On top of this, the Kila Kila is also equipped with a full galley kitchen, a double-door refrigerator, a full couch area, and air-conditioned spaces! Truly, with all of these exceptional facilities and amenities, Bite Me Sportfishing's Kila Kila is an enjoyable experience on its own!
Of course, while the Kila Kila is undeniably impressive, the highlight of the tour is your deep sea fishing adventure! Get ready to catch some big game fish that are just lurking in the area, especially because Kona's finest fishing spot, called the "Grander Alley", is just a stone's throw away from the Kila Kila's point of departure. If you're lucky, you may get to reel in enormous fish such as the Yellowfin Tuna, Pacific Blue Marlin, and other types of the same fish species! There are, of course, incidental smaller catches, too, which are also exciting to haul in, especially for fishing first-timers. No need to worry about the fishing gear as Bite Me Sportfishing's Kila Kila has got you covered! On board are great and well-maintained fishing equipment such as Gold Penn International Reels, Shimano Graphite Reels, assorted tackles and baits, and even a full-size fighting chair and tuna tubes, all for your optimal fishing experience!
Come aboard Bite Me Sportfishing's Kila Kila and have a splendid time on board this luxury vessel while catching some big game fish! Hurry and book a charter now!