2 hours • Ages 3+

Private Surf Lesson 
Health & Safety
All bookings are now exclusive surf classes per family, per class time and shall not be combined with any other persons.
All persons entering office for check in must wear a protective face mask upon entrance. Hand sanitizer shall be provided.
Classroom tutorial shall be for surf students only (1 guardian may accompany minors) and is now taught in a condensed format of 15 minutes. All accompanying spectators (parents and family members) are asked to remain in waiting room.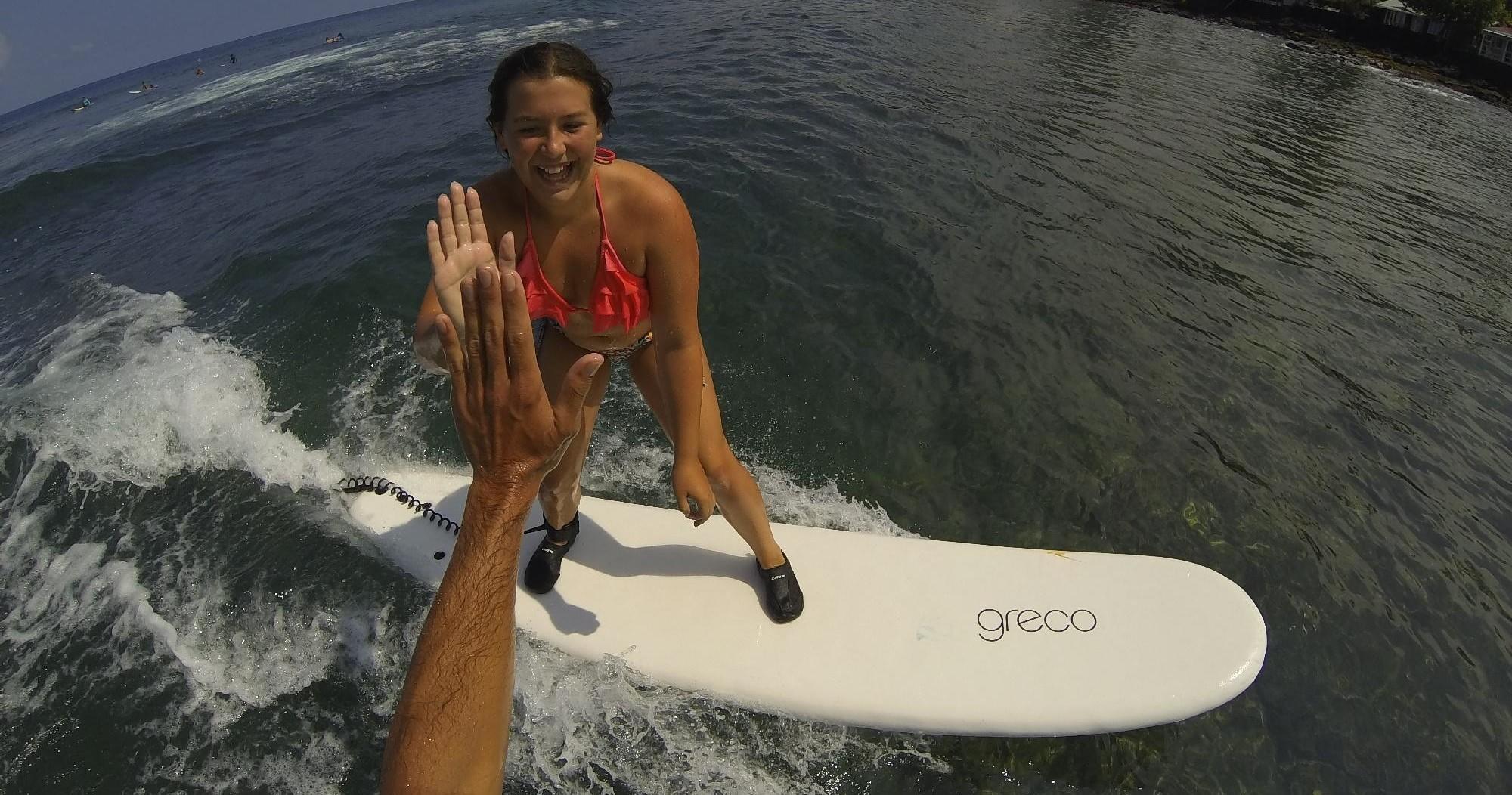 Personal Items Storage: Due to CDC guidelines we encourage students to leave all personal belongings (towels, beach bags, shoes) in your personal vehicles.
HLSI will provide safe storage for your vehicle keys while at the beach park
2 HOUR 1:1 EXCLUSIVE PRIVATE SURF CLASS WITH HAWAIIAN LIFEGUARD
100% Private surf coaching. Available for all ages 3 and older.
Learn to surf or improve your current skills in an all excusive setting. Private 1:1 surf coaching.
Mandatory for all children ages 3-9 years old
Children under 55 pounds: option to ride on-board with a lifeguard and for added safety and fun can be provided with a lifejacket by request.
Hawaii Lifeguard Surf Instructors are fully trained and certified by the American Red Cross. We are proudly entrusted by the Make A Wish Foundation year round.
Student Transportation from Check In Location to Surfing Location is NOT provided by HLSI.
INCLUSIONS
Exclusive Class
Private Lifeguard Surf Coach
15 minute condensed classroom surf school @ HLSI HQ
Up to 2 Hours surf time @ Kahalu'u Bay
return surfers bypass classroom time
Surf Board and Leash
Rash Guard Water Shirt and Water Shoes Rental
Lifejacket (optional) for children under 50lbs surfing tandem on board with Lifeguard
THINGS TO BRING
Towel
Sunscreen- reef safe please!
Swim Clothes (please arrive dressed in swim attire by check in time)
Swim Shirt- free rental available
Water Shoes- free rental available
RESTRICTIONS
ALL STUDENTS MUST BE ABLE TO SWIM AND PARTICIPATE IN PHYSICAL ACTIVITY.
CHILDREN SHOULD BE COMFORTABLE WITH WATER AND WITH AN INSTRUCTOR.
PARENTS/GUARDIANS NOT SURFING MUST REMAIN ON LOCATION TO ACCOMPANY THEIR MINOR CHILDREN.**
ADDITIONAL INFO
Ideal surf viewing area is available at Kahalu'u Beach Park for spectators to enjoy. Kahalu'u is also ideal for swimming, picnicking and snorkeling.
Safety & Health Disclosure: All Students must be able to swim, follow basic English instruction and participate in strenuous physical activity. Please disclose any major past injuries/ surgeries or medical illnesses. Parents/Guardians not surfing must remain on location to accompany their minor children. Those persons with any ailments are advised to please select a private surfing course so that our Lifeguards are able to best service your special needs.