Level up your Maui getaway by booking a scuba diving tour!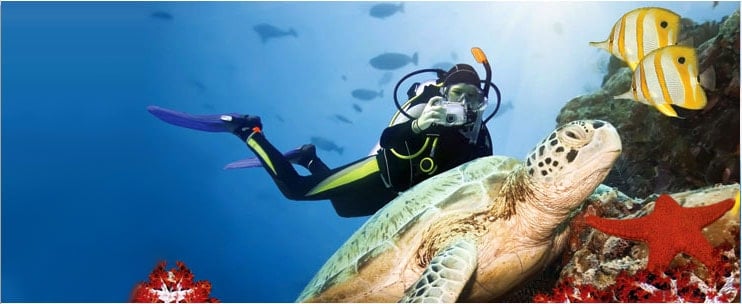 While it cannot be denied that Maui Island is stunning above sea level, the views underwater are absolutely spectacular and unparalleled. With waters so clean, pristine, and well preserved, enjoy the clear and unobstructed sights of Maui's beautiful underwater world, which, accordingly, is teeming with marine life. For a Maui scuba diving adventure that's guaranteed safe and fun, B&B Scuba is key and is worth your every buck!
One of the longest running dive operators in the island, B&B Scuba has been around for more than 20 years, satisfying its clients with topnotch services and reliable safety records. For this tour in particular, B&B Scuba brings its guests to two prime diving sites in Maui. 
Depending whether the weather and water conditions permit, the first dive site is at Molokini Crater, a top-rated marine sanctuary perfect for recreational diving. This haven is home to large schools of fish, giant pelagics, whales, and other sea creatures unique to Hawaii! Here, you will not only take pleasure in getting up close with these precious marine animals, but you will also especially enjoy the sights of magnificent coral reef formations these sea creatures proudly call their home. Truly an incredible place and experience!
Your B&B Scuba Diving does not end there. Again, if the conditions allow, you will be brought next to South Maui Coast for your second dive! This area is where Hawaiian green sea turtles frequent, so prepare for an amazing experience here, too! Here, get to meet more of Hawaii's abundant marine life, see more of its breathtaking underwater world, and have an even more enjoyable time exploring Maui undersea.
B&B Scuba offers a wide range of activities depending on the participant's ability and preference, and whichever package you choose, you are sure to get quality service, high-grade diving gear, and loads of beautiful memories to remember your Maui trip by!
B&B Scuba Diving Activities:
Tank Introductory Dive: Perfect for beginners, this includes guided instruction and use of all gear. Everyone at least 10 years old is welcome!
Tank Certified Dive: This package is exclusive for certified divers. Additional charges may apply for use of gear.
Snorkeling: For those who would rather swim near the water's surface, this package is inclusive of wetsuit and other snorkeling equipment.
* Additional rental gear includes wetsuit, scuba BCD (buoyancy control device), weight belt, and regulator.
* Nitrox fills for qualified divers are available for purchase for $10 a tank.
Special Instructions:
Check-in time is 5:45 AM. This enables early departure to beat the crowds and harsh winds during the cruise and dive.

Check in at Kihei Boat Ramp, located at 2988 S Kihei Rd., Kihei, HI 96753.

This tour operates daily, except on days when the weather is not suitable for water activities.

This tour is inclusive of light snacks and refreshments.

Children below 8 years old will not be allowed to join this activity.

Participants are not allowed to fly 48 hours after the dive.

B&B Scuba uses the

Kilikina,

a powerful dive boat that can accommodate up to 12 passengers.