On Blue Hawaiian's 60-minute complete island tour, you'll see it all.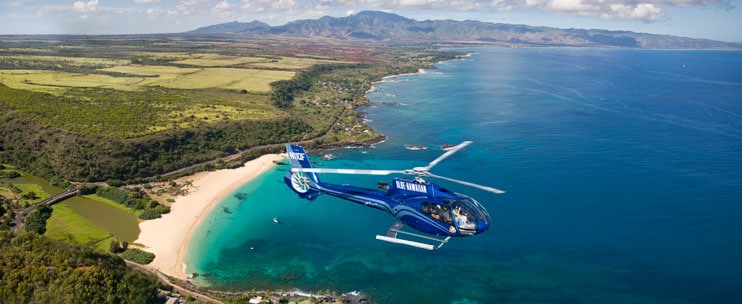 Diamond Head's extinct volcanic crater, the turquoise waters and sandbars of Kaneohe Bay, the landmark of Chinaman's Hat Island, "Jurassic Park"-like cliffs of Oahu's Ko'olau Mountain Range, breathtaking Sacred Falls, the big wave surfing beaches on the North Shore, the Dole Pineapple Plantation, and of course, the unmatched power and emotion of Pearl Harbor and the Arizona Memorial. You'll also get to see the 4,000-foot peaks of the Waianae Mountains and the remote west shore of Oahu, home to Makaha Beach, Yokohama Bay and the Ko Olina lagoons.
Tour Highlights
Waikiki Beach and Diamond Head
Hanauma Bay
Waimanalo Beach
Kaneohe Bay
Chinaman's Hat Island
Sacred Falls
Oahu North Shore beaches
Nu'uanu Valley rainforest
Dole Plantation
Pearl Harbor
Makaha Beach and Yokohama Bay
Leeward (west) shore of Oahu
Waianae Mountains
Tour Inclusions
Bose aviation-grade noise-canceling headsets
Two-way communication between you and your Blue Hawaiian pilot
Tour Add-ons
Front Row Seating Add-on can guarantee a front row seat. Please note the restrictions listed below for this add-on.
Special Instructions
Where and When
Morning: departing between 7:00 am & 10:30 am
Mid-day: departing between 10:30 am & 1:00 pm
Afternoon: departing between 1:00 pm & 3:30 pm
The exact departure time for your preferred time frame will be specified on your voucher. Departs from Honolulu Heliport View Map
View Driving Directions
Complimentary roundtrip transportation is available from the Waikiki area.
Restrictions:
Tour routes and sights visited may vary according to wind and weather conditions.
Weight Guidelines
For each passenger weighing 250+ pounds (113 kg), an adjacent empty seat is required to safely balance the aircraft and requires an additional surcharge equal to 1/2 ticket price.
The Federal Aviation Administration requires that each each passenger is weighed prior to departure. This weigh-in process is very discrete when you check in. Any significant variance in the weights provided and actual scale weight could result in flight delays or possible cancellation.
Front Row Seating Add-on Restrictions
Combined Front Row seat weight must be under 470 lbs and individual passenger weights must be under 260 lbs. Should the actual weights at check-in exceed any of these limits guests will be accommodated in other seats and allowed a refund for the upgrade fee.
Front Row passengers must occupy their own seats and must be able to refrain from interfering with the pilot and instrumentation. NO LAP CHILDREN IN FRONT ROW. In the event of an emergency front row passengers must be able to receive instructions in English and be physically capable of operating exit doors. Chair lifts are can only access the rear row seats, therefore guests requiring a chair lift cannot be accommodated in the front row.
You MUST have with you
Passengers need to bring a government issued photo ID. International passengers will need their passport.
Special Notes
Children 23 months or younger may fly at no charge and must sit on adult's lap. Please provide child's weight at time of booking.
When you choose a time frame we will email you an exact time your flight will take place. If you need to book an exact time for your flight, please call to make a reservation.
Operation Days
Daily
Duration
60 minutes
Capacity
6 passengers
Equipment
The Eco-Star is significantly quieter than the standard A-Star touring helicopter and offers 23% more interior space and over 60 square feet of viewing glass for 180 degree unobstructed views. The Eco-Star also has individual seats for every passenger that afford the kind of shoulder room and personal space found in airline "First Class" seating. The ECO-Star is the first helicopter specifically designed for touring, utilizing the latest aircraft and avionics technologies.