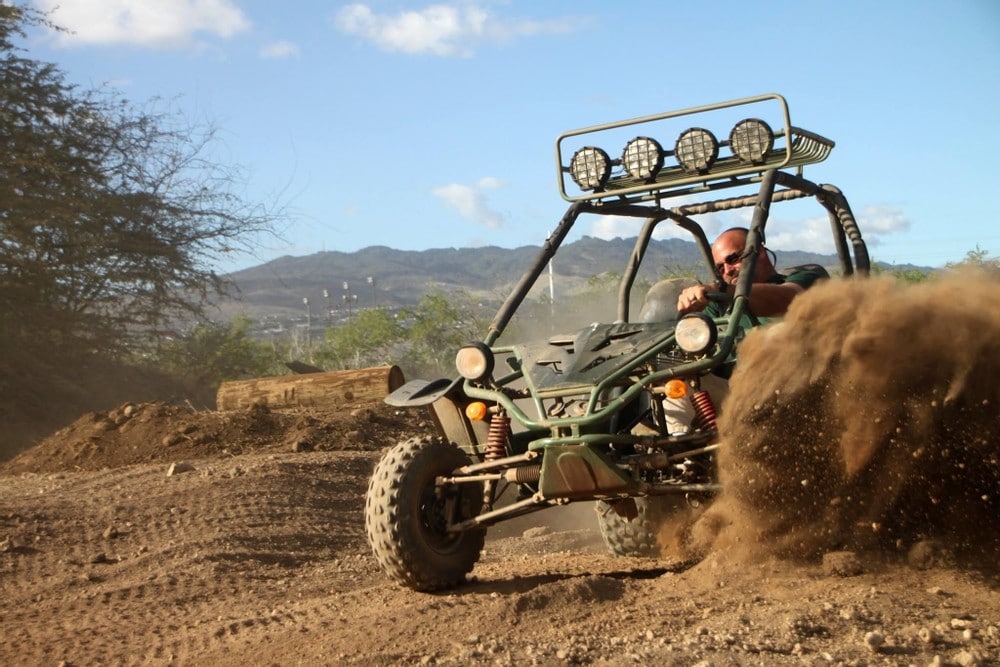 3.5 – 4.5 hours • Adventure of a lifetime on land & sea!• Drivers must be 18+
Times & Duration:
2:00pm (1:00pm-1:15pm Waikiki Pickups)
3.5-4.5 hours plus
This land and sea combo is sure to cover everything you're looking for in an afternoon.!
Tour Details:
ATV Portion:
We'll start by picking you up at a designated Waikiki location where we'll begin our journey to Coral Crater. Dress to get a little dirty as you'll be cruising around our crater with a professional guide on over 1 mile of trail. Our ATV's aren't little toys but rather large, powerful machines, so be up for the challenge of maneuvering around our technical course. Please note you must be 18 and older to drive our ATV's, 17 and under can ride along.
Sunset Snorkel Cruise Portion:
After getting dusty at Coral Crater, we'll transport you to the water where you'll climb aboard one of Ocean Joy's vessels. Our Sunset Snorkel Cruise is the only Sunset Dinner Cruise on the unspoiled Western Waianae Coast that also takes you snorkeling.
Get your video and still cameras ready, because we'll see with Dolphins (Nai'a), Whales (Kohola) [in season], Green Sea Turtles (Honu), and Flying Fish (Malolo) along the way! When we do meet up with the dolphins and whales, we'll stop the boat, and sit with them as our knowledgeable crew will tell you everything you want to know about these amazing and beautiful creatures.
After an exciting ride up the coast, we'll enjoy an hour of snorkeling in the pristine waters off Oahu's western coastline. We provide the best of snorkeling equipment for you to enjoy as you swim in the sparkling blue water of Makua amongst unspoiled reef and sea life where no other tours take you.
While still tingling from your snorkeling and dolphin watching experience, enjoy our sumptuous lunch buffet, and sip on a tropical Mai Tai, an ice-cold beer or any of our other beverages to your heart's content. Let the cool Hawaiian breeze relax your soul as we make our way back down the coast to our luxurious Ko 'Olina Marina home.