Aqua Adventures is all about that out-and-out fun under the sun. True to its name, this tour operator guarantees an ocean adventure that will surely complete your trip to the island of Maui and make it one that you will forever cherish and love looking back on.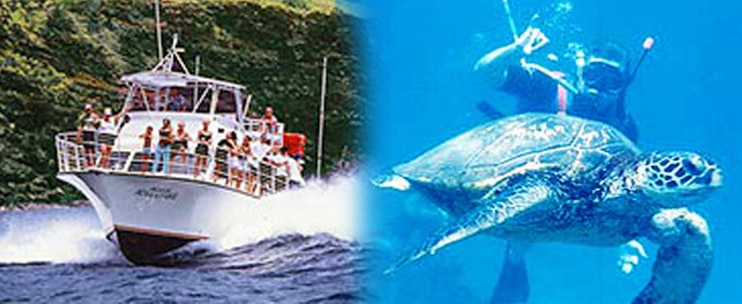 Come and join Aqua Adventures' SNUBA and Snorkel Cruise for a morning of spectacular views, an amazing marine life encounter, and a taste of pure tropical paradise!
Aqua Adventures' SNUBA and Snorkel Cruise departs in the morning via the AquaAdventure, a high-speed twin-engine power vessel that can comfortably seat up to more than 40 passengers. Equipped with a walk-around cabin that has an easy access to the bow, a sun deck, a lower shaded deck, and spacious seats, the AquaAdventure is most certainly a ride that promises utmost comfort and sightseeing pleasure as you cruise along Maui's south shore. As you relish the views, Aqua Adventures' well-trained crew will give you an insightful pre-dive briefing on snorkeling, SNUBA, and Maui's abundant marine life. Truly, this part of the trip will pep you up even more for the underwater adventure that is to come!
Upon arrival at the identified snorkel sites, the real fun begins! One of the spots that you will get to explore underwater is Molokini, a crescent-shaped volcanic islet that is known to be one of the best snorkel locations in Hawaii and the whole world. Here in Molokini, prepare to see majestic coral reefs, untainted rock formations, and Maui's diverse sea life, all of which you will get to easily and comfortably view because of the crystal clear waters. Another popular spot that you will get to visit and explore in this tour is Turtle Arches, located off the Makena Coast. This stop is yet another Maui treasure that promises awe-inspiring views and underwater experience!
Truly, Aqua Adventures' SNUBA and Snorkel Cruise is a tour package you should not pass up on. Whether you will be availing of the snorkel only package or opt to level up the experience by trying out SNUBA (an ocean activity much like snorkeling but allows you to go deeper into the sea), this tour, no doubt, will give you a Hawaiian adventure of a lifetime!
Tour Inclusions:
Aqua Adventures' SNUBA and Snorkel Cruise is inclusive of the following:
High quality flotation devices and snorkel and SNUBA gear *

An opportunity to go on an underwater adventure at two top-rated sites off Maui's south shore

A total of three hours in the water, whether snorkeling or SNUBA

An instructional briefing and guided dives, facilitated by Aqua Adventures' certified instructors and experts

A delicious continental breakfast and build-your-own deli sandwich lunch **
* Underwater cameras, wetsuits, shirts, and other add-ons are also available on-board but for an additional fee. Kindly coordinate with any of the staff if you wish to avail.
** Menu is subject to change without prior notice.
Special Instructions:
Check-in time is at 6:45 AM. Make sure to check in early as the tour will depart at exactly 7:15 AM.

Check in at Ma'alaea Harbor – Slip 51. Aqua Adventures is just below Beach Bums Restaurant.

There are no age restrictions for snorkelers. However, the minimum age to go SNUBA is 8 years old.

This tour has a special 48-hour cancellation policy. Make sure to contact the tour operator at least 48 hours before your scheduled tour if you need to cancel or re-schedule. Otherwise, full fees may apply.

This tour generally operates daily. However, due to the circumstances brought about by the COVID-19, this tour is currently operating every Mondays, Wednesdays, and Fridays only. This is subject to change without prior notice.

Tour duration is approximately 4.5 hours. Tour will return at around 12:00 PM.