Here's a little trivia about the word 'aloha'! More than just a way of greeting and saying goodbye, the direct translation of this famous Hawaiian word is love, peace, and compassion. 'Aloha', thus, is truly a beautiful word that has a deeper cultural meaning, and we bet you also were not aware that it may also be your ticket to the ultimate Maui getaway—Aloha Blue Charters, that is!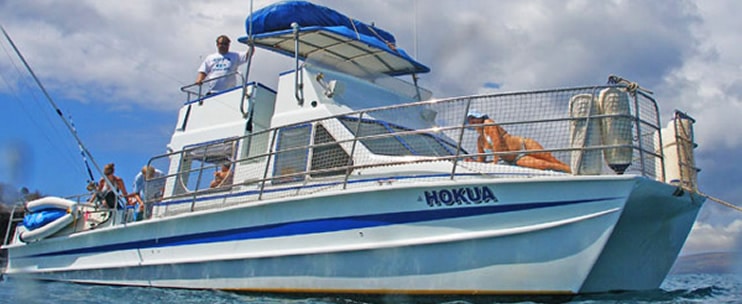 This well-esteemed tour operator on Maui Island offers a number of exciting tour packages, and one of them is the Deluxe Maui Snorkeling Tour. If you are looking to take your vacation up a notch, then Aloha Blue Charters' Deluxe Maui Snorkeling Tour, no doubt, is what you and your travel buddies need!
What sets this tour package apart is the Hokua, a 40-foot high-speed catamaran powered by top-of-the-line Eco-Friendly Jet Drives. All guests will get to have a relaxing cruise on board this Coast Guard-approved ocean adventure vessel, especially built for Hawaii's unique waters. The Hokua does not only promise a smooth and safe ride, but it also guarantees a quiet and peaceful cruise, all thanks to its ultra quiet engines. Truly, Aloha Blue Charters offers nothing but the best, even in just the cruise to the snorkel sites alone!
After that enjoyable ride and quick sightseeing cruise, it's time to explore the beauty of Maui underwater! In Aloha Blue Charters' Deluxe Maui Snorkeling Tour, you will take delight in an underwater adventure at two prime snorkel sites on Maui Island: the Molokini Crater and Turtle Town. These two locations promise the best views and marine life encounter, both of which are home to majestic coral reef and rock formations, as well as an abundance of marine life! From different species of tropical reef fish, to green sea turtles, spinner dolphins, and more, you will most certainly enjoy spending time with these precious marine organisms. You need not worry about the snorkeling equipment, gear, and boat amenities—the Hokua has it all for you! 
Apart from these equipment and amenities, you will also be treated to scrumptious meals on board the Hokua, at no additional cost! Aloha Blue Charters' Deluxe Maui Snorkeling Tour is inclusive of a delicious continental breakfast, a premium deli-style lunch, and some refreshments as you indulge in this tropical adventure of a lifetime. With all these amazing inclusions on top of such an amazing underwater experience, this tour package, no doubt, is bang for the buck. What are you waiting for? Go and book your slots to Aloha Blue Charters' Deluxe Maui Snorkeling Tour now!
Tour Inclusions:
Aloha Blue Charters' Deluxe Maui Snorkeling Tour is inclusive of the following:
Flotation devices and complete snorkeling gear including R/X masks, if necessary

Continental breakfast, deli-style lunch, and refreshments on-board

A sightseeing cruise on the Hokua, a 40-foot eco-powered jet drive boat

An underwater adventure and marine life encounter at two prime locations on Maui (Molokini Crater and Turtle Town)
Breakfast Menu:
Freshly brewed coffee

Seasonal fruits

An assortment of homemade muffins with cream cheese and jam
Lunch Menu:
Sliced ham, turkey, and roast beef with premium cheese slices and sides

Homemade vegetable Bocca burgers

Sides of pasta salad and chocolate chip cookies

Mai Tai, iced tea, lemonade, and filtered water
NOTE: Food options are subject to change without prior notice. Aloha Blue Charters also reserves the right to amend tour inclusions in light of the COVID-19 safety measures and protocols in place at the time of the tour.
Special Instructions:
Check-in time is at 6:30 AM. Make sure to check in early as the tour will depart promptly at 7:00 AM.

Check in at Ma'alaea Harbor, Slip 37. 

There are no specific restrictions and requirements for this activity. However, for those who will go snorkeling, it is advisable that such participants be in good physical health and are comfortable swimming in open water.

This tour operates daily.

Tour duration is approximately 5 hours. Tour is set to return at around 12:00 PM.