Experience an island luau in grand Royal Hawaiian style!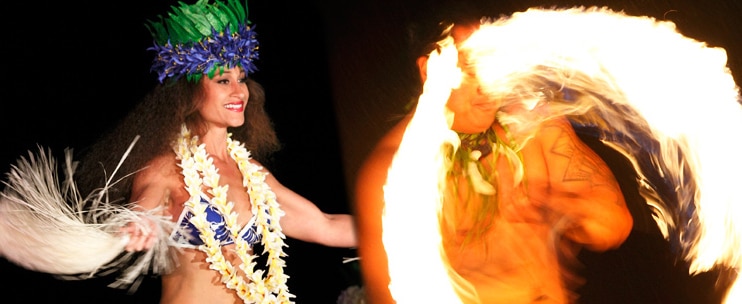 Held every Monday and Thursday, the Aha'aina Luau takes place at the historic Royal Hawaiian Hotel, also known as the "Pink Palace." Set on the Ocean Lawn right on Waikiki Beach, this luau features great ocean and Diamond Head views and a royal atmosphere.
Before "luaus" there were 'aha 'aina in the old Hawaii – known as a feast of food, song and hula. The ancient Hawaiians celebrated important occasions, and these gatherings were called 'aha 'aina. The Royal Hawaiian created a modern, yet timeless 'aha 'aina to honor the land's majestic history through song, stories, hula and great food.
As you enter the luau grounds, you can take part in time-honored Hawaii activities, such as poi-pounding, kapa-making (cloth made of pounded bark) and na lawai'a (tending of fishing tools). The night continues with the sound of a conch calling you to the luau feast. A storyteller shares the significance of lei giving, the ocean and taro while guests dine on delicious appetizers. After dinner, sit back and enjoy the spectacular performance, with hula and song that commemorates the ancient islanders' rich history and culture.

Luau Highlights
Perfect beachfront location on Waikiki Beach
Takes place at the historic Royal Hawaiian Hotel
Learn about old Hawaii and Hawaiian customs and culture
Take part in Hawaiian activities
Delicious all-you-can-eat luau buffet
Full Luau (Premium or Standard Seating) includes 1 welcome drink and 2 drinks during the luau.
Premium Seating – 1st row of oceanfront tables, closest to the stage.
Cocktail Seating – Includes the show and 2 beverages (no food). Seating at 7 pm.
Aha'aina Luau Menu
Poi and Poke Station
Poi with Fresh Salted Salmon, Ho Farm Tomatoes and Maui Onion Ahi, Shrimp, Tako, Hamakua Tomato and Mushroom Poke on Ice Bar
Island Fruit Station
Sliced Pineapple, Watermelon, Cantaloupe, Honeydew, Kula Strawberries, Mojito Style Mango
Island Salads Station
Island Coleslaw, JA Farms Caesar Salad with Portuguese Bread Croutons, White Anchovies and Pipikaula, Ho Farms Tomato and Cucumber Salad, JA Farms Baby Greens with Edamame, Ho Farms Tomatoes and Watermelon Radish
Hui Hui Grill Action Station
Local Island Chicken, Garlic Fried Rice, Wok Fried Choi Sum with Crispy Shallots, Roasted Vegetable Curry
Kiawe Wood BBQ Station
Korean BBQ Kalbi Ribs, Chinese Steamed Mongchong with Ginger and Scallion
Real Above-Ground Kalua Pig Live Carving Station
Dessert Station
Royal Hawaiian Bread Pudding, Pink Haupia Cake, Halo-Halo Flan Waialua Estate Chocholate-Coffee Tiramisu
Vegetarian Menu
Vegan Menu
Gluten Free Menu
Special Instructions
Where and When
Check-in begins at 5:00 pm (Cocktail Seating checks in/begins seating at 7:00 pm) at the Royal Hawaiian, 2259 Kalakaua Avenue, Honolulu, HI 96815 View Map
Restrictions
There is a 72 hour cancellation policy for this activity. Within 72 hours of your luau date there is no cancellations or refunds.
Special Notes
A child (0-4 yrs) is free when they sit in the lap of an adult. These children do not include their own plate but are welcome to pick off the adult's plate.
You should select the pricing "Per Child in Own Seat, with Plate (0-4 yrs)" if you would like the child (0-4 yrs) to have their own seat (including siting in a highchair) and plate. Please note if the child with a seat will need a highchair, the luau will do their best to provide one but they may be limited.
Operation Days
Monday, Thursday & Saturday
Duration
2.5 hours