Your vacation in Maui is never complete without a visit to Piiholo Ranch and trying their 7-line treetop adventure.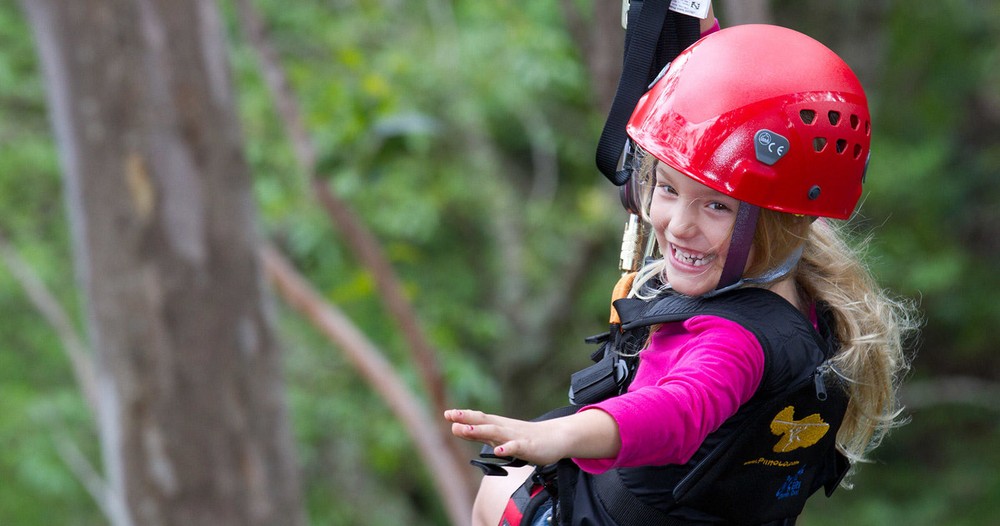 A family-friendly zipline tour, let your children experience this 2.5-hour superhero kind of escapade, conquering seven ziplines with length ranging from 175 to 930 feet!
So, what makes it stand out from all the activities you can do on the island? Soaring above Kahakapao valley through ziplines from tree to tree, you will experience a flying sensation descending into the valley, sweeping through canopy tunnels, and landing to a pirate ship treehouse. With top-quality harnesses and equipment, your safety and enjoyment are ensured!
Book your tickets now and find out why it is voted as a top Maui zipline!
What to Expect?
For these kinds of outdoor activities, always remember to wear light, closed shoes for your comfort and protection. You might as well want to empty your pockets, too. Also, ensure to apply sunblock, especially if your skin is sensitive to bright sunlight. As you know, the sunshine in Hawaii is at its brightest from 10 AM to 4 PM, which could be damaging to the skin. Wearing sunglasses may also help as protection for your eyes and of course, don't forget your cameras and GoPros! It would be best if you never missed capturing your flying moment.
Head over to Piiholo Ranch Zipline located at 799 Piiholo Road in Makawao to check-in. Ensure to arrive at least 45 minutes prior to your scheduled tour to allow time for equipment fitting, as well as signing a waiver. If you are coming from the Kihei or Wailea area, expect a 45-minute driving time to the location and 1.5 hours if you are driving from Lahaina and Kaanapali.
As their top priority, you are given a short safety briefing before outfitting and securing your safety gear. Although it's normal to feel scared at first, your guides make sure that you will feel comfortable before your first ride. Just listen to their instructions carefully, especially if it is your first time doing this activity. 
Ziplining towards the 930-foot line grand finale 
Feel the cold breeze of the wind while enjoying the view as you soar over the Kahakapao valley through your first zipline, which measures 225 feet to the second at 220 feet. This part of the island is a bit colder, especially during the winter season, at its elevation of 2,260 feet. Trust us when we say that after your first and second ziplines, you would want to jump right away to your third. But we tell you, this aerial adventure is better when you don't rush. So, take your time and savor each moment. Besides, you don't get to hang on trees ziplining often, do you? Rest assured that at every stop, your attentive guides always make sure that you are attached to safety lines at all times. 
Your third ride is shorter at 175 feet, but it transports you through a canopy bridge to your next platform, which is over 75 feet above the forest ground! This third ride plunges you down deep into the valley. If you haven't noticed, this line has a cutting-edge magnetic braking system to support your perfect, safe landing on the ground before your dramatic 4th zipline experience.
The 315-foot zipline number four is designed to be longer to let you experience an extended flying sensation 300 feet above the ground, passing through a canopy and landing at a unique pirate ship treehouse. With all the beautiful sceneries right before your eyes, don't forget to capture these beautiful moments.
Your journey continues as you traverse the forest through lines number five at 225 feet and number six at 230 feet heading to your grand finale! Your zipline number seven measures a staggering 930 feet long, which surely fulfills the thrill you are looking for. Plus, this activity resumes even if it rains, unless the weather is so bad that it compromises your safety. But don't worry because they provide you with rain gear.
After completing all seven platforms, you are treated with light snacks and beverages.
KNOW BEFORE BOOKING:
Light snacks and beverages are included in your package.

State-of-the-art ziplining equipment, as well as rain gear, are provided in this activity.

The minimum age to participate in this activity is eight years old, whereas the allowed weight is from 60 to 250 pounds.

You are not allowed to participate if you have gone SCUBA diving 24 hours prior to this activity.

You should not have a fear of heights to participate in this activity. Other serious medical conditions such as back and heart problems are not allowed to participate in this activity, as well as pregnant women.

This activity is rain or shine, unless the weather condition is hazardous to everyone's safety, wherein you could get a 100% refund.
*Always call when in doubt.