What would you think of the idea of paddleboarding at the turquoise blue waters of the jaw-dropping Kailua Beach?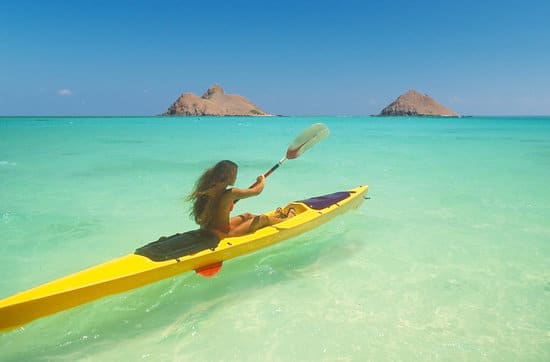 Along with this, you also get to be anchored for an exciting snorkeling adventure, simply relax in the waters, or search for a wreck of an airplane! Experience all of these and more, with Kailua Beach Adventures' 2-hour guided kayak excursion, accompanied by knowledgeable and lifeguard certified tour guides.
The best thing about this tour is that you can bring your kids as young as five years old, and let them experience a one-of-a-kind water excursion. Allow them to get closer to nature and appreciate the seascape, as well as the marine life. This is also perfect for kayaking beginners, led by expert and friendly tour guides, who tell you stories about the beach and the sea life, at the same time. The company offers two options depending on your preferences: the Private Tour and the Private "Family" Tour. The first is ideal for individuals who want to enjoy their privacy and prefer to paddle at their own pace. Whereas, the latter is a better option for families with children under 8 years old, and guests who don't mind keeping up with the pace of a group.
Before heading towards the check-in area, ensure to bring a bathing suit because you will get wet. In addition, make sure to bring reef-safe sunscreen for the protection of the coral reefs and marine life. You may also bring footwear for beaches like sandals with straps or water shoes, towel, change of clothes, sunglasses, and of course your camera!
Before kicking in, your tour guides will provide safety and paddling instructions and assist you in launching your kayak, which is a stable sit-on-top type. As you paddle towards your destination – a small offshore island that is a protected seabird sanctuary called Popoi'a Island, you will likely encounter green sea turtles when they pass through their natural feeding grounds. Once you arrive at the island, grab your camera to get snapshots of beautiful seabirds living here. But before that, you will have a 20 to 25-minute eco hike to see them. Watch your steps though, because they are nesting in holes among the grassy, rocky shore! Also, keep an eye out for rainbow runners, rock crabs, and other various marine life in and around the island's tide pools.
At this point, you may be starving so you will head back to Kailua Beach where you eat your delicious lunch. After the meal, you will be supplied with snorkeling gear, boogie boards, and beach mats for your 2-hour snorkeling! This is a free time so you can just relax if snorkeling is not your thing, or better yet, search for some wrecks of an airplane in a plane crash site around the area.
TOUR HIGHLIGHTS
Two-hour guided kayak tour by lifeguard certified staff from Kailua Beach to Popoi'a Island

Short hike on the seabird sanctuary to see marine life

Paddle back to Kailua Beach and enjoy two hours of beach activities such as snorkeling
TOUR INCLUSIONS
Transportation from and to Waikiki

All kayak and safety gear, including life jackets, dry bags, and island landing permits

Use of beach mats, boogie boards, snorkeling gear, and secure lockers for your valuables

Mouthwatering lunch

Free beach parking
LUNCH MENU
Several options of meat and vegetarian hand-tossed pizzas, calzones, burgers, salads, and Korean BBQ, sandwiches, sodas and juice. (Vegetarian, vegan and other dietary restrictions will be accommodated).
ADDITIONAL INSTRUCTIONS
Pick-up time:

Begins at 7:30 am 
Check-in time: 9:15 am (130 Kailua Road, Kailua Beach Adventures Beachside Center)
Return to Waikiki: Around 2:30 pm
Restrictions:

Every participant must know how to swim. Nobody who can't swim is allowed to join the tour. No refund is allowed in this case as per the cancellation policy.
Minimum age of participant: 8 years old and 5 years old for private group tour (5 to 17-year old guests must be accompanied by parents or guardians). 16 years old and under must ride a double kayak, accompanied by a parent or a guardian.
Participants need to transport their kayaks to/from the beach through a cart.

Operations:

Monday to Saturday

Duration:

4 hours (2 hours of guided Oahu kayaking + 2 hours free time at Kailua Beach)