Waikiki Beach, with its stunning vintage posters featuring Hawaiian surfers and the iconic Diamond Head crater as a backdrop, has become synonymous with paradise. As a Maui local, I initially had my doubts about the hype surrounding this popular beach oasis in the Pacific's Manhattan. However, after spending five days there, I can now understand why Waikiki has put Hawaii on the map as a famous and beloved tourist destination. Despite the crowds, there are ten compelling reasons why Waikiki Beach remains the most visited beach in Hawaii, including its association with Duke Kahanamoku, the father of modern surfing, its white-sand beaches, celebrity sightings, the renowned Moana Surfrider Hotel, its proximity to other Oahu attractions, and the picturesque Diamond Head as a backdrop. So sit back, relax, and get ready to discover why over 71,000 people flock to Waikiki daily.
Reasons Why Waikiki is Popular
Waikiki Beach has long been one of the most popular vacation destinations in the world, and it's not hard to see why. From its vintage poster that captures the essence of a bygone era to its stunning white-sand beaches and rich history, Waikiki has something for everyone. Whether you're a surfer looking to ride the waves like Duke Kahanamoku or a history buff intrigued by the stories of King Kamehameha, Waikiki offers a unique experience that is hard to find elsewhere. So, what makes Waikiki so popular? Let's explore some of the key reasons.

Waikiki Beach's Vintage Poster
One of the first things that may come to mind when thinking about Waikiki is its iconic vintage poster. Featuring a vibrant scene of surfers riding the waves and a picturesque sunset, this poster instantly captures the spirit of Waikiki. It has become a symbol of the laid-back lifestyle and natural beauty that the area is known for. The vintage poster has found its way onto countless walls and serves as a reminder of the timeless allure of Waikiki.
Duke Kahanamoku and Modern Surfing
Another reason why Waikiki is so popular is its close association with Duke Kahanamoku, a legendary figure in the world of surfing. Duke, often referred to as the "Father of Modern Surfing," was born in Waikiki and played a significant role in popularizing the sport. Today, surfers from around the globe flock to Waikiki to ride its renowned waves and pay homage to Duke's legacy. Whether you're an experienced surfer or a beginner looking to catch your first wave, Waikiki's waves offer an unforgettable experience.
White-Sand Beaches
Waikiki is famous for its pristine white-sand beaches, which are among the most beautiful in the world. The soft, powdery sand invites you to kick off your shoes and take a leisurely stroll along the shoreline or simply relax under the shade of a palm tree. The warm waters of the Pacific Ocean are perfect for swimming, snorkeling, and various water sports, making Waikiki a haven for beach lovers of all ages. With its gorgeous beaches and breathtaking views, it's no wonder that Waikiki is a top choice for those seeking sun, sand, and relaxation.
Celebrities and Historic Hotels
Waikiki's popularity can also be attributed to its rich history and association with celebrities. Over the years, numerous celebrities have flocked to this tropical paradise, seeking respite and privacy away from the prying eyes of the paparazzi. Historic hotels such as the Royal Hawaiian and the Moana Surfrider have hosted famous guests, adding to the allure and glamour of Waikiki. Many visitors to Waikiki hope to catch a glimpse of their favorite star while lounging by the pool or strolling along the bustling streets of this iconic neighborhood.
Proximity to Oahu Attractions
One of the major advantages of staying in Waikiki is its proximity to the many attractions of Oahu. From the bustling city of Honolulu to the natural wonders of the North Shore, Waikiki serves as an ideal home base for exploring the island's diverse offerings. Within a short drive, you can visit historical landmarks like Pearl Harbor and the USS Arizona Memorial, embark on a scenic hike to Manoa Falls, or immerse yourself in the vibrant culture of Chinatown. With so much to explore in close proximity, Waikiki truly provides the best of both worlds – a relaxing beach retreat combined with easy access to exciting adventures.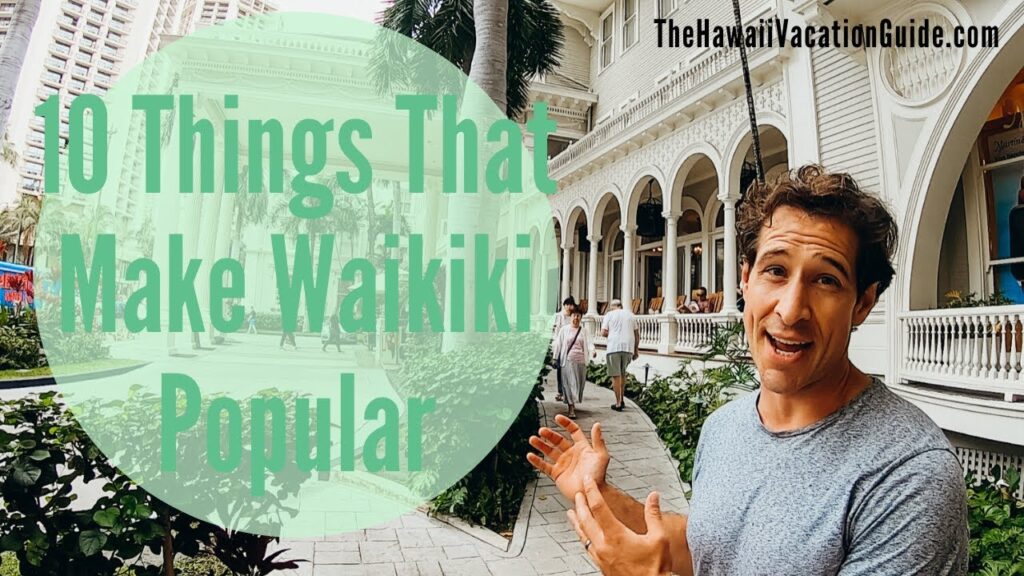 This image is property of i.ytimg.com.

Diamond Head as a Backdrop
One of the most iconic features of Waikiki is the majestic Diamond Head, a dormant volcano that serves as a stunning backdrop to the neighborhood. Its distinct cone shape and lush greenery create a picture-perfect setting that adds to the overall charm of Waikiki. Hiking to the summit of Diamond Head offers visitors a panoramic view of the entire area, showcasing the beauty of the beaches, the sparkling blue ocean, and the vibrant cityscape. The presence of Diamond Head adds a touch of natural beauty and adventure to the already enchanting atmosphere of Waikiki.
Public Beaches and Erosion
Despite its popularity, Waikiki has faced some challenges, particularly with beach erosion. Over the years, the shoreline has experienced erosion due to rising sea levels and increased development. However, ongoing efforts to address this issue have resulted in the restoration of certain areas and the implementation of measures to protect the shoreline. Public beaches like Kuhio Beach and Queen's Surf Beach continue to attract visitors with their inviting waters and picturesque views. While erosion remains a concern, steps are being taken to preserve and maintain Waikiki's beaches for future generations to enjoy.
Celebrities and Celebrity Spotting
If you're a fan of celebrity sightings, you'll be pleased to know that Waikiki has its fair share of famous visitors. Whether it's Hollywood actors, professional athletes, or musicians, Waikiki's appeal extends beyond its natural beauty. Many celebrities choose to vacation or hold events in this tropical paradise, drawn to its luxurious hotels, world-class dining, and vibrant nightlife. Keep your eyes peeled while exploring Waikiki, as you never know who you might run into during your stay.
Hawaiian History and King Kamehameha
As the birthplace of modern surfing, it's no surprise that Waikiki also plays a significant role in Hawaiian history. The area is steeped in cultural heritage and has witnessed the rise and reign of King Kamehameha, the first monarch to unify the Hawaiian Islands. Historical landmarks like the Iolani Palace and the King Kamehameha Statue serve as reminders of the rich history of the area. Through cultural events, such as traditional hula performances and lei-making workshops, visitors have the opportunity to learn about and immerse themselves in the vibrant Hawaiian culture that thrives in Waikiki.
Convenience and Accessibility
One of the reasons why Waikiki remains a highly sought-after destination is its convenience and accessibility. Located just a short distance from Honolulu International Airport, Waikiki is readily accessible to travelers from all around the world. Once you arrive, you'll find that getting around Waikiki is easy and convenient, with numerous hotels, restaurants, and attractions within walking distance. Whether you choose to explore the neighborhood by foot, rent a bike, or take a short taxi ride, everything you need is right at your doorstep, ensuring a stress-free and enjoyable vacation experience.
Sunsets and Shark-Free Waters
Waikiki is renowned for its breathtaking sunsets, which paint the sky with vibrant hues and create a romantic ambiance that is hard to replicate. Watching the sun dip below the horizon while standing on the shores of Waikiki Beach is a truly magical experience that leaves a lasting impression. Additionally, Waikiki's waters are known for being shark-free. This is a significant draw for ocean enthusiasts and those with a fear of sharks alike. The ability to swim, paddleboard, or simply relax without worry adds to the overall appeal and makes Waikiki a safe and enjoyable destination for water activities.
Ideal Weather
With its year-round warm weather, Waikiki is an ideal destination for those seeking an escape from cold climates. The average temperature in Waikiki hovers around 80 degrees Fahrenheit, creating the perfect beach weather for swimming, sunbathing, and outdoor activities. The gentle tradewinds provide a refreshing breeze that cools the air, making it comfortable even during the hottest months. Whether you visit in the summer or winter, Waikiki's balmy climate ensures that you can make the most of your time outdoors, enjoying all that this tropical paradise has to offer.
Central Location and Attractions
Last but not least, Waikiki's central location allows visitors to easily explore other attractions on the island of Oahu. Whether you want to visit the stunning waterfalls of Hanauma Bay, hike to the top of the iconic Manoa Falls, or experience the vibrant nightlife of downtown Honolulu, everything is within reach from Waikiki. Being able to conveniently access these diverse attractions adds another layer of appeal to this already beloved destination. With Waikiki as your home base, you can effortlessly venture out and explore all that Oahu has to offer, creating a well-rounded and memorable vacation experience.
In conclusion, Waikiki's popularity can be attributed to a combination of factors, including its iconic vintage poster, association with Duke Kahanamoku and modern surfing, stunning white-sand beaches, vibrant history, and proximity to Oahu attractions. The presence of Diamond Head, ideal weather, convenient accessibility, and the opportunity for celebrity spotting further enhance the appeal of this tropical paradise. Whether you're drawn to Waikiki's natural beauty, rich cultural heritage, or vibrant atmosphere, there's no denying that this iconic neighborhood has a special allure that keeps visitors coming back for more. So, pack your bags, grab your surfboard, and get ready to experience the magic of Waikiki for yourself.