Looking for the best spots to snorkel in Oahu, Hawaii? Look no further! In this episode, Reiplays takes you on a virtual tour of some amazing snorkeling locations in Oahu that will make up for any missed opportunities at the popular Hanauma Bay. First up is Lagoon number four at Ko Olina, a least crowded spot with convenient parking and equipment rental options. If you're looking for a vibrant city scene, head to Waikiki Beach in Honolulu, where you can enjoy snorkeling along with swimming and surfing. And for some truly unique underwater sights, make sure to visit Aquilima Cove and Shark's Cove, both located on the North Shore of the island. With so many amazing options, you won't be disappointed with these alternative snorkeling spots in Oahu.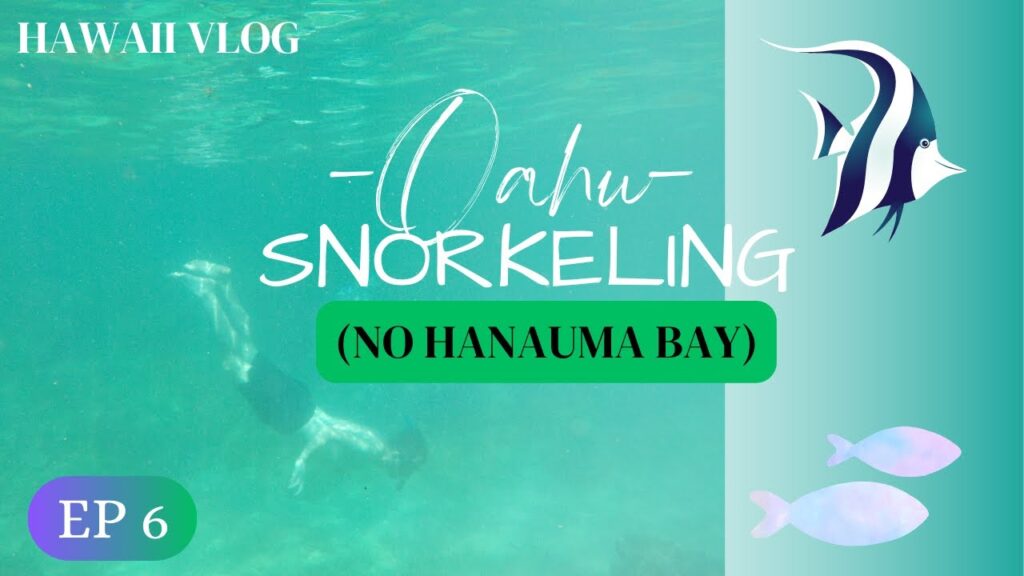 This image is property of i.ytimg.com.
West Side of Oahu
Ko Olina
If you're looking for a snorkeling spot on the west side of Oahu, look no further than Ko Olina. Located about 25 to 30 minutes from the airport, Ko Olina is home to the famous Aulani by Disney resort. Even if you're not staying at one of the resorts, you can still enjoy snorkeling at Lagoon number four, also known as Ulua Lagoon. This lagoon is the least crowded and has 100 parking spots available. While the resorts do offer equipment rentals, they can be quite pricey. It might be worth considering buying your own snorkeling set from a local store. The unique feature of the lagoons at Ko Olina is that they are made up of four man-made coves that curve inwards, creating a truly beautiful and protected snorkeling environment. If you have young kids, these lagoons are perfect as they are protected by rocks and are very shallow. However, it's important to note that the center and sandy shores of the lagoon may not have as many fish. If you want to see more marine life, I recommend heading to the rocky areas.
Honolulu – Waikiki Beach
Snorkeling at Waikiki Beach
Now let's head to Honolulu, specifically Waikiki Beach. Waikiki is a vibrant city known for its stunning beach and bustling atmosphere. While you may not initially think of snorkeling when it comes to Waikiki Beach, it is actually a great spot to explore underwater. You can easily rent snorkeling equipment in the city, and if your goal is to see fish, you'll definitely find them here. The access to snorkeling at Waikiki Beach is quite easy, making it a convenient option for visitors. So why not take a dip in the crystal-clear waters and discover the beautiful marine life just steps away from the city scene?
North Shore
Turtle Bay – Kuilima Cove
If you're willing to take a little over an hour's drive from Waikiki, you'll find yourself on the North Shore of Oahu. One of the best snorkeling spots in this area is Turtle Bay, also known as Kuilima Cove. Located near the Turtle Bay Resort, parking is readily available, and you can even rent equipment and relax on the beach with chairs provided. The cove itself is sheltered from the ocean by rocks, creating a calm and secluded snorkeling area. It's worth checking the signs before diving in, as the ocean conditions can sometimes be rough. On our visit, the waves were a bit strong, making it a little challenging to see clearly, but if you're lucky, you may spot some turtles at Kuilima Cove.
Shark's Cove – Pupukea Beach
By far the best snorkeling site we visited on Oahu was Shark's Cove, also known as Pupukea Beach. This location is about an hour's drive from Waikiki and offers a unique snorkeling experience. Unlike your typical oceanic coves or beaches, Shark's Cove is very rocky, so proper footwear is a must. However, once you're in the water, you'll be amazed by the abundance of marine life. Fish can be spotted everywhere you look, which is why Shark's Cove is considered the number one spot for snorkeling. If you're up for the adventure and don't mind navigating through the rocks, this is the place to be.
Conclusion
While missing out on a last-minute reservation at Hanauma Bay may be disappointing, there are plenty of other incredible snorkeling spots on Oahu to explore. Whether you're looking for a more secluded experience on the West Side at Ko Olina or want to snorkel in the heart of Honolulu at Waikiki Beach, there is something for everyone. If you're willing to venture out to the North Shore, Turtle Bay's Kuilima Cove and Shark's Cove/Pupukea Beach offer unforgettable underwater adventures. Remember, Hawaii is a paradise for snorkeling, and this list of recommendations will ensure that you don't miss out on experiencing the beauty beneath the waves. So grab your snorkeling gear and get ready for an unforgettable snorkeling trip in Oahu, Hawaii!