You made a good decision. Going to Oahu is a great island to visit. Now the 2nd big decision, which part of Oahu should you stay on? Waikiki or Ko Olina or The North Shore? We give you the pros and cons of where to stay in Oahu, Hawaii. Waikiki offers the famous beach, nightlife, activities galore, and is a central location but it gets crowded. Ko Olina offers 4 white-sand lagoons, stay and play resorts, a Disney resort, luaus, and sun-drenched weather but you are a little isolated on the far side of the island. The North Shore is famous for epic surfing, jungle hikes, waterfall swims, amazing restaurants and food trucks, and a chill vibe but windward weather means rain and spotty weather. After living two years on Oahu, in fact in Ko Olina, I can lay out the facts on these Oahu destinations so you don't have to learn the hard way. Here come the pros and cons of what you can expect when staying in each of these Oahu resort destinations. Mahalo for watching!
Where to Stay in Oahu: Waikiki vs Ko Olina vs The North Shore

Introduction
Planning a trip to Oahu, Hawaii, and wondering where to stay? Look no further, as this comprehensive guide will help you decide between three popular areas: Waikiki, Ko Olina, and The North Shore. Each of these locations offers unique experiences and attractions, so it's important to consider your preferences and priorities when choosing your accommodation in Oahu.
Waikiki
When it comes to iconic vacation spots in Oahu, Waikiki immediately comes to mind. This bustling neighborhood is known for its stunning beach and vibrant atmosphere. If you want to be in the heart of the action and enjoy a mix of city life and beachfront relaxation, Waikiki is an excellent choice.
Pros of Staying in Waikiki
Staying in Waikiki offers numerous advantages. Firstly, there is an abundance of hotels and resorts to choose from, catering to all budgets and preferences. You'll be spoiled for choice with a vast range of accommodation options, from luxurious beachfront resorts to affordable and cozy boutique hotels. Additionally, Waikiki has a vibrant nightlife scene, with numerous bars, restaurants, and entertainment options. You'll never run out of things to do in this lively neighborhood, whether it's shopping, dining, or simply strolling along the famous Waikiki Beach.
Cons of Staying in Waikiki
While Waikiki carries plenty of perks, there are some downsides to consider as well. The area can become crowded, particularly during peak tourist seasons, which means you might encounter more crowds than solitude. If you're seeking a quieter getaway or a more secluded experience, Waikiki might not be the ideal choice. Additionally, accommodations in Waikiki can be pricier compared to other parts of the island. If you're on a tight budget, you might find it challenging to find affordable options in this popular area.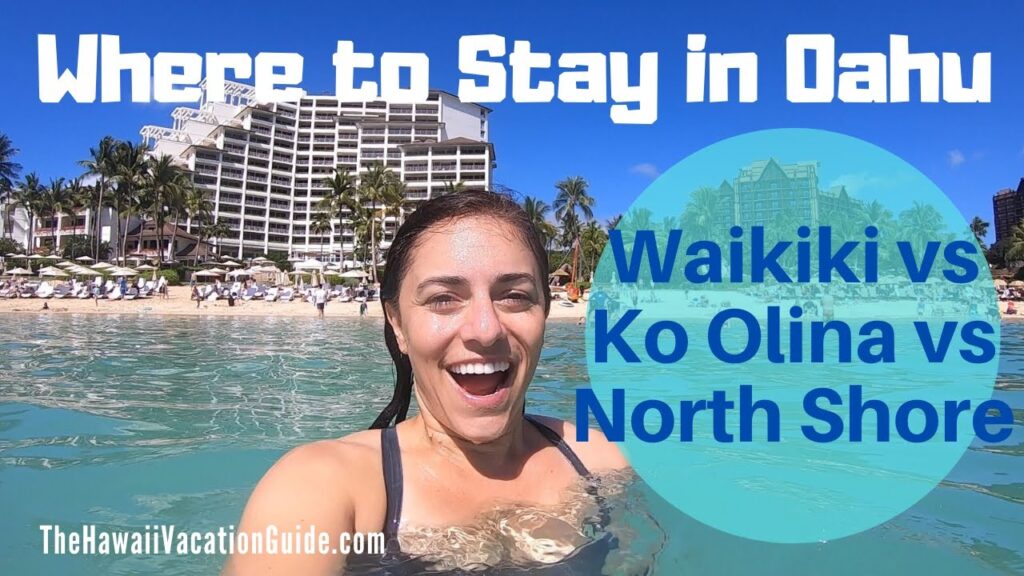 This image is property of i.ytimg.com.

Ko Olina
Located on the western coast of Oahu, Ko Olina paints a picture of tranquil beauty. This resort community offers a serene ambiance and picturesque landscapes, making it a great choice for those seeking relaxation and luxury.
Pros of Staying in Ko Olina
One major advantage of staying in Ko Olina is the stunning beaches. With its four lagoons, Ko Olina offers pristine stretches of sand, crystal-clear waters, and a sense of exclusivity. If you're looking for a more private and secluded beach experience, Ko Olina is the ideal choice. Additionally, this area is home to several world-class luxury resorts, providing top-notch amenities, exquisite dining options, and pampering spa experiences. If indulgence and serene beauty are what you desire, you won't be disappointed with a stay in Ko Olina.
Cons of Staying in Ko Olina
While Ko Olina offers a slice of paradise, it may not suit everyone's preferences. One drawback is the limited dining and entertainment options compared to areas like Waikiki. If you enjoy a wide range of dining choices or want a vibrant nightlife scene, you might find Ko Olina a bit too secluded. Additionally, as Ko Olina is a resort community, it tends to be pricier, with accommodation options leaning towards the higher end of the spectrum. Choosing Ko Olina might require a more generous travel budget.
The North Shore
If you're a nature and adventure enthusiast, the North Shore of Oahu is a haven waiting to be explored. This area is famous for its stunning beaches, surf culture, and laid-back atmosphere. If you're seeking a more authentic Hawaiian experience away from the hustle and bustle of the city, the North Shore might be the perfect fit for you.
Pros of Staying in The North Shore
The North Shore is well-known for its world-class surfing spots, attracting surfers from around the world. If you're a seasoned surfer or simply want to witness the spectacle of gigantic waves crashing against the shoreline, you'll be in awe of the North Shore's breathtaking surf breaks. In addition to surfing, the area offers numerous outdoor activities, such as hiking, snorkeling, and exploring lush tropical landscapes. The North Shore also boasts a vibrant local community, with charming towns, farmers' markets, and a relaxed island vibe that will make you feel at ease.
Cons of Staying in The North Shore
While the North Shore offers natural beauty and an authentic Hawaiian experience, it may not suit everyone's needs. Accommodation options in this area are more limited compared to Waikiki or Ko Olina, and they tend to be more modest in terms of amenities. If you're seeking luxury resorts or a wider range of amenities and services, the North Shore might not be the most suitable choice. Additionally, as the North Shore is located further away from the city, accessing other parts of the island can take longer, making day trips to popular attractions more time-consuming.
Comparison and Recommendations
Now that we've explored the pros and cons of each area, let's compare and make some recommendations based on different preferences:
If you're looking for a vibrant and bustling atmosphere, with plenty of nightlife options and a wide range of accommodations, Waikiki would be the best choice for you.

For those seeking a tranquil beach retreat with luxurious amenities and a sense of exclusivity, Ko Olina would be an excellent fit.

If you're a nature lover, enjoy outdoor activities, and prefer a more authentic Hawaiian experience, the North Shore would be the perfect destination for you.
Ultimately, the choice between these three areas depends on what kind of experience you're seeking during your stay in Oahu. Whether it's a mix of city and beach life, a luxurious and serene getaway, or an adventurous and laid-back exploration, Oahu has it all.
Conclusion
Choosing the right location to stay in Oahu is a crucial decision that can significantly impact your vacation experience. Waikiki, with its vibrant atmosphere and iconic beach, offers a blend of city life and relaxation. Ko Olina provides a secluded and luxurious beach retreat, perfect for those seeking tranquility and indulgence. On the other hand, the North Shore offers nature, adventure, and an authentic Hawaiian experience. By considering your preferences and priorities, you'll be able to make an informed decision that ensures a memorable and enjoyable stay in Oahu.