Hey there! Are you planning a family trip to Waikiki and looking for fun things to do with your kids? Well, look no further! In this video by The Hawaii Vacation Guide, you'll find a perfect day itinerary filled with exciting activities for kids in Waikiki. From a delicious breakfast at Diamond Head Grill and Market to hiking up the scenic Diamond Head, from enjoying refreshing acai bowls at Da Cove Health Bar to snorkeling at Queens Beach in Waikiki, this video provides a blueprint for an amazing day on Waikiki Beach with your little ones. Plus, it even suggests pool time at Sheraton Waikiki/Royal Hawaiian, playing at Hilton Hawaiian Village Lagoon, and a lovely dinner and sunset at Duke's Hawaii. So get ready to give your kids the best day in Waikiki they deserve!
As you embark on this adventure, it's important to note that the video also includes disclaimers and information about potential risks associated with the mentioned activities. Safety first! Exploring Diamond Head, a volcanic crater known as Leahi, requires a steep and strenuous hike with stairs and a tunnel leading to military bunkers and a fire control station. It is advised to visit in the early morning for the best views and less crowded conditions. And if you're looking for a healthy treat, don't forget to try the popular acai bowls available at places like Da Cove Health Bar or Tribal Acai. Snorkeling at Queen's Beach, near the aquarium wall, is a must for underwater enthusiasts. And to top it all off, Hilton Hawaiian Village Lagoon offers a large artificial lagoon with various water activities for kids. So pack your bags, plan your day, and get ready for an unforgettable family experience in Waikiki!

Waikiki Kids' Day
Introduction to the perfect day for kids in Waikiki
Welcome to Waikiki, a paradise destination known for its beautiful beaches, warm weather, and vibrant culture. If you're looking for the perfect day filled with fun and excitement for your little ones, you've come to the right place! Waikiki offers a multitude of activities and experiences that are sure to create lasting memories for you and your family. From delicious breakfast options to thrilling adventures, let's dive into the details of the perfect day for kids in Waikiki.
Breakfast at Diamond Head Grill and Market
Overview of Diamond Head Grill and Market
What better way to start the day than with a delicious breakfast at Diamond Head Grill and Market? Located near the iconic Diamond Head volcano, this charming eatery offers a wide array of delectable dishes to satisfy even the pickiest eaters. From fluffy pancakes to mouthwatering omelets, their menu has something for everyone. The friendly staff and laid-back atmosphere make it the perfect spot to fuel up before embarking on a day filled with excitement.
Mock-up menu options for kids
Diamond Head Grill and Market understands the importance of catering to young appetites. Their mock-up menu for kids offers a variety of options that are both tasty and nutritious. Little ones can enjoy fluffy pancakes topped with fresh fruits, scrambled eggs served with toast, or even a mini Hawaiian plate complete with rice, teriyaki chicken, and a side of macaroni salad. With these enticing choices, even the fussiest eaters will be satisfied.
Information on location and opening hours
Diamond Head Grill and Market is conveniently located at 4318 Waialae Avenue, just a short distance from Waikiki. They are open from 7:00 AM to 2:00 PM, ensuring you can kickstart your day bright and early. Be sure to arrive early, as this popular spot tends to get crowded during peak breakfast hours.
Hiking Diamond Head
Introduction to Diamond Head
After a hearty breakfast, it's time to stretch your legs and embark on an adventure with the family. Diamond Head, also known as Le'ahi in Hawaiian, is a volcanic crater that offers breathtaking views of Waikiki and the surrounding area. This iconic landmark is a must-visit for families looking to experience the natural beauty of the island.
Description of the hike to the top
The hike to the top of Diamond Head is a moderately challenging but rewarding experience. The trail takes you through a series of switchbacks and steep stairs, providing an opportunity to admire the lush vegetation and panoramic vistas. As you ascend, you'll come across a fascinating tunnel and military bunkers that offer a glimpse into Hawaii's history. Finally, the hike culminates at the fire control station, where you'll be greeted with awe-inspiring views of the Pacific Ocean and the sprawling city below.
Information on length and difficulty
The Diamond Head hike is approximately 1.6 miles round trip, starting from the trailhead near the Diamond Head crater's entrance. While the trail does involve some uphill sections and stairs, it is suitable for children of all ages. However, it is important to note that strollers and pets are not allowed on the trail.
Highlights of the hike: steep stairs, tunnel, military bunkers, and fire control station
Throughout the hike, there are several highlights that both kids and adults will enjoy. The steep stairs, although challenging, add a sense of adventure to the journey. The tunnel, a remnant of the crater's military past, serves as an interesting point of exploration. The military bunkers scattered along the trail provide fascinating insights into the island's history and offer fantastic photo opportunities. Finally, reaching the fire control station rewards you with unparalleled views, making every step worthwhile.
Recommended time to visit for nice views and less crowded conditions
To fully enjoy the hiking experience and avoid large crowds, it is recommended to visit Diamond Head in the early morning or late afternoon. The golden hues of sunrise or sunset cast a magical glow over the landscape, creating a truly unforgettable experience. Additionally, arriving outside of peak hours allows for a more serene and less congested hike.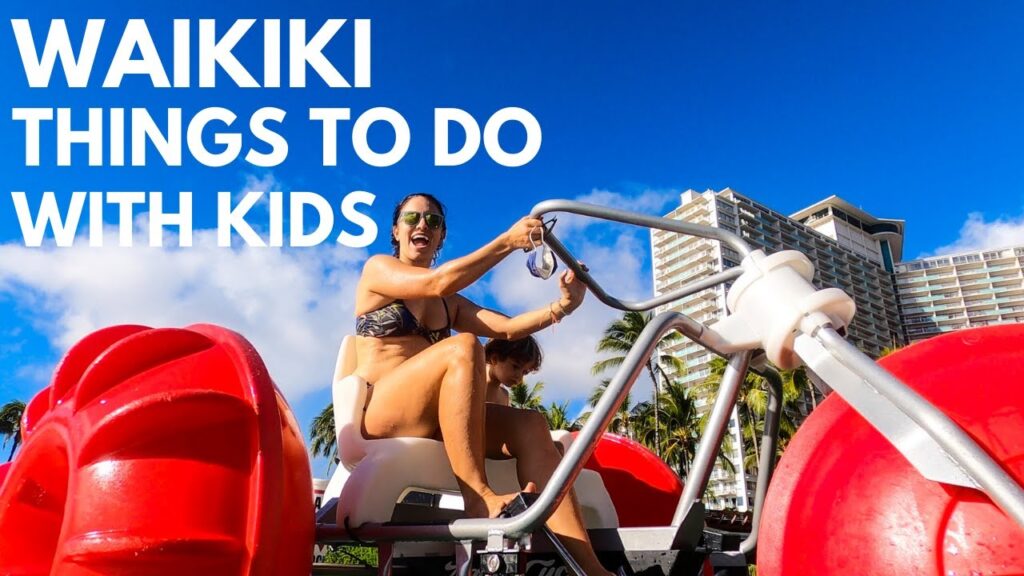 This image is property of i.ytimg.com.

Enjoying Acai Bowls at Da Cove Health Bar
Overview of Da Cove Health Bar
After an invigorating hike, it's time to replenish your energy with a refreshing treat. Da Cove Health Bar, located near the coast, offers an assortment of delicious and nutritious acai bowls. This trendy spot focuses on serving fresh, locally sourced ingredients in their tasty creations. With its laid-back beach vibe and scrumptious menu, Da Cove Health Bar is the perfect spot to cool down and indulge in a guilt-free delight.
Explanation of acai bowls and their popularity
Acai bowls have gained popularity in recent years due to their health benefits and delicious taste. These bowls are made with acai berries, a superfood known for its high antioxidant content. Blended with other fruits, such as bananas or berries, and topped with granola, coconut flakes, and honey, acai bowls provide a refreshing and nutritious snack. Whether you're after a post-hike treat or a light lunch, these bowls are a hit among kids and adults alike.
Information on other locations in Waikiki to find acai bowls
If you're unable to make it to Da Cove Health Bar, fret not! Waikiki is dotted with numerous spots where you can find acai bowls. From health-conscious cafes to beachside stalls, you'll have no trouble satisfying your cravings for this tropical delight. Some other notable places to check out include Island Vintage Coffee, Heavenly Island Lifestyle, and Backyard Bowls.
Snorkeling at Queens Beach in Waikiki
Introduction to snorkeling at Queens Beach
No visit to Waikiki would be complete without exploring the vibrant underwater world that surrounds the island. Queens Beach, nestled at the eastern end of Waikiki, offers excellent snorkeling opportunities for the whole family. The crystal-clear waters, teeming with colorful fish and unique coral formations, provide an unforgettable experience for both beginners and experienced snorkelers.
Description of the snorkeling area near the aquarium wall
Queens Beach is particularly renowned for its snorkeling area near the aquarium wall. This section is home to a variety of marine life, including tropical fish, sea turtles, and even occasional sightings of dolphins. The gentle waves and shallow depth make it an ideal spot for kids to learn how to snorkel and discover the wonders of the ocean. Just remember to tread lightly and respect the delicate ecosystem.
Tips for safe and enjoyable snorkeling experience
Before embarking on your snorkeling adventure, it's important to keep a few key tips in mind. First and foremost, always snorkel with a buddy and keep an eye on each other. Familiarize yourself with the snorkeling area and its specific rules and regulations. Additionally, it's essential to wear sunscreen and use environmentally friendly sunblock to protect both your skin and the coral reefs. Finally, be mindful of your surroundings and avoid touching or disturbing any marine life to ensure their safety and conservation.
Information on renting snorkeling gear
If you don't have your own snorkeling gear, no worries! There are several rental shops in Waikiki that offer equipment for a reasonable price. These shops provide everything you need, from masks and snorkels to fins and flotation devices. Some popular rental options include Snorkel Bob's, Aqua Zone, and Hawaii Water Sports Center. Renting equipment allows you to fully enjoy the snorkeling experience without the hassle of carrying your gear from home.
Pool Time at Sheraton Waikiki/Royal Hawaiian
Overview of Sheraton Waikiki and Royal Hawaiian
After a morning of exploration and adventure, it's time to cool off and relax by the pool. The Sheraton Waikiki and the Royal Hawaiian are two iconic hotels in Waikiki that offer exceptional pool facilities for guests of all ages. Whether you're looking for a thrilling water slide or a serene oasis to unwind, these resorts have it all.
Explanation of the pools and amenities for kids
Both the Sheraton Waikiki and the Royal Hawaiian boast impressive pools designed with kids in mind. From water slides to shallow play areas, children will have a blast splashing around and making new friends. The poolside amenities, such as comfortable lounge chairs, umbrellas, and attentive staff, ensure a comfortable and enjoyable experience for the whole family.
Information on pool rules and safety guidelines
To ensure the safety and well-being of all guests, it's important to familiarize yourself with the pool rules and safety guidelines. These policies are put in place to create a welcoming and secure environment for everyone. Remember to supervise your children at all times and adhere to any age or height restrictions for certain attractions. By following these guidelines, you can relax and enjoy your pool time to the fullest.
Playing at Hilton Hawaiian Village Lagoon
Introduction to Hilton Hawaiian Village Lagoon
If your little ones still have energy to spare after the pool, the Hilton Hawaiian Village Lagoon is the perfect place for them to burn off some steam. This sprawling artificial lagoon offers a variety of water activities that are sure to entertain kids of all ages. From paddleboarding to kayaking, there's something for everyone in the family to enjoy.
Description of the artificial lagoon and its water activities for kids
The Hilton Hawaiian Village Lagoon is a man-made paradise nestled between the resort and the beach. The calm waters are perfect for little ones to swim and play safely. Kids can delight in building sandcastles on the sandy shoreline or take a leisurely float on a water mat. Additionally, there are water activity rentals available, such as paddleboards and kayaks, for those seeking a bit of adventure.
Tips for enjoying the lagoon safely
While the Hilton Hawaiian Village Lagoon is a great spot for family fun, it's important to remember a few safety tips. Always keep an eye on your children and ensure they stay within designated swim areas. Even though the lagoon offers calm waters, it's a good idea to have life jackets available for younger swimmers. Lastly, be mindful of your surroundings and avoid any prohibited activities or areas to ensure a safe and enjoyable experience for all.
Information on other water activities available
If your family is seeking more water-based adventures beyond the lagoon, Waikiki offers an abundance of options. You can take a catamaran cruise along the coast, learn to surf at one of the many surf schools, or even go on a thrilling jet ski ride. The possibilities are endless, and each activity promises a unique and unforgettable experience for you and your family.
Dinner and Sunset at Duke's Hawaii
Overview of Duke's Hawaii
As the day draws to a close, treat yourselves to a memorable dinner at Duke's Hawaii. Named after legendary surfer Duke Kahanamoku, this beloved beachfront restaurant offers a relaxed and inviting atmosphere with stunning ocean views. Duke's pays homage to the spirit of Aloha by serving up delicious local cuisine and providing live music that sets the perfect ambiance for your evening.
Recommendations for dinner options
Duke's Hawaii offers an extensive menu filled with culinary delights influenced by Hawaiian and Pacific flavors. For the little ones, options such as macaroni and cheese, fish and chips, or chicken tenders are sure to please their taste buds. Meanwhile, adults can savor dishes like fresh island fish, prime rib, or Kalua pork nachos, showcasing the best of the local cuisine. Don't forget to save room for their famous Hula Pie, a mouthwatering ice cream dessert that has become a Duke's signature.
Highlighting the sunset view at Duke's
One of the highlights of dining at Duke's Hawaii is the breathtaking sunset view. As the sun dips below the horizon, painting the sky with vibrant hues of orange and pink, you'll be treated to a truly magical sight. The gentle sound of the ocean waves combined with the warm glow of the setting sun creates a serene and romantic ambiance for you and your loved ones to enjoy.
Information on booking reservations
Due to its immense popularity, it is recommended to make reservations prior to your visit to Duke's Hawaii. You can either book online or call their reservation line to secure a table. With a reservation, you can enjoy your evening without worrying about long waits or missing out on this unforgettable dining experience.
Luaus and Other Activities
Explanation of luaus and their popularity
When visiting Hawaii, attending a luau is a quintessential experience that allows you to immerse yourself in the traditional Hawaiian culture. Luaus are festive celebrations that feature various cultural performances, music, hula dancing, and a lavish feast. They have become incredibly popular among tourists, providing an opportunity to learn about the rich history and traditions of the Hawaiian islands.
Options for luaus at the Royal Hawaiian and Hilton Hawaiian Village
Both the Royal Hawaiian and Hilton Hawaiian Village offer exceptional luaus that are perfect for families. The Aha Aina Luau at the Royal Hawaiian takes you on a culinary and cultural journey, while the Paradise Cove Luau at the Hilton Hawaiian Village showcases traditional Polynesian dance and music. Whichever luau you choose, you're in for an enchanting evening filled with entertainment and delicious food.
Tips for enjoying luaus with kids
Attending a luau with kids can be an exciting and memorable experience. To make the most of the evening, it's advisable to arrive a little earlier to secure good seating and allow your children to explore the luau grounds. Additionally, make sure to explain the cultural significance of the event to your kids beforehand, so they can appreciate the performances and activities. Finally, be sure to try a variety of traditional Hawaiian dishes together as a family, encouraging your children to embrace new flavors and textures.
Information on other family-friendly activities in Waikiki
Beyond luaus, Waikiki offers an array of family-friendly activities for you and your kids to enjoy. You can visit the Waikiki Aquarium and marvel at the beauty of marine life, take a leisurely stroll along the vibrant Kalakaua Avenue and explore the numerous shops and boutiques, or even take a family hike through the stunning Manoa Falls Trail. No matter your interests, Waikiki has something for everyone, ensuring an unforgettable vacation for your family.
Conclusion
Summary of the perfect day for kids in Waikiki
With its beautiful beaches, thrilling hikes, delicious dining options, and vibrant cultural experiences, Waikiki truly offers the perfect day for kids. Start your morning with a scrumptious breakfast at Diamond Head Grill and Market, then embark on an adventure-packed hike up Diamond Head. Recharge with refreshing acai bowls at Da Cove Health Bar before diving into the underwater wonders of Queens Beach. Cool off by the pool at Sheraton Waikiki or the Royal Hawaiian before enjoying the sandy shores and exciting water activities at the Hilton Hawaiian Village Lagoon. Indulge in a memorable dinner at Duke's Hawaii as you soak in the breathtaking sunset, and top it all off with a luau to immerse yourself in the Hawaiian culture. Waikiki is filled with endless possibilities to create magical moments for you and your family.
Note on the importance of safety and following guidelines
While having fun and exploring all that Waikiki has to offer, safety should always be a top priority. Whether it's hiking Diamond Head, snorkeling at Queens Beach, or enjoying the water activities at the lagoon, it's vital to follow all rules and guidelines to ensure a safe experience for yourself, your family, and the environment. Always be mindful of your surroundings, respect the local culture, and take precautions to protect yourself from the sun's rays.
Suggestion for ending the day with sunset and relaxation on the beach
As the day comes to a close, what better way to end your Waikiki adventure than with a beautiful Hawaiian sunset and relaxation on the beach? Find a cozy spot on the sandy shores, lay back, and enjoy the tranquil sounds of the ocean. As the sun dips below the horizon, painting the sky with breathtaking colors, allow yourself and your family a moment of serenity and gratitude for the incredible day you've had. In Waikiki, paradise awaits, and unforgettable memories are just waiting to be made.