If you're planning a trip to Oahu, staying in Ko Olina might be on the top of your list. We spent two years living in Ko Olina and loved getting to know this spot inside and out. This is your guide to Ko Olina. The Ko Olina Resort is located on the sun-drenched, leeward (southwest) side of Oahu and features four lagoons, great weather, and a quieter atmosphere than busy Waikiki. Get our tips to save money and find the Ko Olina resort that is right for you to stay at. Looking to book a hotel at Ko Olina? Ko Olina offers activities for everyone: swimming in the lagoons, nearby hikes, snorkeling, stand up paddle, golf, and sailing from the Ko Olina Marina. It has plenty of options for places to stay, from the Four Seasons to vacation rentals. And you won't go hungry: Ko Olina station is filled with restaurants and each of the four hotels also offer top-notch eateries. If you want to make the most of your trip to Ko Olina, this guide will take you through everything you need to know.

Background
Location
Ko Olina, located on the western coast of Oahu, Hawaii, is a stunning and highly sought-after destination. It is nestled between the majestic mountains and the sparkling Pacific Ocean, creating a breathtaking landscape that will leave you in awe. The area is known for its pristine beaches, lush greenery, and clear blue lagoons, making it an ideal destination for those seeking a tropical paradise.
Description
Ko Olina is a resort community that offers both tranquility and luxury. The area boasts beautifully manicured grounds, lined with palm trees and vibrant flowers, creating a picturesque setting for your vacation. The architecture and design of the resorts and hotels in Ko Olina reflect the island's rich cultural heritage, incorporating elements of traditional Hawaiian style. The blend of natural beauty and refined elegance creates an atmosphere that is both peaceful and enchanting.
Weather
One of the great things about Ko Olina is its year-round pleasant weather. The average temperature ranges from 75°F to 85°F (24°C to 29°C), making it a perfect destination for beach lovers. With sunshine almost every day, you can expect clear skies and ideal conditions for outdoor activities. It's important to note that there might be occasional rain showers, so it's always a good idea to pack a light raincoat or umbrella just in case.
Atmosphere
The atmosphere in Ko Olina is relaxed, welcoming, and refreshing. Whether you're strolling along the beach, exploring the local shops, or dining at one of the many incredible restaurants, you'll feel a sense of tranquility and contentment. The locals are friendly and eager to share the Aloha spirit with visitors, making you feel right at home. The pace of life in Ko Olina is slow and unhurried, allowing you to truly unwind and enjoy the beauty of the surroundings.
Things to Know
Suitable for Families and Couples
Ko Olina is a destination that caters to both families and couples alike. There are plenty of activities and attractions to keep children entertained, such as swimming in the lagoons, building sandcastles on the beach, and exploring the various kid-friendly resorts. For couples, the romantic ambiance, stunning sunsets, and the option to indulge in spa treatments or private beachside dining make Ko Olina an ideal choice.
Accommodation Options
Ko Olina offers a range of accommodation options to suit different preferences and budgets. Whether you're looking for a luxurious resort, a family-friendly hotel, or a private vacation rental, you'll find plenty of choices in this paradise. Some popular options include the Four Seasons, Disney Aulani, Marriott Beach Club, Ko Olina Beach Villas, and various vacation rentals.
Activities and Attractions
In Ko Olina, there is no shortage of activities and attractions to explore. The lagoons are the perfect spot for swimming, snorkeling, and stand-up paddleboarding. You can also take a sunset cruise, go whale watching, or try your hand at fishing. If you're up for a round of golf, Ko Olina boasts a beautiful 18-hole championship course. Additionally, there are hiking trails, local art galleries, and cultural events that offer a glimpse into the rich history and traditions of the island.
Safety of Lagoons
The lagoons in Ko Olina are known for their calm and shallow waters, making them safe for swimmers of all ages and skill levels. The lagoons are protected by rock walls and offer a natural barrier against strong currents, making them ideal for families with young children. However, it is always important to exercise caution and be aware of your surroundings when swimming or engaging in water activities. It's recommended to follow any posted signs or warnings to ensure a safe and enjoyable experience.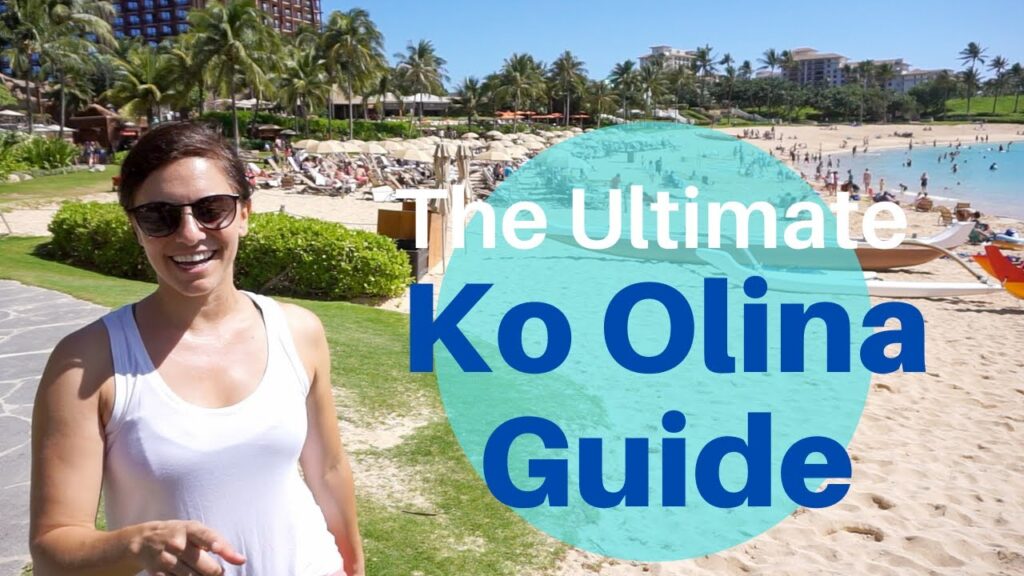 This image is property of i.ytimg.com.

Where to Stay
Four Seasons
The Four Seasons resort in Ko Olina is a top choice for those seeking the ultimate luxury experience. With stunning ocean views, spacious rooms and suites, and impeccable service, this resort offers a truly indulgent stay. The Four Seasons also boasts a world-class spa, multiple swimming pools, and a variety of dining options to cater to all tastes. It's a perfect choice for couples looking for a romantic getaway or anyone wanting to experience the finest in hospitality.
Disney Aulani
For families with children, Disney Aulani is a dream come true. This family-friendly resort offers a magical experience, where kids can meet their favorite Disney characters, enjoy water slides and pools, and participate in engaging activities. Parents can also indulge in relaxation at the spa or enjoy a romantic dinner while the little ones are entertained at the kid's club. Disney Aulani truly offers something for everyone.
Marriott Beach Club
Marriott Beach Club is an excellent choice for families and couples looking for a comfortable and convenient stay. With spacious rooms and suites, on-site dining options, and a beautiful swimming pool, this resort provides a relaxing and enjoyable experience. The beachfront location allows for easy access to the lagoons and other attractions in Ko Olina, making it a popular choice among visitors.
Ko Olina Beach Villas
For those who prefer a more independent and private stay, Ko Olina Beach Villas offer a range of luxurious rental properties. These villas provide a home away from home experience, with fully equipped kitchens, spacious living areas, and stunning ocean views. The villas are located within the resort community, allowing guests to access all the amenities and activities offered in Ko Olina.
Vacation Rentals
If you're looking for a more budget-friendly option or prefer a longer-term stay, vacation rentals in Ko Olina are a great choice. These rentals range from cozy apartments to spacious houses, offering a variety of options to suit different needs. Staying in a vacation rental allows you to experience the local atmosphere and live like a true local, giving you a unique perspective of Ko Olina.
Where to Eat
Roy's
Roy's is a culinary gem located in Ko Olina, offering a fusion of Hawaiian and international flavors. With a menu that highlights fresh seafood, locally sourced ingredients, and innovative dishes, dining at Roy's is a true delight. The elegant yet relaxed ambiance, exceptional service, and mouthwatering desserts make this restaurant a must-visit for any food lover.
Monkeypod Kitchen
Monkeypod Kitchen is a lively and vibrant restaurant that offers a casual dining experience with a focus on locally sourced ingredients. The menu features a variety of dishes, including wood-fired pizzas, juicy burgers, and fresh seafood. What sets Monkeypod Kitchen apart is its extensive selection of craft beers and handcrafted cocktails, perfect for those looking to unwind and enjoy the company of friends or family.
Ama Ama
Located within the Disney Aulani resort, Ama Ama offers a fine dining experience with an emphasis on Hawaiian and Pacific-inspired cuisine. The menu features dishes made with locally sourced ingredients, showcasing the flavors of the region. With breathtaking ocean views, a serene ambiance, and impeccable service, Ama Ama is an excellent choice for a special occasion or a romantic dinner.
Ko Olina Station
Ko Olina Station is a vibrant food court that offers a variety of dining options to suit every palate. From quick grab-and-go bites to sit-down restaurants, you'll find a range of cuisines, including Asian, Hawaiian, American, and more. The food court is conveniently located within walking distance of the resorts and offers a casual and relaxed dining experience for the whole family.
Paradise Cove Luau
No visit to Ko Olina is complete without experiencing a traditional Hawaiian luau. Paradise Cove Luau is a popular choice, offering an evening of cultural immersion, entertainment, and delicious food. Guests can enjoy hula performances, live music, and participate in traditional activities, such as lei making and ukulele lessons. The buffet-style dinner features a variety of Hawaiian dishes, showcasing the flavors of the islands.
Conclusion
Disclaimer
Please note that the information provided in this article is for informational purposes only. While every effort has been made to ensure the accuracy and reliability of the information, things may change and it's always a good idea to double-check with the respective establishments before making any reservations or plans.
Other Resources
For more information on Ko Olina and to plan your visit, be sure to check out the official websites of the resorts, restaurants, and attractions mentioned in this article. Additionally, travel websites and guidebooks can provide valuable insights and recommendations to enhance your experience in Ko Olina.