Are you in search of the ultimate guide to Ko Olina Resort in Hawaii? Look no further! In this comprehensive article, we will provide you with a detailed overview of the resort, including information on accommodations, activities, and amenities. We will also share a "Where to Stay Directory" that offers all the essential details about each Ko Olina Resort. Plus, by booking through our website, you can support the creation of more videos without any extra cost to you. We'll highlight the best snorkel and sunset sailing tour leaving from Ko Olina Marina, and suggest downloading the Oahu Wayfinder Itinerary for even more exciting activities. From discussing the different resorts, such as Disney Aulani, Four Seasons, and Marriott, to showcasing the beautiful lagoons and family-friendly pools, we've got you covered. We'll also mention other activities in the area, such as golfing, attending a luau, and exploring the restaurants and shops. So, get ready to plan an unforgettable trip to Ko Olina Resort with our ultimate guide!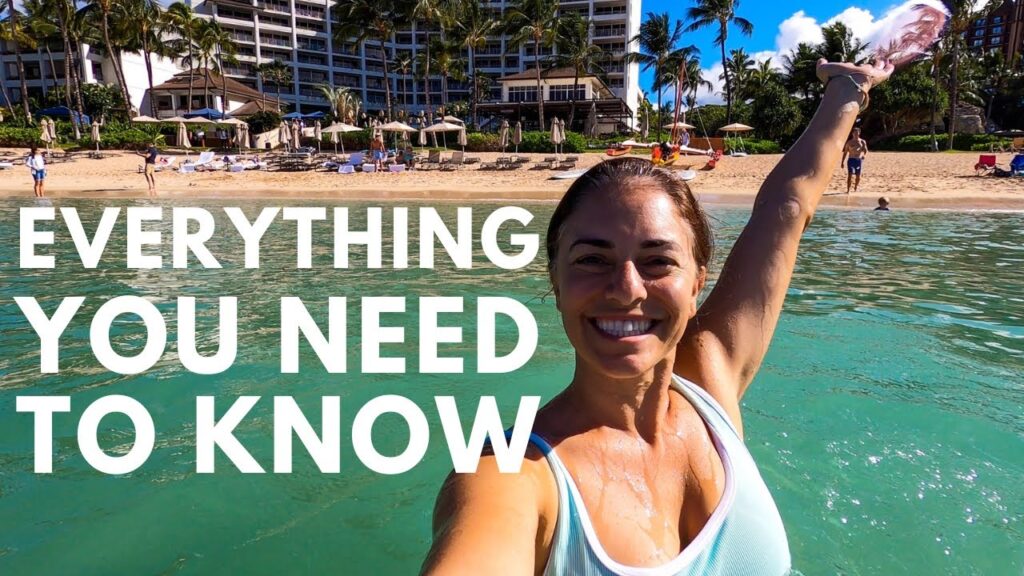 This image is property of i.ytimg.com.

Overview of Ko Olina Resort
Ko Olina is a beautiful resort located on the western coast of the island of Oahu in Hawaii. Known for its stunning views and pristine beaches, this resort offers a variety of amenities and activities for visitors of all ages. Whether you are looking for a family-friendly getaway or a place to relax and unwind, Ko Olina has something for everyone.
Location of Ko Olina
Situated just a short drive from Honolulu, Ko Olina offers a peaceful and secluded setting away from the hustle and bustle of the city. The resort is nestled along four sandy lagoons, which provide the perfect backdrop for swimming, snorkeling, and sunbathing. With its convenient location, Ko Olina allows you to easily explore the rest of Oahu and its major sites.
Suitability for Families
Ko Olina is an ideal destination for families. With its calm and safe lagoons, children of all ages can enjoy swimming and playing in the water. The resort also offers a variety of family-friendly activities, such as poolside games, arts and crafts, and outdoor movie nights. Additionally, many of the accommodations in Ko Olina are designed with families in mind, featuring spacious rooms and amenities like kitchens and laundry facilities.
Relaxation
If relaxation is what you seek, Ko Olina is the perfect place to unwind. The resort offers luxurious spa facilities where you can indulge in a massage or pampering treatment. Take a leisurely stroll along the pristine beaches or lounge by the pool with a good book. With its peaceful atmosphere and tranquil surroundings, Ko Olina provides the ideal environment for rest and rejuvenation.
Proximity to Major Sites
While Ko Olina offers a peaceful retreat, it is also conveniently located near some of Oahu's major attractions. Take a short drive to Pearl Harbor and visit the USS Arizona Memorial or explore the vibrant shops and restaurants of Waikiki. Hike to the top of Diamond Head for panoramic views of the island or take a scenic drive along the iconic North Shore. With its central location, Ko Olina allows you to easily explore all that Oahu has to offer.
Where to Stay Directory
Four Seasons Resort Oahu at Ko Olina
For those seeking the ultimate luxury experience, the Four Seasons Resort Oahu at Ko Olina is the perfect choice. This five-star resort offers spacious rooms and suites with stunning ocean views. Enjoy world-class amenities including multiple pools, a spa, fitness center, and golf course. The resort also offers a variety of dining options, from casual beachfront eateries to fine dining restaurants.
Disney Aulani Resort
Families with children will love the Disney Aulani Resort, which combines the magic of Disney with the beauty of Hawaii. This resort features themed rooms and suites, character meet and greets, and a variety of kids' activities. Adults can enjoy the luxurious spa or relax by the adults-only pool. With its stunning beachfront location and Disney magic, Aulani is the perfect choice for a family vacation.
Marriott Ko Olina Beach Club
The Marriott Ko Olina Beach Club offers a range of accommodations, from spacious guest rooms to two-bedroom villas. Guests can enjoy multiple swimming pools, a fitness center, and access to a beautiful beach. The resort also offers activities for the whole family, including hula lessons, lei making, and live entertainment. With its family-friendly atmosphere and convenient location, the Marriott Ko Olina Beach Club is a popular choice among visitors.
Other Resorts in Ko Olina
In addition to the major resorts mentioned above, Ko Olina also offers a variety of other accommodations to suit different budgets and preferences. From boutique hotels to vacation rentals, there are plenty of options to choose from. Explore the different resorts in Ko Olina to find the one that best fits your needs and preferences.

Accommodations, Activities, and Amenities
Pools and Family-Friendly Offerings
One of the highlights of staying in Ko Olina is the abundance of pools and family-friendly offerings. Many of the resorts in the area have multiple pools, including designated children's pools with water slides and play areas. These pools provide endless entertainment for kids and create a fun and vibrant atmosphere for families. Additionally, some resorts offer poolside games and activities, ensuring that there is never a dull moment during your stay.
Lagoons for Swimming and Snorkeling
Ko Olina is renowned for its four pristine lagoons, which are perfect for swimming and snorkeling. The lagoons feature calm and clear waters, making them safe for all ages and skill levels. Take a dip in the refreshing water or grab your snorkel gear and explore the underwater world teeming with colorful fish and vibrant coral reefs. The lagoons also offer plenty of space for sunbathing or picnicking, allowing you to make the most of your beachside retreat.
Golfing
If you're a golf enthusiast, you're in luck – Ko Olina is home to a championship golf course. Enjoy a round of golf surrounded by breathtaking views of the Pacific Ocean and lush green landscapes. The course offers a challenging yet enjoyable experience for players of all skill levels. After your game, relax at the clubhouse and take in the scenic surroundings while enjoying a refreshing drink.
Luau
No trip to Hawaii is complete without experiencing a traditional luau, and Ko Olina offers some of the best on the island. Sit back and enjoy a feast of local cuisine while being entertained by live music, hula dancing, and fire performances. Immerse yourself in Hawaiian culture and create memories that will last a lifetime. Many of the resorts in Ko Olina offer luau experiences, so be sure to check the schedules and reserve your spot in advance.
Train Ride
Take a ride on the Ko Olina Train and explore the scenic surroundings of the resort. This charming train takes you on a guided tour of the area, allowing you to admire the beautiful landscapes and learn about the history and cultural significance of Ko Olina. It's a fun and educational activity for the whole family, and a great way to take in the sights without having to drive.
Snorkeling Trips
For those who want to explore beyond the lagoons of Ko Olina, there are snorkeling trips available to nearby sites. Join a guided tour and venture out to discover vibrant coral reefs, tropical fish, and maybe even some sea turtles. Snorkeling trips provide a unique opportunity to get up close and personal with Hawaii's marine life and create unforgettable memories.
Vacation Rentals and Hotels
Options for Vacation Rentals
If you prefer the comforts of a home away from home, there are various vacation rentals available in Ko Olina. Rent a private condo or villa and enjoy the freedom and flexibility of your own space. Vacation rentals often come with fully equipped kitchens, allowing you to prepare meals and save on dining expenses. They are also a great option for larger families or groups traveling together, as they offer more space and privacy compared to traditional hotel accommodations.
Hotels and Resorts in Ko Olina
In addition to vacation rentals, there are also a range of hotels and resorts to choose from in Ko Olina. Whether you're looking for a luxury experience or a more budget-friendly option, there is something to suit every traveler. The major resorts offer a wide range of amenities and activities, while smaller hotels provide a more intimate and personalized experience. Consider your preferences and budget when selecting your accommodation in Ko Olina.
Dining and Entertainment
Great Deals for Happy Hour
Ko Olina offers a variety of dining options to satisfy every palate. Many of the restaurants in the area offer great deals during happy hour, making it the perfect time to sample some local favorites and enjoy discounted drinks and appetizers. Take advantage of these specials and indulge in delicious cuisine while watching the sunset over the Pacific Ocean.
Beer Options
For beer enthusiasts, Ko Olina boasts a selection of breweries and brewpubs that are sure to satisfy your taste buds. Try a flight of locally brewed beers or enjoy a pint of your favorite style. Many of these establishments also offer tours and tastings, giving you the opportunity to learn more about the brewing process and the unique flavors of Hawaiian beer.
Live Music at Restaurants
You'll never be short on entertainment in Ko Olina, as many of the restaurants feature live music performances. Sit back, relax, and enjoy the sounds of talented local musicians as you dine on delicious food and sip on tropical cocktails. From traditional Hawaiian music to contemporary covers, the live music scene in Ko Olina adds an extra layer of enjoyment to your dining experience.
Signature Drinks at Merriman's
Merriman's, a popular restaurant in Ko Olina, is known for its delicious food and signature cocktails. Sip on a Mai Tai or try their famous "Ko Olina Lemonade" while enjoying stunning views of the ocean. Merriman's is the perfect place to toast to your vacation and indulge in some of Ko Olina's best culinary offerings.
Dining Options in Resorts and Shopping Center
The major resorts in Ko Olina offer a variety of dining options within their properties. From casual beachfront cafes to fine dining establishments, there is something to suit every taste and occasion. Enjoy international cuisine, fresh seafood, and traditional Hawaiian dishes prepared by talented chefs. Additionally, the nearby Ko Olina Station shopping center is home to a variety of restaurants and eateries, offering even more choices for dining.
Island Vintage Coffee, Taco Place, Ice Cream, ABC Island Gourmet Market
For quick bites and snacks, there are a few must-visit spots in Ko Olina. Island Vintage Coffee offers a selection of delicious coffee and refreshing smoothies, perfect for starting your day or grabbing a mid-afternoon pick-me-up. If you're in the mood for tacos, head to the popular local taco place for an authentic and flavorful dining experience. Don't forget to satisfy your sweet tooth with some mouthwatering ice cream from one of the local ice cream shops. And for all your grocery needs, visit the ABC Island Gourmet Market, where you can find a wide range of gourmet food items, snacks, and beverages.
Additional Recommendations
Visiting Aulani Resort
Even if you're not staying at the Disney Aulani Resort, it's worth a visit to experience the magic and splendor of this stunning property. Explore the beautiful grounds, admire the intricate design and details, and enjoy the various activities and entertainment options available. You can dine at one of the resort's restaurants, visit the spa for a treatment, or simply take a stroll along the beach. A visit to Aulani Resort is sure to delight both children and adults alike.
Playlist for More Oahu Videos
To further enhance your experience and stay in Ko Olina, consider creating a playlist of Oahu videos. These videos can provide insights into the island's culture, showcase its natural beauty, and offer tips and recommendations for exploring different areas. From hiking trails to hidden beaches, a Oahu playlist can help you discover new and exciting places to visit during your stay.
Itineraries at Hawaiivacationguy.com
For those who prefer a more structured approach to their vacation, there are various itineraries available at Hawaiivacationguy.com. These itineraries offer day-by-day plans, suggesting activities, sights, and dining options for each day of your stay. Whether you have a week or just a few days in Ko Olina, these itineraries can help you make the most of your time on the island and ensure you don't miss any hidden gems.
Conclusion
Ko Olina Resort is the perfect destination for your trip to Hawaii. Whether you're seeking a family-friendly getaway, a place to relax and unwind, or a convenient base for exploring Oahu's major attractions, Ko Olina has it all. With its stunning location, luxurious accommodations, and abundance of amenities and activities, it's no wonder that Ko Olina is a favorite among visitors. So pack your bags, book your stay, and get ready for an unforgettable vacation in paradise.