Discover one of the best snorkeling spots in Oahu at Shark's Cove! In this episode, Veronica and Ryan take you on an exciting adventure as they swim with the fishes in this breathtaking location. Located along the beautiful North Shore of Oahu, Shark's Cove offers plenty of space to spread out and admire the vibrant marine life. Make sure to bring rock shoes for the rocky walk-in, but rest assured, the experience is absolutely worth it. As you explore this quaint and laid-back area of Pupukea, you'll also be close to other must-visit spots like Waimea Bay and the famous Banzai Pipeline surfing spot. Stay tuned for their next adventure at the Toa Luau in Waimea Valley! Don't forget to subscribe and join them for more incredible content.
Embark on this snorkeling adventure to Shark's Cove, known as one of the best spots in Oahu. After picking up their gear from Walmart, Veronica and Ryan head to this popular location, excited to explore the underwater world. Lunch at the Aji Limo food truck is a must before they dive in, and even though the food takes a while, it definitely lives up to their expectations. Finally in the water, they encounter an array of fish, including some impressive ones, making their snorkeling experience truly rewarding. While the area can get busy, the stunning scenery and the feeling of floating in the water still make it an enjoyable escape. Stay tuned for more exciting adventures from Veronica and Ryan and their upcoming visit to the Toa Luau in Waimea Valley!
SHARK'S COVE – One of the Best Snorkeling Spots in Oahu!
Introduction
Welcome to Shark's Cove, one of the best snorkeling spots in Oahu! In this article, we will explore the beautiful underwater world of Shark's Cove and provide you with all the necessary information to make your visit a memorable one. From the stunning marine life to the unique features of this location, we've got you covered. So grab your snorkeling gear and get ready for an unforgettable adventure!
The Journey to Shark's Cove
To reach Shark's Cove, we started our journey from our hotel, Paradise Bay Resort, located north of Kaneohe. It took us about 45 minutes to an hour to drive along the picturesque North Shore of Oahu. Along the way, we made a quick stop at the Aji Limo food truck to grab a snack before diving into the ocean.
Aji Limo Food Truck
The Aji Limo food truck came highly recommended, and it truly lived up to its reputation. We indulged in some delicious Hawaiian poke and teriyaki burgers, accompanied by refreshing lily koi passion fruit drinks. The flavors were exceptional, and the local ambiance made the dining experience even more enjoyable. While waiting for our food, we couldn't help but notice the chickens running around, adding to the lively atmosphere.
Gear Up for Snorkeling
Before diving into the crystal-clear waters of Shark's Cove, we made sure to equip ourselves with snorkeling gear. We opted to purchase our sets from Walmart, which provided us with the convenience of keeping them for future snorkeling adventures. This choice also saved us some money compared to renting the gear on-site.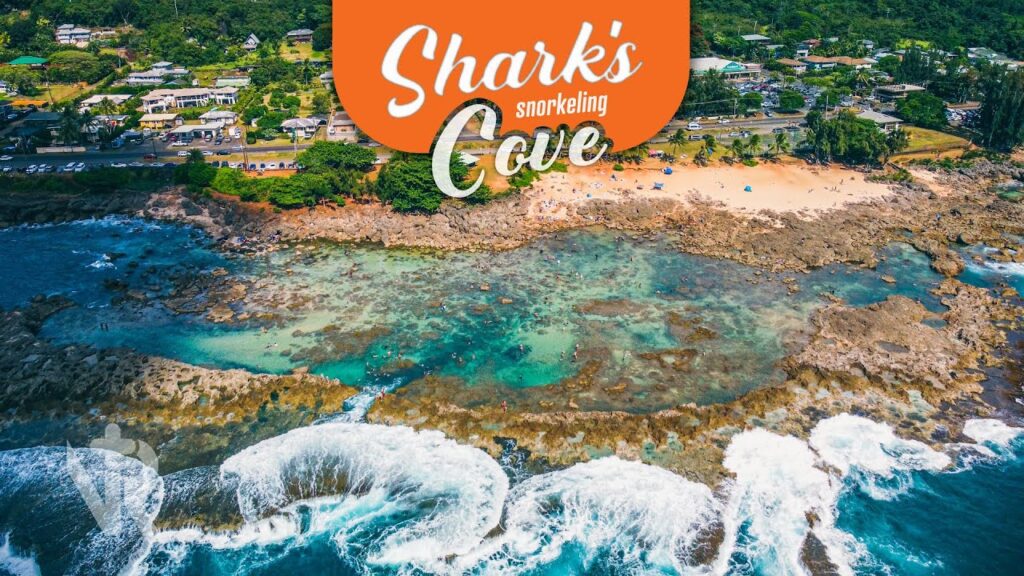 This image is property of i.ytimg.com.
Exploring Shark's Cove
With our snorkeling gear on, we made our way towards Shark's Cove, excited to discover the underwater wonders this spot had to offer. As we entered the water, we immediately noticed the presence of fish, indicating that we were in for a treat.
Abundance of Marine Life
While there were quite a few people at Shark's Cove, there was still plenty of space to spread out and explore. As we ventured further into the water, we encountered a diverse array of marine life. Schools of small striped fish swam gracefully around us, while larger fish glided past. We were even lucky enough to spot some beautiful angel fish and a school of blue-gray fish, each one about the size of our hands.
The Protection of Rocks
One of the unique features of Shark's Cove is the natural protection provided by the surrounding rocks. We marveled at how the rocks acted as a barrier against the crashing waves, creating a calm and serene underwater environment. Although we could feel the current pushing gently against us, we felt safe and secure within the cove.
Tips for Your Visit
If you plan on visiting Shark's Cove, there are a few things to keep in mind. First, it is advisable to bring rock shoes or water shoes, as the walk into the cove can be rough due to the lava rock terrain. Also, be cautious of the sea urchins that can be found hidden amongst the rocks. While they are normally tucked away, it's important to be careful when touching the rocks or stepping on them.
Pupukea: A Quaint Surf Town Vibe
Located in the area of Pupukea, Shark's Cove offers more than just snorkeling. The surrounding area has a quaint and laid-back atmosphere with a small surf town vibe. It's no surprise considering the neighboring beach is none other than the Banzai Pipeline, renowned for its massive waves and popularity among surfers. If you're in the area, be sure to explore Pupukea and soak in the relaxed ambiance.
Nearby Attractions
Shark's Cove is conveniently situated near other worthwhile attractions on the northwest side of the island. Just south of Shark's Cove is Waimea Bay and Valley, another must-visit spot. Whether you're eager to witness the gigantic waves or explore the natural beauty of the valley, this nearby destination offers something for everyone.
Conclusion
A visit to Shark's Cove is a snorkeling experience you don't want to miss. The abundance of marine life, the unique protection of the rocks, and the charming surroundings make it one of the best snorkeling spots in Oahu. Just remember to bring your snorkeling gear, water shoes, and a sense of adventure. So dive in, explore the underwater world, and create memories that will last a lifetime.