Planning a vacation to Oahu, Hawaii? Look no further! In this Oahu Hawaii Travel Guide 2021, we've got you covered with 11 tips for the best Oahu vacation. From the most popular beaches to where to stay and eat, we'll show you all the highlights of this beautiful island. Whether you're a first-time visitor or a seasoned traveler, let us be your guide to Oahu, Hawaii. Our insider tips and recommendations will help you make the most of your trip and create unforgettable memories. So get ready to delve into the wonders of Oahu and let us take you on an adventure you won't soon forget!
Are you ready to explore the tropical paradise of Oahu, Hawaii? From stunning beaches to mouthwatering food, our ultimate guide will provide you with all the information you need for an unforgettable vacation. We've lived on Oahu for two years and are excited to share our favorite sights and activities with you. Whether you're interested in hiking, driving the scenic North Shore, or trying your hand at surfing, we've got tips for it all. So join us as we show you around Oahu, Hawaii and help you plan the best vacation ever!

Popular Oahu Beaches
Oahu, the third-largest island in Hawaii, is known for its beautiful beaches and stunning coastline. Whether you're a sun-worshipper or an avid water sports enthusiast, Oahu has a beach for everyone. From the bustling shores of Waikiki to the secluded coves of the North Shore, you'll find a variety of beaches to explore and enjoy.
Waikiki Beach
No article about popular Oahu beaches would be complete without mentioning Waikiki Beach. This iconic stretch of sand is the most famous beach in Hawaii and attracts millions of visitors each year. With its crystal-clear waters and postcard-perfect views of Diamond Head, Waikiki Beach offers a quintessential Hawaiian beach experience. Whether you're looking to soak up the sun, take a surf lesson, or simply people-watch from one of the beachfront cafes, Waikiki Beach has it all.
Lanikai Beach
Located on the windward coast of Oahu, Lanikai Beach is often regarded as one of the most beautiful beaches in the world. Its pristine white sand, turquoise waters, and picture-perfect views of the Mokulua Islands make it a favorite spot among photographers and beach lovers alike. Due to its popularity, the beach can get crowded, so it's best to arrive early in the morning or late in the afternoon to secure a spot. Snorkeling, kayaking, and sunbathing are popular activities here.
Sunset Beach
For those seeking a more laid-back and scenic beach experience, Sunset Beach on the North Shore of Oahu is the place to be. This beach is famous for its massive winter waves, attracting professional surfers from around the globe. However, during the summer months, the water is calm and ideal for swimming. In addition to its stunning sunsets, Sunset Beach also offers beautiful sand dunes and tide pools to explore. Pack a picnic and spend a leisurely day enjoying the natural beauty of this beach.
Shark's Cove
If you're a fan of snorkeling or want to explore vibrant underwater marine life, Shark's Cove is a must-visit beach on Oahu's North Shore. Don't let the name fool you — while there are no sharks here, the cove is home to an amazing variety of tropical fish and coral formations. The water is crystal clear, allowing for excellent visibility while snorkeling. Remember to bring your own snorkel gear or rent it from one of the nearby rental shops. Keep in mind that during winter months, the water can be rough, so it's best to check conditions before heading out.
Where to Stay
When it comes to finding accommodation on Oahu, you have several options to choose from depending on your preferences and budget. From luxury resorts to cozy beachside cottages, there's something for everyone.
Waikiki
If you want to be in the heart of the action and have easy access to the beach, shops, and restaurants, staying in Waikiki is a great choice. Waikiki is home to an array of hotels, including world-renowned resorts like the Royal Hawaiian and the Moana Surfrider. You'll be within walking distance of everything you need, and the beautiful Waikiki Beach will be right at your doorstep.
North Shore
For a more laid-back and rural experience, consider staying on the North Shore of Oahu. Home to famous surf spots like Pipeline and Sunset Beach, the North Shore offers a completely different vibe compared to Waikiki. You'll find charming beach cottages and guesthouses that allow you to immerse yourself in the local culture and enjoy a more peaceful atmosphere. Plus, you'll have easy access to stunning beaches and the famous shrimp trucks that line the North Shore.
Ko Olina
If you're looking for a luxurious and tranquil getaway, Ko Olina might be the perfect choice for you. Located on the western coast of Oahu, this resort community offers pristine beaches, world-class golf courses, and upscale accommodations. With several luxury resorts to choose from, including Aulani, a Disney Resort & Spa, you can enjoy a pampered and relaxing vacation in paradise.
Kailua
For those who want to experience the local lifestyle on Oahu, staying in Kailua is a fantastic option. This charming town on the windward side of the island offers beautiful beaches, great hiking trails, and a vibrant local community. You can choose from a range of vacation rentals, from cozy beach bungalows to spacious houses, and enjoy the peace and tranquility of a residential area while still being close to all the attractions.
Escape from Waikiki
While Waikiki Beach is undoubtedly a beautiful and vibrant area, exploring beyond this tourist hotspot will unveil even more of Oahu's natural beauty and cultural richness. If you're seeking an authentic island experience and want to escape the hustle and bustle of Waikiki, consider visiting these captivating destinations.
East Side of Oahu
The eastern side of Oahu, also known as the windward coast, offers a refreshing change of pace from Waikiki. This side of the island is characterized by lush green mountains, stunning panoramic views, and hidden gems waiting to be discovered. Head to the charming town of Kailua, where you can soak up the sun on its beautiful beaches or embark on a hike through the mountainous trails of the nearby Lanikai Pillbox.
Dole Plantation
Located in the town of Wahiawa, just a short drive from Waikiki, Dole Plantation is a must-visit destination for pineapple lovers and those looking to learn more about Hawaiian agriculture. Take a train ride through the pineapple fields, try a delicious Dole Whip soft serve, and don't forget to browse the gift shop for unique pineapple-inspired souvenirs. It's a fun and educational outing for the whole family.
Pearl Harbor
No trip to Oahu is complete without a visit to Pearl Harbor, a place of historical significance for both the United States and the world. Explore the USS Arizona Memorial, the Battleship Missouri, and the Pearl Harbor Aviation Museum to gain a deeper understanding of the events that unfolded here during World War II. Pay your respects to the fallen servicemen and women and take a moment to reflect on the impact of this historic site.
Byodo-In Temple
Nestled in the Valley of the Temples Memorial Park, the Byodo-In Temple is a peaceful and serene place of worship. Modeled after a centuries-old temple in Kyoto, Japan, this stunning replica attracts visitors from all over the world. Take a stroll around the beautifully manicured gardens, listen to the sound of the temple bell, and immerse yourself in the tranquility and spirituality of this unique place.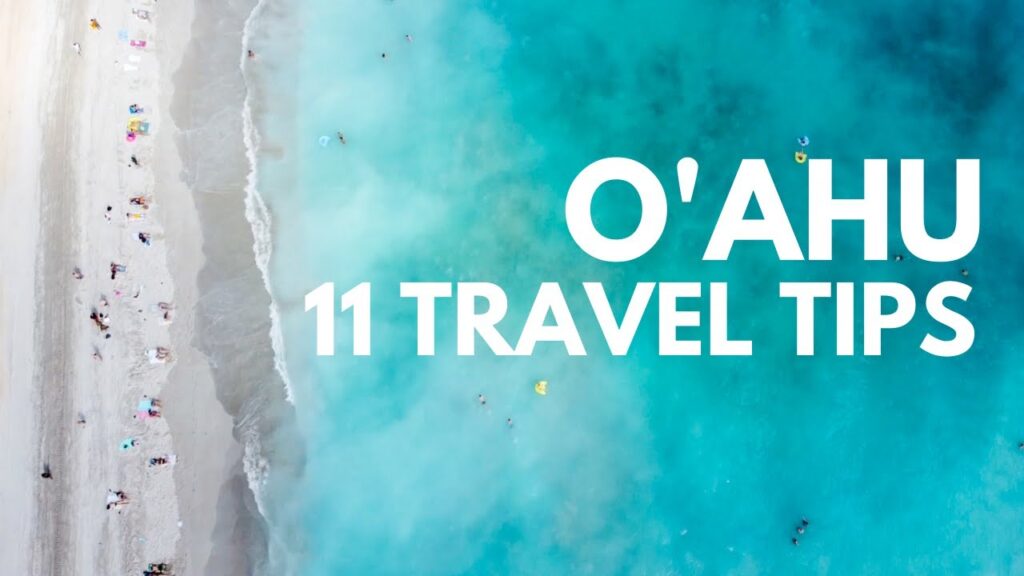 This image is property of i.ytimg.com.

You Don't Need a Rental Car
Contrary to popular belief, you don't necessarily need a rental car to explore Oahu. In fact, relying on public transportation, ride-sharing services, and organized tours can be a more convenient and cost-effective way to navigate the island.
TheBus
Oahu's public bus system, known as TheBus, is an efficient and affordable way to get around the island. With routes connecting all major attractions and neighborhoods, you can easily explore Oahu while leaving the driving to someone else. The fares are reasonable, and the buses are equipped with air conditioning, making your journey comfortable even in the island's warm climate. Be sure to check the bus schedules and plan your trips accordingly.
Ride-Sharing Services
If you prefer the convenience of door-to-door transportation, ride-sharing services like Uber and Lyft are widely available on Oahu. This option allows you to explore the island at your own pace without the hassle of finding parking or navigating unfamiliar roads. Simply download the app, request a ride, and enjoy the comfort of a private vehicle taking you to your desired destinations.
Organized Tours
Another popular way to explore Oahu without a rental car is by joining organized tours. Whether you're interested in hiking to secluded waterfalls, snorkeling at offshore reefs, or visiting historical sites, there are tour operators that offer a wide range of exciting experiences. These tours typically include transportation to and from your accommodation, making it convenient and hassle-free.
Rain Makes Rainbows (Best Time to Visit Oahu)
Oahu's tropical climate means that rain showers can occur at any time of the year. However, these passing showers often result in magnificent rainbows that add a touch of magic to the island's already breathtaking landscapes. If you're wondering about the best time to visit Oahu, consider the following factors to help you plan your trip.
Weather Patterns
Oahu experiences two primary seasons: the dry season, also known as summer, and the wet season, also known as winter. The dry season spans from May to October, with temperatures averaging in the mid-80s Fahrenheit (around 29 degrees Celsius). This period offers plenty of sunshine and is ideal for beach activities and outdoor exploration. The wet season, from November to April, tends to bring more rain and slightly cooler temperatures. However, even during the wet season, rain showers are often brief and interspersed with sunny periods.
Crowds and Prices
Oahu's tourism peaks during the winter months when visitors flock to the island to escape the cold in other parts of the world. This influx of tourists can result in higher prices for accommodations and attractions, as well as crowded beaches and popular sites. If you prefer a quieter and more affordable vacation, consider visiting during the shoulder seasons of spring or fall. The weather during these times is still pleasant, and you'll have a better chance of enjoying the beaches and tourist spots without feeling overcrowded.
Surfing Conditions
If you're a passionate surfer or want to witness the world-famous waves of Oahu's North Shore, plan your visit during the winter months. The powerful swells that hit the island during this time create ideal conditions for experienced surfers. You can witness thrilling surf competitions and watch professional surfers master the colossal waves. However, if you're a beginner or simply want to enjoy calmer waters for swimming and snorkeling, the summer months are more suitable.
Events and Festivals
Oahu hosts various events and festivals throughout the year, showcasing the island's culture, music, and traditions. If you're interested in attending these celebrations, make sure to check the event calendar and plan your trip accordingly. From the renowned Honolulu Festival in March to the iconic Vans Triple Crown of Surfing in November and December, there's always something exciting happening on the island.
Most Popular Oahu Sites to See
From iconic landmarks to hidden gems, Oahu is brimming with captivating sites and attractions. Whether you're interested in history, nature, or simply want to soak up the island's beauty, these popular sites should be on your must-see list.
Diamond Head
No trip to Oahu is complete without exploring Diamond Head, the famous volcanic crater that dominates the skyline of Waikiki. Embark on a hike to the summit for panoramic views of the island and the sparkling Pacific Ocean. The moderately challenging trail takes you through a series of switchbacks and tunnels before leading you to the top. Don't forget to bring water, sunscreen, and your camera to capture the breathtaking vistas.
Hanauma Bay
For an unforgettable snorkeling experience, head to Hanauma Bay Nature Preserve, located on Oahu's southeastern coast. This marine sanctuary is teeming with colorful coral reefs and a vast array of tropical fish. Spend a day exploring the underwater world, swimming with turtles, and immersing yourself in the mesmerizing beauty of this protected bay. Keep in mind that Hanauma Bay is closed every Tuesday to allow the marine ecosystem to recover.
Byodo-In Temple
As mentioned earlier, the Byodo-In Temple is not only a place of spiritual significance but also a top tourist attraction on Oahu. Admire the intricate architecture, lush gardens, and tranquil ambience of this Buddhist temple. You can even ring the giant temple bell, an act believed to bring good luck and happiness. Take your time to explore the grounds and soak in the peaceful atmosphere.
Kualoa Ranch
If you're a fan of movies and adventure, a visit to Kualoa Ranch is a must. This scenic 4000-acre private nature reserve has served as a filming location for numerous Hollywood blockbusters, including Jurassic Park, Pearl Harbor, and Jumanji. Take a tour of the ranch to discover its dramatic landscapes, dense rainforests, and panoramic views of the coast. You can even try your hand at activities like horseback riding, ATV tours, and ziplining.
Chinatown
Immerse yourself in the vibrant sights, sounds, and flavors of Chinatown, located in downtown Honolulu. This bustling neighborhood is a blend of Chinese, Japanese, Filipino, Vietnamese, and Hawaiian cultures, creating a unique and eclectic atmosphere. Wander through the colorful stalls of the Chinatown Market, sample exotic fruits at one of the local fruit stands, and explore the art galleries and antique shops that line the streets.
Where to Eat on Oahu
Oahu is a culinary paradise, offering a diverse range of dining options that cater to all tastes and budgets. Whether you're craving traditional Hawaiian delicacies, fresh seafood, or international cuisine, you'll find an abundance of restaurants and food establishments on the island.
Food Trucks
No visit to Oahu is complete without indulging in the delights of the island's famous food trucks. Located in various places around the island, these mobile eateries offer an array of mouth-watering dishes at affordable prices. From savory garlic shrimp plates on the North Shore to delectable plate lunches with kalua pork and macaroni salad, the food truck scene on Oahu is a true culinary adventure.
Local Markets
For a taste of authentic Hawaiian cuisine and the chance to mingle with locals, head to one of Oahu's many farmers markets. These open-air markets showcase an abundance of fresh produce, tropical fruits, and local delicacies. You can sample freshly caught poke, try unique fruit varieties like lychee and rambutan, and even pick up handmade crafts and souvenirs.
Seafood Restaurants
With its abundant marine life and deep-rooted fishing culture, Oahu is a seafood lover's paradise. From casual beachside shacks to upscale establishments, you'll find an array of seafood restaurants serving up the catch of the day. Indulge in succulent sashimi, plump shrimp, and buttery lobster, all sourced from the surrounding waters. Don't miss the chance to try the classic Hawaiian dish, poke, which consists of marinated raw fish mixed with various seasonings.
International Cuisine
If you're craving flavors from around the world, Oahu has got you covered. The island is home to a diverse population, resulting in a culinary scene that offers cuisine from virtually every corner of the globe. From Japanese sushi bars and Italian trattorias to Thai street food joints and Mexican taquerias, you can embark on a culinary adventure without leaving the island.
Luau Experience
No trip to Oahu is complete without attending a traditional Hawaiian luau. These festive gatherings offer an opportunity to immerse yourself in Hawaiian culture while feasting on an array of local dishes. Enjoy traditional dishes like kalua pork, lomi lomi salmon, and poi, accompanied by captivating hula performances and live music. Many hotels and resorts offer luau experiences, but there are also independent venues where you can partake in this authentic celebration.
Oahu is the Best Island for Hiking
With its diverse landscapes, Oahu offers an abundance of hiking opportunities for outdoor enthusiasts. From beginner-friendly trails to more challenging treks, there's something for everyone. Lace up your hiking boots and get ready to explore the stunning natural beauty of the island.
Diamond Head Summit Trail
The Diamond Head Summit Trail is one of Oahu's most popular hikes, offering breathtaking views of Waikiki and the surrounding coastline. The trail, which is approximately 1.6 miles round trip, takes you to the summit of Diamond Head Crater. While the hike involves stairs and uphill sections, it is suitable for most fitness levels. Be sure to bring water, wear sunscreen, and arrive early to avoid crowds and the heat of the day.
Manoa Falls Trail
For a lush and picturesque hiking experience, head to Manoa Falls Trail, located just outside of Honolulu. This easy, 1.6-mile trail takes you through a dense rainforest to a 150-foot waterfall, surrounded by tropical foliage. Along the way, you'll encounter bamboo groves, vibrant flowers, and streams filled with colorful fish. Keep in mind that the trail can be muddy, so wear appropriate footwear and be cautious of slippery surfaces.
Crouching Lion Hike
Located on Oahu's windward coast, the Crouching Lion Hike is a hidden gem that offers stunning panoramic views of the coastline. The hike takes you up a steep trail to a rock formation resembling a crouching lion. From the top, you can enjoy breathtaking vistas of Kahana Bay and the surrounding mountains. The trail is moderately challenging, traversing through dense vegetation and steep terrain. Make sure to bring water, wear sturdy shoes, and proceed with caution.
Kaena Point Trail
For a unique coastal hiking experience, venture out to Kaena Point, located on the westernmost tip of Oahu. This remote and untouched area is a nature reserve, home to a variety of seabirds, monk seals, and tide pools. The flat and easy trail spans approximately 5 miles round trip and takes you along the rugged coastline. Keep an eye out for mesmerizing ocean views and the chance to spot dolphins or whales during their migration season.
Koko Crater Trail
If you're up for a challenge and want to test your strength and endurance, the Koko Crater Trail is the perfect option. The trail consists of 1,048 steps that ascend the Koko Crater, offering panoramic views of the southeastern coast of Oahu. Originally built as a railway for military purposes, the hike is steep and strenuous, but the reward at the top is well worth the effort. Take breaks as needed and bring water to stay hydrated during the climb.
Slow Drive the North Shore
While the North Shore of Oahu is famous for its massive winter waves and world-renowned surf breaks, there's much more to explore beyond the shoreline. Rent a car or join a guided tour and embark on a leisurely drive along Kamehameha Highway to experience the wonders of the North Shore.
Historic Haleiwa Town
Begin your drive at the historic town of Haleiwa, the unofficial capital of the North Shore. This laid-back surf town offers a variety of boutiques, art galleries, and cafes to browse. Indulge in shave ice from one of the local stands, a beloved Hawaiian treat that will cool you down and satisfy your sweet tooth. Don't forget to explore the Haleiwa Boat Harbor, where you can see colorful fishing boats and perhaps spot sea turtles swimming nearby.
Waimea Bay
As you continue along the North Shore, make a stop at Waimea Bay, one of Oahu's most famous beaches. During the summer months, the water is calm and ideal for swimming and snorkeling. If you're feeling brave, you can even try jumping off the iconic rock formation into the crystal-clear water. In the winter, Waimea Bay transforms into a surfer's paradise, attracting professionals from around the world to tackle its massive waves.
Banzai Pipeline
For surf enthusiasts and spectators, a visit to the Banzai Pipeline is a must. Located just off Ehukai Beach Park, this legendary surf spot is famous for its barreling waves, challenging even the most skilled surfers. During the winter months, it attracts top surfers who come to ride the gigantic swells. Even if you're not a surfer, watching the pros navigate the powerful waves is a thrilling experience.
Sunset Beach Park
As its name suggests, Sunset Beach Park offers mesmerizing sunsets that paint the sky with vibrant hues of orange and pink. During the winter months, this beach is a prime spot for watching the massive waves and professional surf competitions. In the summer, the water is calmer and perfect for swimming and snorkeling. Pack a picnic and spend a relaxing afternoon enjoying the natural beauty of Sunset Beach.
Waimea Valley
If you're in the mood to immerse yourself in nature and learn about Hawaiian culture, make a stop at Waimea Valley. This sacred and lush valley is home to various plant species, archaeological sites, and a stunning waterfall. Take a leisurely walk along the paved path, passing by vibrant flower gardens and learning about the cultural significance of the area. The highlight of the visit is reaching Waimea Falls, where you can take a refreshing swim in the natural pool.
Learn to Surf at Waikiki Beach
Waikiki Beach, known as the birthplace of modern surfing, is the perfect place to learn how to ride the waves. With its gentle rolling waves and abundance of surf schools, Waikiki offers an ideal environment for beginners to get their feet wet and experience the thrill of catching their first wave.
Choose a Surf School
When it comes to learning to surf, enrolling in a reputable surf school is highly recommended. Surf schools provide professional instruction, ensuring that you have a safe and enjoyable experience in the water. They'll teach you the proper techniques for paddling, popping up on the board, and riding the waves. Many surf schools also provide all the necessary equipment, including surfboards and rash guards, so you don't need to worry about bringing your own.
Beginners' Breaks
Waikiki Beach has a variety of breaks suitable for beginner surfers. Canoes, located in front of the iconic Duke Kahanamoku statue, is one of the most popular spots for beginners. The wave here is consistent and forgiving, making it an ideal place to practice your skills and build confidence in the water. Queens is another beginner-friendly break, offering long, mellow waves that are perfect for learning and improving your technique.
Safety First
While surfing is an exhilarating activity, it's important to prioritize safety. Listen to your instructor's guidance and pay attention to any safety instructions they provide. Always be aware of your surroundings and other surfers in the water to avoid collisions. Additionally, it's essential to respect the ocean and its power. Be mindful of any flags or signage indicating hazardous conditions and avoid surfing when the waves are too big or dangerous for your skill level.
Enjoy the Experience
Learning to surf is not just about riding waves; it's about immersing yourself in the culture and spirit of Hawaii. Embrace the laid-back vibe, enjoy the feeling of being in the ocean, and take in the stunning views of Waikiki Beach. Surfing is a sport that combines physical activity with a profound connection to nature and the ocean. Remember to relax, have fun, and savor the experience of catching your first wave in the birthplace of surfing.
In conclusion, Oahu's popular beaches, diverse accommodation options, abundance of natural beauty, and captivating attractions make it a dream destination for travelers. Whether you choose to explore the vibrant shores of Waikiki, venture into the tranquil countryside, or embark on thrilling hikes, Oahu promises a memorable vacation filled with sun, surf, and the spirit of aloha. So pack your bags, embrace the friendly island atmosphere, and get ready to create lasting memories in paradise.
In our Oahu Hawaii Travel Guide 2021, we will provide you with 11 tips for THE BEST Oahu vacation. Whether you're looking for recommendations on where to stay, where to eat, or the top Oahu beaches, we've got you covered. Let us be your guide as we take you around the island!
Having lived on Oahu for two years (although we now call Maui home), we always love coming back to explore and discover new things to do. Oahu is like our playground, and we're excited to show you our favorite sights and help you feel at home on the Gathering Place.
To help you plan your trip, take a look at our Oahu itinerary:
Check out these articles on the Best Oahu Hikes:

For the best Hawaii itineraries (in our biased opinion), click here:

Looking for great deals on car rentals in Hawaii? Visit Hawaii Discount Car Rental, where you can find amazing offers and no pre-payment is required.

We also have FREE Hawaii Cheat Sheets for every Hawaiian Island. Get yours now!
Before we wrap up, here are 11 tips from our Oahu, Hawaii Guide to ensure you have an excellent Oahu vacation:
Mahalo for watching our Hawaii family #travelvlog. We appreciate your support!

If you want to see more of our adventures and get more tips on traveling to Hawaii, click Subscribe. It really helps us out!

Please note that the information we provide in our Content, Itineraries, Site, and Services is for informational purposes only. Make sure to read and understand our Privacy Policy and Terms of Service before using the information.

Keep in mind that participating in activities, engaging with Travel Service Providers, or accessing any information, goods, or services mentioned in our content may carry risks such as illness, injury, disability, death, or property damage. You assume these risks voluntarily.

For more details on our Terms of Service, click here:

Learn more about our Privacy Policy by clicking here:

We would like to give credit to Google Earth for providing us with valuable visuals.

The music in our videos is from Epidemic Sound. If you're looking for licensed music for your YouTube, Instagram, or any content creation, sign up with them!

Follow us on Instagram @thehawaiivacationguide for exclusive behind-the-scenes content.

Stay updated on Hawaii's current status by signing up for our Hawaii Opens Update email. Don't miss out!

Lastly, if you're planning a trip to Maui with your kids, Erica has a FREE One Week Maui Itinerary to help you make the most of your family vacation.
Let's talk cameras! If you're headed for a vacation, here's our recommended camera gear:
GoPro HERO 8: Perfect for capturing underwater moments.

OSMO DJI: Use this gimbal to keep your smartphone videos smooth and stable.

Don't risk losing your GoPro in the water. Invest in a floaty to keep it afloat.

Floating stick:

Floating cover:

If you're looking for a vlogging camera, we recommend using your phone for a family holiday.
In case you missed them, check out some of our popular videos:
The Best Hawaiian Island for First-Timers:

Which Hawaiian Island Should You Visit:

The Best Time to Visit Hawaii:
We hope our Oahu Hawaii Travel Guide 2021 and these tips help you plan an unforgettable vacation. Safe travels!