In a generous move to support those affected by the devastating Maui Wildfire Disaster, Mayor Richard Bissen has announced that property taxes for improved properties completely destroyed by the fires will be waived for the upcoming fiscal year. This applies specifically to improved properties in Upcountry, Kīhei, and Lahaina that were not vacant land prior to the disaster and have either a residential or commercial structure. The Department of Finance will be compiling a list of affected properties, and refunds will be issued to those who have already paid their taxes.-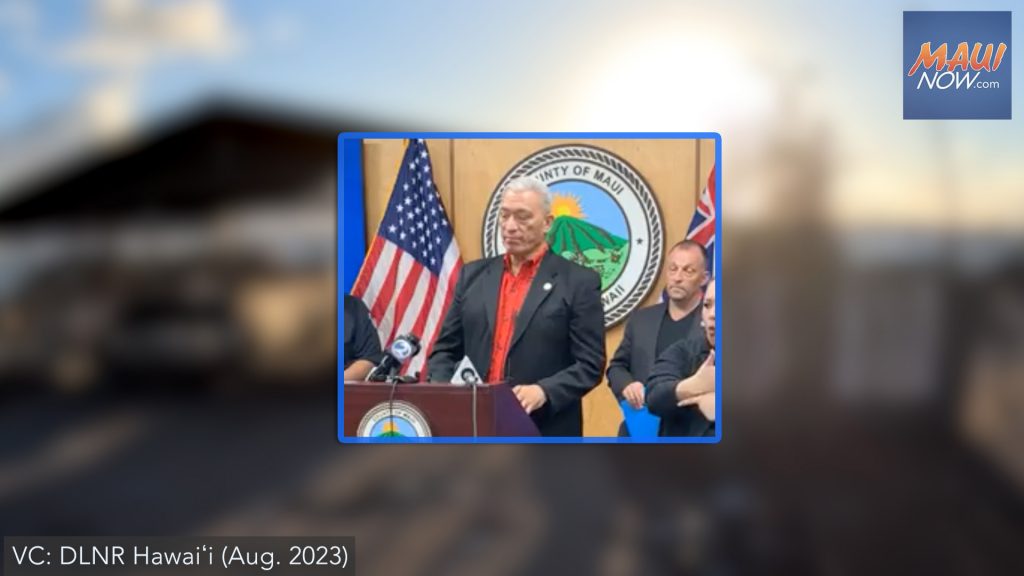 This image is property of media.mauinow.com.
Article Title
Mayor Bissen Waives Property Taxes for Improved Properties Destroyed in Maui Wildfire Disaster
Mayor Richard Bissen of Maui has announced a groundbreaking initiative to waive property taxes for improved properties that were completely destroyed in the devastating Maui Wildfire Disaster. This generous move aims to provide relief to affected property owners in the Upcountry, Kīhei, and Lahaina areas. By waiving property taxes, Mayor Bissen hopes to alleviate the financial burden faced by those who have lost their homes or businesses in this tragic event.
Background
Announcement by Mayor Richard Bissen
In an official statement, Mayor Richard Bissen announced that property taxes for fiscal year 2023-24 would be waived for improved properties that were completely destroyed in the Maui Wildfire Disaster. This decision reflects the mayor's commitment to supporting the affected community during these challenging times.
Applicable Areas: Upcountry, Kīhei, and Lahaina
The property tax waiver applies to improved properties in Upcountry, Kīhei, and Lahaina. These areas were heavily impacted by the wildfire disaster, and the mayor has recognized the need to provide assistance to property owners in these regions.
Eligibility Criteria for Properties to be Waived
To be eligible for the property tax waiver, properties must have been completely destroyed in the wildfire disaster. Improved properties, which have either residential or commercial structures, are eligible for the waiver. Vacant land that was not improved prior to the disaster is not eligible.
Department of Finance
Compiling a List of Completely Destroyed Improved Properties
The Department of Finance, responsible for property taxes, is compiling a comprehensive list of improved properties that were completely destroyed by the wildfires. This list will include the address and tax map key of each property to ensure accuracy.
Refunds for Properties with Already Paid Taxes
For properties that have already paid property taxes for fiscal year 2023-24, refunds will be issued to the payer by October 31, 2023. This ensures that property owners who have already made payments will receive the appropriate reimbursement.
Process for People Not on Initial Waiver List
The Department of Finance will soon announce a process for individuals whose properties were not initially included in the waiver list. This process will allow those affected to submit their information and be considered for the property tax waiver.
Maui Wildfire Disaster
Introduction to the Devastating Wildfires
The Maui Wildfire Disaster began on August 8, 2023, engulfing several areas of the island in flames. The ferocity of the wildfires caused widespread destruction, leaving many homes and businesses in ruins. The impact on the affected communities has been immense, with families and individuals grappling with the loss of their properties.
Ongoing Efforts to Extinguish the Fires
Efforts to extinguish the wildfires are still ongoing. Firefighters, emergency response teams, and volunteers are working tirelessly to bring the situation under control. The community has shown incredible unity and resilience in the face of this disaster, supporting one another in any way possible.
Related Articles
Hawaiʻi to Explore Moratorium on Sales of Damaged Properties
In response to the wildfire disaster, Hawaiʻi is considering implementing a moratorium on the sale of properties significantly damaged by the fires. This measure aims to protect property owners from potential exploitation and ensure fair and ethical practices during the recovery process.
Waiving Wharfage Fees to Aid Maui
To further support the recovery efforts in Maui, wharfage fees on necessities are being waived. This decision will help alleviate financial strain on businesses and individuals transporting essential goods to and from the island.
Updates on Maui Wildfire Disaster
Stay informed about the latest updates on the Maui Wildfire Disaster through reliable news sources. Regular updates will provide valuable information on ongoing firefighting efforts, aid initiatives, and community support.
Jobs
Information about Job Listings on Maui
If you are looking for employment opportunities on Maui, there are several job listings available. These listings cover various industries and can help individuals affected by the wildfire disaster find new opportunities to rebuild their lives.
Newsletter
Subscription to Maui Now Newsletter
Stay connected with the latest news and updates from Maui by subscribing to the Maui Now newsletter. This newsletter delivers essential information directly to your inbox, ensuring that you stay informed about relevant events, initiatives, and community support.
Comments
Public Forum for Comments
A public comments section provides a platform for individuals to express their thoughts, opinions, and concerns regarding the wildfire disaster and the property tax waiver initiative. Engage with the community in a respectful manner to foster productive and thoughtful discussions.
Importance of Respectful Communication
When participating in the comments section, it is crucial to prioritize respectful communication. Disagreements may arise, but maintaining a respectful tone while expressing differing views allows for a healthy exchange of ideas and promotes a sense of unity among the community.
Events
List of Upcoming Events on Maui
Discover a range of upcoming events on Maui, which offer opportunities to come together as a community and support one another. Whether it's fundraisers, volunteer initiatives, or cultural events, attending these events can help contribute to the overall recovery efforts.
About Maui Now
Contact Information
For more information or inquiries, reach out to Maui Now through their provided contact information. Their team is available to address any questions or concerns you may have.
Information about the Company
Learn more about Maui Now and their commitment to providing accurate and timely news to the Maui community. As a reputable news source, they play a vital role in keeping residents informed and connected.