When it comes to snorkeling in Kona, one spot that stands out is Kukio, also known as Kikaua point. Located in an exclusive housing community with limited vehicle access, Kukio offers a secluded cove, shallow relaxation spots, and a grass patch near the water. The snorkeling here is excellent, as it is a marine protected area with abundant and friendly fish. Plus, if you're lucky, you may even spot sleeping sea turtles during certain tide cycles. However, keep in mind that passes are limited, shade tents are not allowed, and there's a swim out to reach good snorkeling. Despite these cons, Kukio is still rated as a great snorkeling spot, earning a solid 7-8.5 out of 10. If you're planning a snorkeling adventure on the Big Island, Kona Snorkel Trips is the top-rated and most reviewed snorkel tour company to consider. They offer a variety of tours and also provide additional information on other snorkeling spots on the island. So grab your gear, dive into Kukio, and explore the incredible underwater world of the Big Island.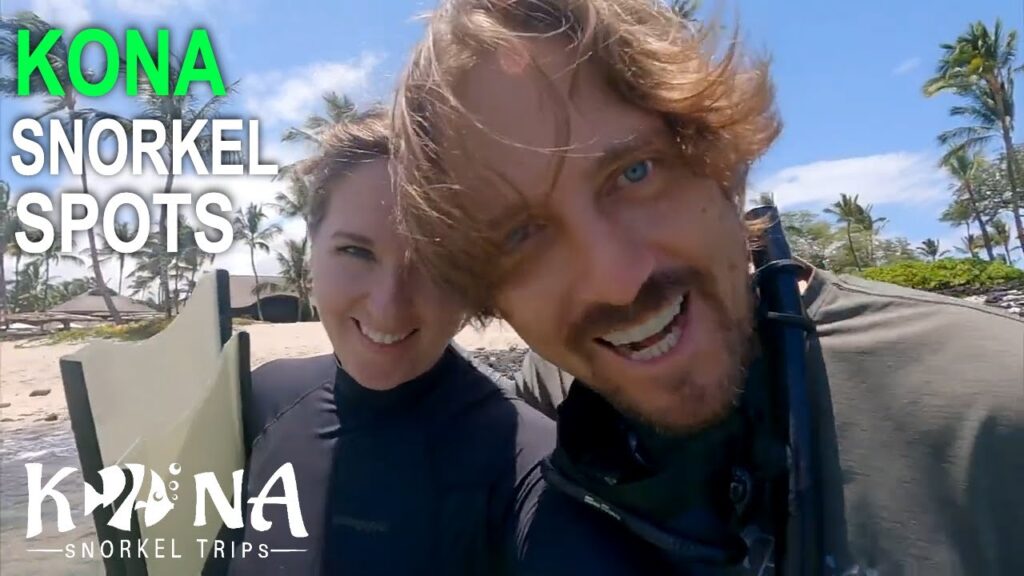 This image is property of i.ytimg.com.
Overview of Kukio Snorkeling Spot
Introduction to Kukio Snorkeling Spot
Welcome to Kukio, one of the lesser-known snorkeling spots in Kona, also known as Kikaua point. This exclusive housing community offers a secluded and beautiful beach perfect for snorkeling and relaxation. In this comprehensive article, we will provide you with all the information you need to know about Kukio Snorkeling Spot.
Location and Access
Located just north of Kona Town, Kukio is conveniently close, only a 20-minute drive away. However, it is important to note that access to Kukio is limited and exclusive, with a restricted number of passes available for parking. To enter, you must obtain a pass at the gate. It is recommended to arrive early as parking spots are limited and granted on a first-come, first-served basis.
Facilities at the Kukio Snorkeling Spot
Once you arrive at the parking lot, you will embark on a peaceful walk down a long cement path that leads you to the beach. On your way, you will find facilities such as showers and restrooms, ensuring a comfortable experience. Additionally, scattered shade trees provide relief from the sun, allowing beachgoers to relax and stay cool. The beach itself offers a secluded cove, shallow relaxation spots, and a grass patch near the water, providing a variety of options for everyone's preferences.
Snorkeling Experience at Kukio
Marine Protected Area
One of the highlights of snorkeling at Kukio is that it is a marine protected area. This means that the ecosystem is carefully preserved, allowing marine life to thrive. The underwater world at Kukio is abundant with various species of fish, making it a snorkeler's paradise. The fish at Kukio are known for being friendly and approachable, as they are accustomed to the presence of snorkelers.
Abundant and Friendly Fish
When snorkeling at Kukio, you can expect to encounter a vibrant underwater world filled with colorful fish. The marine ecosystem here is rich and diverse, allowing for unique and memorable encounters. The fish at Kukio are known for their friendliness and lack of shyness, adding to the overall snorkeling experience. Whether you're a seasoned snorkeler or a beginner, the abundance of fish at Kukio will leave you in awe.
Sightings of Sleeping Sea Turtles
Another exciting aspect of snorkeling at Kukio is the possibility of spotting sleeping sea turtles. During certain tide cycles, you may have the incredible opportunity to witness these majestic creatures resting on the beach. Please remember to maintain a respectful distance and not to disturb or touch the sea turtles. Observing them from a distance is a unique and unforgettable experience.
Pros of Snorkeling at Kukio
Limited Passes for More Beach Space
One of the advantages of snorkeling at Kukio is the limited number of passes available for parking. This ensures that the beach doesn't become overcrowded, allowing for a more peaceful and enjoyable experience. You will have plenty of space to set up your gear and relax, without feeling cramped or overwhelmed by other beachgoers.
Availability of Facilities
Kukio Snorkeling Spot provides convenient facilities, including showers and restrooms. These amenities are essential for a comfortable snorkeling experience, allowing you to rinse off saltwater and sand after your adventure. Having access to these facilities ensures that you can fully enjoy your time at Kukio without worrying about basic necessities.
Shade and Snorkeling Experience
The presence of scattered shade trees near the beach is a significant advantage for visitors to Kukio. The shade provides relief from the sun, making it easier to relax and enjoy the beautiful surroundings. Furthermore, the snorkeling experience at Kukio is exceptional. The marine protected area and friendly fish create an incredible underwater environment that is perfect for snorkelers of all skill levels.
Cons of Snorkeling at Kukio
Limited Passes and Beach Access
While the limited passes at Kukio ensure a more exclusive and less crowded experience, it also means that beach access can be challenging. If all the passes have been claimed when you arrive, you will need to turn around and find another snorkeling spot. It is essential to plan your visit accordingly and arrive early to secure a parking pass.
No Shade Tents Allowed
Although Kukio provides scattered shade trees, it is important to note that shade tents are not allowed at the beach. This restriction means that you will need to rely on the natural shade provided by the trees or find other ways to protect yourself from the sun. It is recommended to bring hats, umbrellas, or sunblock to ensure you can enjoy your time at the beach comfortably.
Swim Out to Good Snorkeling Spot
To reach the best snorkeling spots at Kukio, you will need to swim out from the beach. While this offers an exciting adventure for experienced snorkelers, beginners should be aware that swimming out to the deeper areas may require more skill and confidence. It is essential to assess your comfort level in the water before attempting to reach the prime snorkeling spots.
Medium Walk from the Car
After parking your vehicle, you will need to embark on a medium-length walk down a cement path to reach the beach. While the walk itself is not overly strenuous, it is important to consider this factor when planning your visit, especially if you have mobility limitations or are carrying heavy snorkeling equipment.
Kona Snorkel Trips – Top Rated Snorkel Tours
Introduction to Kona Snorkel Trips
For those seeking a guided snorkeling experience, Kona Snorkel Trips offers the top-rated and most-reviewed snorkel tours on the Big Island. Their expert guides provide a safe and enjoyable snorkeling experience while showcasing the best snorkeling spots in the area. Whether you're a beginner or an experienced snorkeler, Kona Snorkel Trips can cater to your needs and ensure a memorable adventure.
Highest Rated Snorkel Tours on Big Island
Kona Snorkel Trips has gained a reputation for offering exceptional snorkel tours on the Big Island. Their tours are highly rated and reviewed, providing a testament to their commitment to customer satisfaction. When booking with Kona Snorkel Trips, you can expect professional guides, quality snorkeling equipment, and an unforgettable experience exploring the beautiful underwater world of the Big Island.
Video Review of Snorkeling at Kukio
Additional Information on Kukio Snorkeling
If you want to dive deeper into the details of snorkeling at Kukio, a video review by Kona Snorkel Trips provides additional information and insights. The video discusses the pros and cons of snorkeling at Kukio, including the limited passes, the availability of facilities, and the unique snorkeling experience. Watching the video will give you a better understanding of what to expect during your visit to Kukio.
Recommended Places to Eat After Snorkeling
The video also includes a bonus section where the reviewers share their recommended places to eat after snorkeling at Kukio. They mention the Residence Beach House, a hidden gem that offers excellent food and a beautiful waterfront location. This addition to your snorkeling adventure allows you to indulge in delicious cuisine and further enhance your day at Kukio.
Beach Rating and Snorkeling Gear Guide
In the video, the Kona Snorkel Trips team rates the beach at Kukio as 7-8.5 out of 10. This rating takes into account factors such as the quality of the snorkeling, the beach amenities, and the overall experience. Additionally, they provide a snorkeling gear guide, offering helpful recommendations on the equipment you will need for a successful snorkeling trip. Be sure to watch the video for all the valuable information it provides.
Conclusion
Kukio Snorkeling Spot in Kona offers a unique and exclusive snorkeling experience that is worth exploring. With its marine protected area, abundance of friendly fish, and occasional sightings of sleeping sea turtles, Kukio provides an unforgettable underwater adventure. While there are some limitations, such as limited passes and restrictions on shade tents, the pros of snorkeling at Kukio outweigh the cons.
Whether you choose to visit Kukio on your own or book a snorkel tour with Kona Snorkel Trips, you are sure to have a fantastic time exploring the underwater wonders of Kukio. Remember to plan your visit in advance, arrive early to secure a parking pass, and come prepared with snorkeling gear and sun protection. Enjoy your time at Kukio Snorkeling Spot and create beautiful memories to cherish.