In this video, Adventure Theory explores three remote beaches on the East side of Kauai, Hawaii that are hidden gems. These beaches are often overlooked by tourists and even locals, making them perfect for a more private and intimate beach experience. The first beach is Papa'a, which offers excellent snorkeling and swimming opportunities and ample parking. The second beach is Moloa'a, a picturesque half moon bay where Gilligan's Island was filmed. Although the snorkeling may not be as great due to hazy visibility caused by a stream mixing fresh and saltwater, the beach is still worth a visit. Finally, there's Kalihiwai, a family-friendly beach with options for boogie boarding, surfing, kayaking, and stand-up paddleboarding. So if you're looking for less crowded and more secluded beaches in Kauai, these three hidden gems are definitely worth a visit!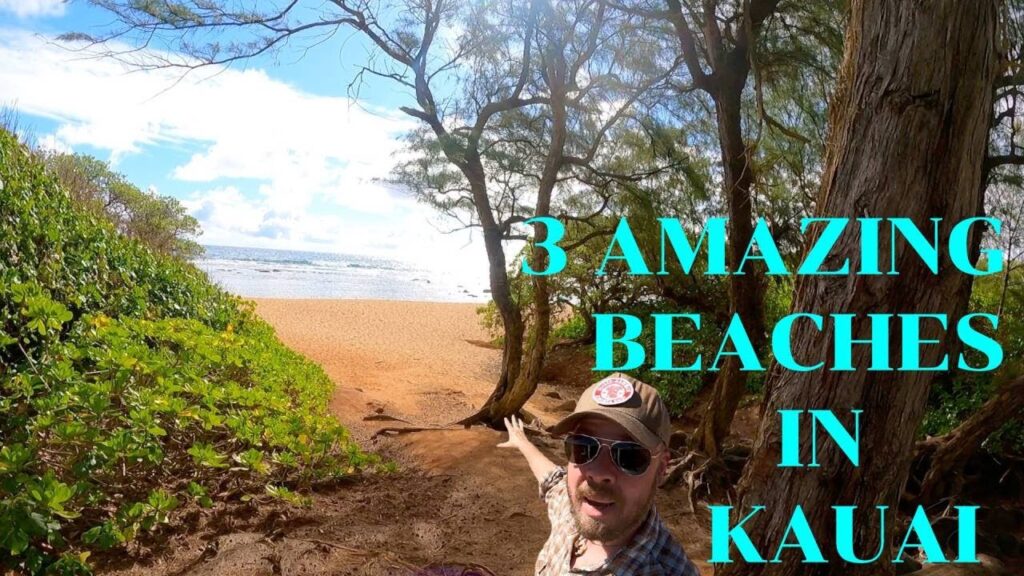 This image is property of i.ytimg.com.
Papa'a Beach
Description
Papa'a Beach, located in Kauai, is an awesome beach that offers a secluded and intimate experience. This beach is less known to tourists and even many locals, making it the perfect destination if you're looking to avoid crowds. Papa'a Beach is better than Poipu and far less crowded than Hanalei Bay or Anini. It is also easier to access than Ke'e and safer than Poli Hali.
Access and Parking
To access Papa'a Beach, you need to follow the signs that say "beach access" off Papa road. The beach is located down some unassuming roads through farmland, but it is on the map, so finding it shouldn't be a problem. At the end of the road, you will find the primary parking lot on your right. The parking lot can accommodate quite a few cars, ensuring that you won't struggle to find a spot.
Swimming and Snorkeling
Papa'a Beach offers excellent swimming and snorkeling opportunities. However, it's important to stay inside the reef and avoid venturing too far north or past the rocks. The beach has calm water near the shore, thanks to the outer reef that keeps big waves out. This calm area is perfect for swimming and playing around in the water. If you have snorkel gear with you, there is some fairly decent snorkeling to be had. Just make sure to check the currents before venturing out.
Lobster Fishing
Another activity you can enjoy at Papa'a Beach is lobster fishing. The area around the beach is known for good lobster fishing, so if you're interested in trying your hand at this activity, Papa'a Beach is a great spot to do so. Be sure to follow local regulations and guidelines to ensure that you fish responsibly.
Moloa'a Beach
Description
Moloa'a Beach is located just up the road from Papa'a Beach. Although it requires a slightly longer drive and is situated down small roads through farmland, it is well worth the visit. Moloa'a Beach offers a beautiful half-moon bay and a serene environment.
Access and Parking
To access Moloa'a Beach, you will need to rely on your map as the route to the beach can be a little tricky. It is several miles down some very small roads, and it ends in a residential neighborhood. Due to limited parking availability, it's essential to be prepared for this. However, the effort to get there is well worth it once you see the beauty of Moloa'a Beach.
Snorkeling
Snorkeling at Moloa'a Beach is fair, but it may not be as impressive as you might expect from a remote beach. The bay has a stream that mixes fresh water with saltwater, creating hazy visibility near the surface near the stream mouth. However, if you dive down to specific areas, you can still see some fish and even turtles. It's important to note that the water gets fairly deep in the bay, and there is no outer reef, so consider this before venturing too far from shore.
Visibility and Debris
Due to the currents at Moloa'a Beach, the fresh water and debris from the Pacific Garbage Patch can create some challenges. The hazy visibility on the surface may affect snorkeling experiences, and there might be a debris field in certain areas. However, if you're willing to dive down, you can still find pockets of clear water with good marine life. It's important to be a confident swimmer and exercise caution when exploring the area.
Kalihiwai Beach
Description
Kalihiwai Beach is another fantastic beach worth visiting on the east side of Kauai. Located just down the road from Anini, it offers a mix of water activities and a beautiful Hawaiian atmosphere. This beach is a great option if you're looking for a more family-friendly experience.
Access and Parking
There are two entrances to Kalihiwai Beach. The north entrance is located on the bluffs next to Anini Beach. This entrance provides access to the river mouth area. The south entrance offers a larger parking lot with plenty of space for cars. The beach is very large, so even with more visitors, it won't feel crowded. The parking lot on the north side is smaller but easily accessible from the main parking lot.
Water Activities
Kalihiwai Beach offers various water activities to enjoy. In the bay, you can go boogie boarding and surfing. The waves are suitable for these activities, and it's a great place to catch some waves. Additionally, there is a shallow river that is perfect for kayaking and stand-up paddleboarding. The river empties into the bay, providing a scenic and relaxing experience.
Rope Swing
One of the highlights of Kalihiwai Beach is a small rope swing located at the mouth of the river. It offers a fun and thrilling experience for visitors. However, it's essential to note that the water is shallow near the rope swing, so headfirst diving is not recommended. Enjoy swinging into the water and soaking up the beautiful surroundings.
Conclusion
If you're looking for three amazing, less crowded beaches to visit on the east side of Kauai, Papa'a Beach, Moloa'a Beach, and Kalihiwai Beach are excellent choices. Each beach offers its own unique features and activities to enjoy, from swimming and snorkeling to lobster fishing, beach walks, and water sports. These beaches provide a more intimate and secluded experience compared to more popular destinations on the island. So, pack your snorkel gear, beach essentials, and sense of adventure, and discover the hidden gems of Kauai's east side beaches.