Explore the vibrant neighborhoods of Honolulu, Hawaii with the helpful guide provided in the video. This one-day itinerary features the best activities and eats in Honolulu, taking you beyond the popular Waikiki area. The video also includes tips on pre-travel testing requirements and highlights the cultural diversity, architecture, and delicious food that Honolulu has to offer. Hop on a Biki bike to easily navigate the different parts of the city and make the most of your day in Honolulu. Don't miss out on this amazing adventure, so be sure to watch the video and subscribe for more Oahu and Hawaiian Islands content.
Immerse yourself in the beauty and culture of Honolulu, Hawaii with the fantastic guide from The Hawaii Vacation Guide. Their one-day itinerary takes you on a journey through different neighborhoods, introducing you to the best activities and delicious eats in the city. From coffee and donuts at Holey Grail to a walking tour in Chinatown, followed by lunch at The Pig and The Lady and relaxing at Ala Moana Beach Park, this itinerary has it all. Don't forget to explore the vibrant street art in Kaka'ako and enjoy dinner at Aloha Beer Co. End your day feeling more in love with Honolulu and its incredible attractions. Subscribe to The Hawaii Vacation Guide for more adventures and tips on traveling to Hawaii.

Neighborhoods outside of Waikiki
Exploring different neighborhoods
When you venture beyond the lively streets of Waikiki, you'll discover a whole new world of neighborhoods waiting to be explored on the beautiful island of Oahu. Each neighborhood has its own unique charm and character, offering a glimpse into the local culture and way of life. From the historic district of downtown Honolulu to the laid-back vibe of Kaimuki, there's something for everyone to enjoy.
Cultural diversity and architecture
One of the most fascinating aspects of exploring different neighborhoods in Oahu is the rich cultural diversity and architecture you'll encounter along the way. Each neighborhood showcases a blend of influences from various cultures, creating a vibrant tapestry of styles and traditions. From the ornate Chinese storefronts in Chinatown to the beautiful plantation-style houses in Manoa, you'll be amazed by the fascinating architectural gems that grace the streets of these neighborhoods.
Local food recommendations
No trip to Oahu would be complete without indulging in the local cuisine. Fortunately, the neighborhoods outside of Waikiki are home to some of the best local food establishments on the island. Whether you're craving traditional Hawaiian dishes like poi and kalua pork or prefer to sample cuisine from other cultures, such as Japanese, Korean, or Filipino, you'll find it all in these neighborhoods. Don't forget to visit the local food trucks and farmers markets for a taste of the freshest ingredients and flavors Oahu has to offer.
Pre-travel testing requirements
Understanding the requirements
Before embarking on your Oahu adventure, it's essential to understand the pre-travel testing requirements. To ensure the safety of residents and visitors alike, the state of Hawaii requires all travelers to provide proof of a negative COVID-19 test taken within 72 hours before departure. This requirement applies to all travelers five years of age and older. It's important to plan ahead and familiarize yourself with the specific testing requirements, including approved testing partners and accepted test types, to ensure a smooth travel experience.
Tips for completing the testing
Completing the pre-travel testing requirement may seem daunting at first, but with a little preparation, it can be a straightforward process. Here are some tips to help you navigate the testing process smoothly:
Research approved testing partners in your area well in advance of your departure date.
Schedule your test appointment as soon as possible to secure a convenient time slot.
Double-check that the test type you are taking is accepted by the state of Hawaii.
Ensure that you receive your test results within the required timeframe and obtain a physical or electronic copy as proof.
Keep all relevant documents, including your test results and travel authorization, readily accessible for any necessary screenings.
One-day itinerary
Morning activities and eats
Kickstart your day with a hearty breakfast at a local cafe, fueling up for the exciting adventures ahead. Once you've satisfied your taste buds, head to one of Oahu's stunning hiking trails, such as Diamond Head or Manoa Falls. Immerse yourself in nature's beauty as you traverse the lush landscapes and soak in breathtaking panoramic views.
Afternoon activities
After your morning hiking adventure, it's time to explore the vibrant cultural scene of downtown Honolulu. Pay a visit to the Honolulu Museum of Art to admire its impressive collection of historical and contemporary works. Then, take a stroll through the artsy neighborhood of Kakaako, where colorful murals and trendy cafes abound.
Evening activities and dinner
As the sun begins to set, make your way to the historic district of Chinatown. This bustling neighborhood comes alive with street vendors, art galleries, and lively night markets. Explore the vibrant streets, sampling local treats and immersing yourself in the lively atmosphere. For a memorable dinner experience, try one of the many fusion restaurants that combine Asian flavors with local ingredients, creating a unique culinary experience you won't soon forget.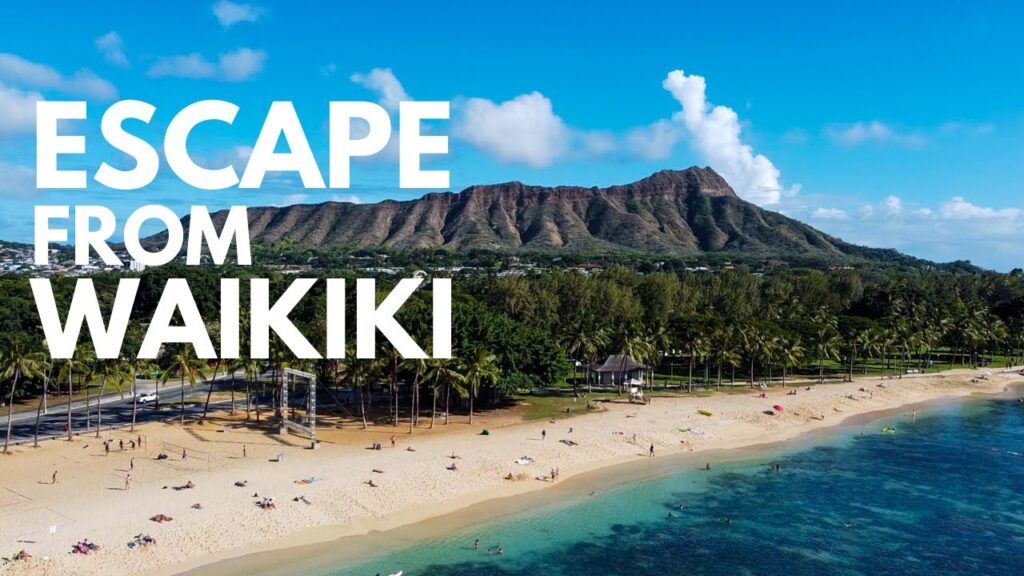 This image is property of i.ytimg.com.

Biki bikes for exploring
How to use Biki bikes
When it comes to exploring Honolulu and its surrounding neighborhoods, Biki bikes are a convenient and eco-friendly option. Biki is Oahu's bikeshare program, offering a fleet of bicycles available for short-term rentals. To use Biki bikes, simply locate a Biki station, choose your bike, and unlock it using a credit card or the Biki mobile app. Enjoy the freedom of cruising through the city at your own pace, all while reducing your carbon footprint.
Benefits of using Biki bikes
Using Biki bikes has numerous benefits for both locals and visitors alike. First and foremost, Biki bikes provide an excellent way to explore the neighborhoods outside of Waikiki without the need for a car. You can easily navigate through the city, stopping at various attractions and local eateries along the way. Biki bikes also promote a healthy and active lifestyle, allowing you to get some exercise while enjoying the beautiful scenery. Plus, you'll save money on transportation costs and won't have to worry about finding parking, making Biki bikes a win-win solution for your explorations.
Coffee recommendations
Popular coffee shops in Honolulu
If you're a coffee lover, then you're in for a treat in Honolulu. The city is teeming with charming coffee shops that serve up delicious brews to satisfy every caffeine craving. Some of the most popular spots include Morning Glass Coffee, ARVO, and Kai Coffee Hawaii. Whether you prefer a classic cup of joe or crave something more adventurous like a lavender latte, these local coffee shops have got you covered.
Must-try coffee drinks
While exploring the coffee scene in Honolulu, be sure to try some of the must-try coffee drinks that locals rave about. Start your day with a rich and creamy macadamia nut latte, which features the distinct flavors of Hawaii's beloved nut. For an indulgent treat, savor the velvety smoothness of an iced mocha infused with locally sourced cacao. And if you're feeling adventurous, give the famous Hawaiian honey latte a try – a unique combination of local honey and espresso that will surely leave a sweet impression.
Donut recommendations
Best donut shops in Honolulu
Donut enthusiasts rejoice! Honolulu is home to a variety of donut shops that will satisfy your sweet tooth cravings. Donut King, Liliha Bakery, and Regal Bakery are just a few of the local favorites where you can indulge in fluffy, melt-in-your-mouth donuts in a range of flavors and styles. Whether you prefer classic glazed donuts, savory malasadas, or unique creations like matcha donuts, the donut scene in Honolulu has something to please every palate.
Unique and delicious flavors
If you're looking to try something beyond the traditional donut flavors, Honolulu's donut shops have got you covered with their unique and delicious offerings. Sink your teeth into a lilikoi (passionfruit)-filled donut that bursts with tropical goodness in every bite. For a taste of local favorites, try a poi donut infused with the iconic taro flavor. And if you're feeling adventurous, seek out the decadent haupia (coconut pudding) donut for a truly indulgent treat.
Chinatown walking tour
Highlights of the walking tour
A walking tour through Honolulu's Chinatown is a journey filled with captivating sights, sounds, and flavors. As you wander through the bustling streets, immerse yourself in the vibrant energy and rich history of this cultural hotspot. Explore the lively markets, where you'll find an impressive array of fresh produce, exotic spices, and traditional Chinese herbs. Marvel at the ornate temples and traditional Chinese architecture that transport you to a different time and place. Don't forget to stop by the historic Oahu Market, a beloved local landmark filled with an eclectic mix of food stalls and boutiques.
Must-visit attractions in Chinatown
While on your Chinatown walking tour, be sure to visit some of the neighborhood's must-see attractions. Start with a visit to the vibrant Maunakea Marketplace, where you can browse through a multitude of stalls offering an array of goods, from fresh seafood to unique trinkets. Step into the Lin Fong Bakery to savor delectable Chinese pastries and mouthwatering buns. And no visit to Chinatown would be complete without exploring the enchanting Kuan Yin Temple, where you can immerse yourself in the tranquil ambiance and marvel at the intricately carved statues.
Lunch at The Pig and The Lady
Signature dishes at the restaurant
For a delightful lunch experience in Honolulu, head to The Pig and The Lady – a beloved restaurant that combines Vietnamese flavors with local ingredients. The menu boasts an array of mouthwatering dishes, but some of the signature must-tries include their famous pho french dip banh mi, which takes the classic Vietnamese sandwich to a whole new level of deliciousness. Another crowd favorite is the shaking steak salad, a tantalizing combination of tender beef, fragrant herbs, and zesty dressing. Finish off your meal with one of their delectable desserts, such as the pandan tres leches cake, for the perfect sweet ending.
Why it's a popular choice for lunch
The popularity of The Pig and The Lady for lunch is no surprise – the restaurant offers an inviting and vibrant atmosphere, perfect for casual dining with friends or family. The menu showcases the creativity and expertise of its renowned chefs, who skillfully blend traditional Vietnamese flavors with modern culinary techniques. From the friendly staff to the delectable dishes, every aspect of your dining experience will leave you craving more. Come hungry, leave satisfied, and don't forget to make a reservation in advance to secure your spot at this bustling lunchtime hotspot.
Ala Moana Beach Park
Beach activities and amenities
No visit to Oahu would be complete without some beach time, and Ala Moana Beach Park is the perfect place to soak up the sun and enjoy the sparkling blue waters. The beach offers a wide range of activities and amenities for visitors to enjoy. Take a refreshing dip in the ocean, or lounge on the soft sand and work on your tan. The park also features picnic areas, barbeque grills, and shady trees, making it an ideal spot for a beachside picnic with friends and family.
Scenic views and relaxation
In addition to its beautiful beach, Ala Moana Beach Park offers stunning vistas and a sense of tranquility. Take a leisurely stroll along the waterfront and marvel at the mesmerizing views of the iconic Waikiki skyline and Diamond Head in the distance. The park's expansive lawn areas provide an oasis of greenery, perfect for relaxation and enjoying a peaceful afternoon. Whether you're seeking an active day of water sports or simply want to unwind and take in the scenery, Ala Moana Beach Park has something to offer.
Conclusion
Summary of the recommendations
Exploring the neighborhoods outside of Waikiki is a must-do for any visitor to Oahu. From the cultural diversity and architectural wonders to the mouthwatering local cuisine, there's an abundance of exciting experiences waiting to be discovered. Whether you choose to embark on a walking tour in Chinatown, indulge in delicious coffee and donuts, or enjoy a day of biking and beachcombing, Oahu has something for everyone.
Encouragement to explore more of Oahu and the Hawaiian Islands
While this comprehensive article highlights just a few of the many wonderful attractions and experiences Oahu has to offer outside of Waikiki, it's important to remember that there is so much more to explore beyond this island. The Hawaiian Islands are a treasure trove of natural beauty, vibrant culture, and warm hospitality, and each island has its own unique charm. So, don't hesitate to venture beyond the neighborhoods of Waikiki and see what other wonders await you in this tropical paradise.