Have you ever imagined hiking through ancient lava fields and witnessing the raw power of a volcano up close? Well, with KapohoKine Adventures, you can turn that dream into a reality on their Elite Volcano Hike in Hilo, Hawaii. Get ready for an adventure like no other as you explore the fascinating lava tube system in Kaumana Caves and witness the aftermath of the 2018 eruption at Hawaii Volcanoes National Park.
But that's not all. During this epic hike, you'll also have the chance to discover the mesmerizing lava flow of Mauna Ulu and explore the unique Nahuku lava tube. And to top it all off, you'll get to enjoy a delicious dinner at a local favorite restaurant in Volcano Village. Sounds amazing, right?
At CheapHawaiian Activities and Tours, we take pride in offering unbeatable value and an extensive selection of activities and tours that cater to all interests and preferences. With experienced guides, small group advantages, and a commitment to customer satisfaction and safety, we ensure that your time with us is nothing short of remarkable. Plus, our eco-friendly practices help preserve the natural beauty of Hawaii for future generations.
So why wait? Join us at CheapHawaiian Activities and Tours for an unforgettable adventure in paradise. Whether you're traveling solo or with loved ones, we promise a memorable experience that will leave you with cherished memories of Hawaii's enchanting landscapes and warm hospitality. Book your dream vacation with us and discover why we are the best tour provider in Hawaii!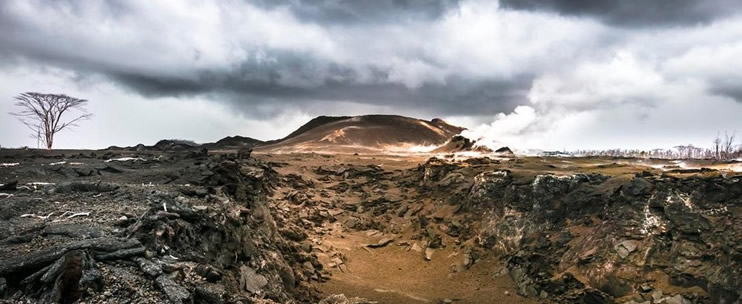 Elite Volcano Hike in Hilo, Hawaii with KapohoKine Adventures
KapohoKine Adventures is proud to offer an Elite Volcano Hike in Hilo, Hawaii. This unforgettable journey takes you through the breathtaking landscapes and unique geological formations of the Big Island. From the ancient lava fields to the stunning volcanic landscapes, you will witness the raw power and beauty of Hawaii's volcanoes.
Overview: What to Expect
Your adventure begins with a visit to Kaumana Caves, a fascinating part of the lava tube system in Hilo. These natural caves were formed centuries ago by flowing lava, and exploring their depths is a truly awe-inspiring experience. Equipped with helmets and flashlights, you will venture into the darkness and learn about the geological history of the area.
The tour continues to Hawaii Volcanoes National Park, where you will witness the destruction caused by the 2018 eruption. This recent event left a profound impact on the landscape, and you will have the opportunity to see firsthand how nature can reshape the land.
Visit Kaumana Caves
But the adventure doesn't stop there. Participants of this elite volcano hike will also have the opportunity to hike across ancient lava fields of Kilauea volcano. These lava fields date back to 1881 and showcase the powerful forces of nature that have shaped Hawaii's landscapes for centuries.
Explore Hawaii Volcanoes National Park
In addition to the lava fields, you will explore other locations within the park, including the Mauna Ulu lava flow. This massive lava flow, dating back to the 1969-1974 eruption, provides a stark contrast to the surrounding lush vegetation. It's a truly mesmerizing sight and a testament to the raw power of Hawaii's volcanoes.
Hike across Ancient Lava Fields
One of the highlights of this volcano hike is the opportunity to explore the Nahuku lava tube, also known as Thurston Lava Tube. This underground tunnel was formed by flowing lava and provides a fascinating glimpse into the underground world of the volcano. As you walk through the damp and cool tunnel, you will be surrounded by incredible geological formations and gain a deeper understanding of the volcanic processes that shape the island.
Discover Mauna Ulu Lava Flow
After an exhilarating day of exploration, the adventure concludes with a delicious dinner at a local favorite restaurant in Volcano Village. You can savor the flavors of Hawaii while reflecting on the incredible experiences of the day.
Enjoy Dinner in Volcano Village
Transportation is available from most Hilo hotels, making it convenient for you to join this elite volcano hike. Whether you're a seasoned hiker or a novice adventurer, you will be able to enjoy this experience at your own pace.
Transportation and Logistics
It's important to note that participants should be able to walk unassisted for at least three miles and wear closed-toed shoes for their safety and comfort.
Physical Requirements and Safety
The elite volcano hike operates on Saturdays and lasts approximately nine hours. Prices start at $233 per adult and $229 per child (0-12 years), making it an affordable option for those looking to experience the best of Hawaii's volcanic landscapes without breaking the bank.
Tour Details and Pricing
At CheapHawaiian Activities and Tours, we strive to provide unbeatable value to our guests. We believe that everyone should have the opportunity to experience the beauty of Hawaii, and that's why we offer affordable prices without compromising on the quality of our services.
Unbeatable Value
With an extensive selection of activities and tours, we cater to all interests and preferences. Whether you're seeking thrilling adventures, cultural explorations, or serene escapes, our diverse range of options ensures that there's something for everyone.
Extensive Selection
Our team of experienced guides are passionate and knowledgeable about Hawaii, and they are eager to share their insights with you. With insider tips and stories, they enrich your experience and provide you with a deeper understanding of the islands.
Experienced Guides
By keeping our tour groups small, we provide an intimate and personalized experience for each guest. This allows us to give individual attention and guidance, ensuring that you have the best possible experience.
Small Group Advantage
Customer satisfaction is our top priority. We go above and beyond to exceed your expectations and create memorable and remarkable experiences. Your happiness is what drives us to continuously improve and deliver exceptional service.
Customer Satisfaction
Your safety is of utmost importance to us. We adhere to strict safety standards and guidelines to guarantee a worry-free and secure journey for you and your loved ones. With us, you can have peace of mind and focus on enjoying your adventure.
Safety First
As a locally-rooted tour provider, we have deep cultural and historical understanding of Hawaii. Our tours take you off the beaten path, showcasing hidden gems and providing you with a rich and authentic experience of the islands.
Local Insights
We are committed to preserving the natural beauty of Hawaii for future generations. Our tours are designed with eco-friendly practices in mind, minimizing our environmental impact and ensuring sustainable tourism.
Eco-Friendly Practices
In conclusion, an unforgettable experience awaits you with KapohoKine Adventures. Join us for an elite volcano hike in Hilo, Hawaii, and immerse yourself in the stunning landscapes and rich volcanic history of the Big Island. Book your adventure with CheapHawaiian Activities and Tours, the best tour provider in Hawaii, and create lifelong memories of your time in paradise.