If you're planning a trip to Hawaii and looking for the ultimate luau experience, look no further than the Feast at Lele in Maui. This renowned luau offers a 5-course meal with 13 different dishes, providing a true feast for the senses. Not only is the food incredible, but the luau show is exhilarating and perfectly timed with the service. Plus, with all-you-can-drink included in the experience, you'll truly be able to indulge. The attention to detail and excellent service make this luau worth every penny of the $175 per person price. Whether you're a first-time visitor to Hawaii or a seasoned traveler, the Feast at Lele is a must-do activity that will leave you with unforgettable memories of Hawaii's rich culture and culinary delights.
Please note: This article is brought to you by Hawaii Activities and Tours, the leading company for all your Hawaiian activity needs.
Feast at Lele: The Best Luau in Maui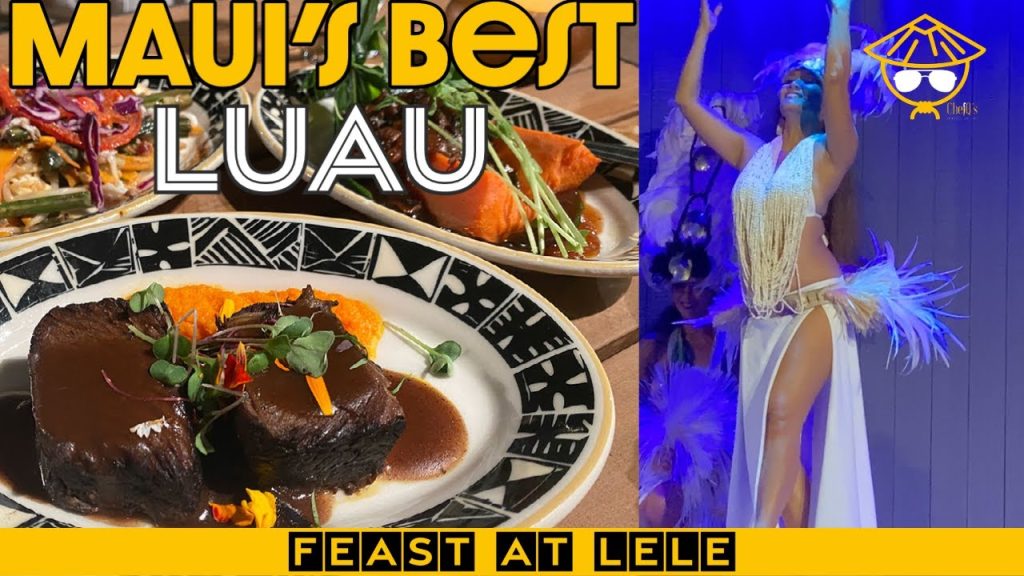 This image is property of i.ytimg.com.
Overview of Feast at Lele
If you're looking for an unforgettable cultural experience in Maui, look no further than Feast at Lele. This luau is known as one of the best on the island, offering a combination of delicious food, exhilarating entertainment, and exceptional service. Whether you're a first-time visitor to Hawaii or a seasoned traveler, attending Feast at Lele should be at the top of your bucket list.
5-Course Meal with 13 Different Dishes
One of the highlights of Feast at Lele is the incredible 5-course meal that awaits you. With a total of 13 different dishes, you'll get to experience the diverse flavors of Hawaii and Polynesia. The meal starts with appetizers and a refreshing salad, followed by traditional Hawaiian dishes such as kalua pork and lomi lomi salmon. As the courses progress, you'll also get to savor contemporary Polynesian cuisine, showcasing the culinary creativity of the region. And to top it all off, there are delicious desserts that will satisfy your sweet tooth.
Exhilarating and Well-Timed Luau Show
Feast at Lele wouldn't be complete without its captivating luau show. From the moment it starts, you'll be mesmerized by the traditional Hawaiian music and dance. The performers truly embody the spirit of Polynesia, showcasing their talent and passion on stage. What sets this luau apart is the impeccable timing of the show with the food and service. While you enjoy your meal, the performances seamlessly transition from one act to the next, keeping you entertained throughout the evening.
All-You-Can-Drink Experience
When you attend Feast at Lele, you'll have the opportunity to indulge in an all-you-can-drink experience. The luau offers a variety of refreshing tropical drinks, including both alcoholic and non-alcoholic options. Whether you prefer a classic Mai Tai or a tropical fruit punch, there's something for everyone. It's important to note that while the drinks are unlimited, it's essential to drink responsibly and ensure your enjoyment without overindulging.
Exceptional Attention to Detail and Service
Feast at Lele prides itself on providing exceptional attention to detail and service. From the moment you arrive at the venue, you'll receive a warm welcome and hospitality that will make you feel right at home. The table settings are impeccable, with each detail carefully curated to create an atmosphere of luxury and elegance. The staff at Feast at Lele are attentive and knowledgeable, always ready to assist with any request and answer any questions you may have. Throughout the evening, they provide prompt and efficient service, ensuring that your experience is nothing short of extraordinary.
Pricing and Value
While some may consider the price of $175 per person for Feast at Lele to be on the higher side, it's important to understand the value that you're getting. The 5-course meal with 13 different dishes, the exhilarating luau show, and the all-you-can-drink experience all contribute to making this a worthwhile investment. When you consider the exceptional attention to detail, the beautiful setting, and the great service, it becomes clear that Feast at Lele offers an experience that is truly priceless. Don't just take our word for it, read the customer reviews and see the high satisfaction levels for yourself.
Beautiful Setting and Great Service
Feast at Lele is located in Lahaina, Maui, offering a stunning oceanfront venue with spectacular views. The tropical decor and ambiance create a sense of paradise, transporting you to an island paradise. As you enjoy your meal and watch the luau show, you'll also have the opportunity to witness the breathtaking sunset, adding an extra touch of magic to the experience. Customer testimonials rave about the beautiful setting and great service, emphasizing that it enhances the overall enjoyment of the evening.
Booking with Hawaii Activities and Tours
To ensure a seamless and hassle-free booking process, it is recommended to book Feast at Lele through Hawaii Activities and Tours. As the best Hawaiian activity tour company, they specialize in providing exceptional service and organizing memorable experiences for visitors to Hawaii. With convenient online booking options, you can easily secure your spot at Feast at Lele and have access to additional assistance and information. Hawaii Activities and Tours also offers a wide range of other activities and tours, allowing you to make the most of your time in Hawaii and explore everything the islands have to offer.
Conclusion
Feast at Lele is undoubtedly the best luau in Maui, offering a 5-course meal with 13 different dishes, an exhilarating and well-timed luau show, an all-you-can-drink experience, exceptional attention to detail and service, and a beautiful setting with great service. While the price may initially seem high, the value and overall experience make it worth every penny. By booking with Hawaii Activities and Tours, you can ensure a seamless and enjoyable experience from start to finish. Don't miss the opportunity to immerse yourself in the authentic cultural experience that Feast at Lele provides.