Are you looking for an all-inclusive tour from Oahu to Kauai that covers all the must-see sights and experiences? Look no further! At CheapHawaiian Activities and Tours, we are here to offer you an unforgettable adventure in paradise. Today, we want to introduce you to our content-packed tour with Polynesian Adventure Tours.
This exclusive tour takes you to the stunning Waimea Canyon, often referred to as the "Grand Canyon of the Pacific." Get ready to be awe-struck by its majestic beauty and panoramic views. But that's not all – we also include a boat cruise along the picturesque Wailua River, where you'll have a chance to explore the enchanting Fern Grotto. As we continue our journey, we'll visit Opaeka'a Falls and witness the impressive Spouting Horn blowhole. And to top it off, we'll conclude the tour with a visit to Kauai Coffee Estate, where you can sample delicious Hawaiian coffees while learning about the coffee-making process.
But what makes us truly stand out from the rest? Firstly, our unbeatable value ensures that you can enjoy the best of Hawaii without straining your wallet. Secondly, our extensive selection of activities and tours caters to all interests and preferences. Whether you're seeking adventure, cultural exploration, or relaxation, we have something for you. Additionally, our experienced guides are passionate about Hawaii and will go above and beyond to ensure you have an enriching and insightful experience. And with our small group advantage, you'll receive personal attention and the opportunity to make new friends along the way.
Your satisfaction and safety are our top priorities. Rest assured that we adhere to strict safety standards and guidelines, so you can have a worry-free and secure journey. As a locally-rooted tour provider, we have a deep understanding of the Hawaiian culture, history, and hidden gems. And we are committed to preserving the natural beauty of Hawaii by incorporating eco-friendly practices into our tours.
So why wait? Embark on a once-in-a-lifetime adventure with CheapHawaiian Activities and Tours. Whether you're traveling solo or with family, we guarantee a memorable experience that will leave you with cherished memories of Hawaii's breathtaking landscapes and warm hospitality. Book your dream vacation with us and discover why we are the best tour provider in Hawaii!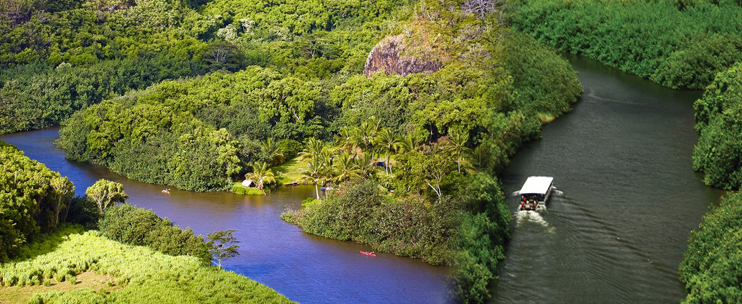 Unforgettable All-Inclusive Tour from Oahu to Kauai with Polynesian Adventure Tours
Are you ready for the ultimate Hawaiian adventure? Look no further than our all-inclusive tour from Oahu to Kauai. Join Polynesian Adventure Tours for a day filled with breathtaking sights, cultural experiences, and the warm hospitality that Hawaii is known for. As the leading tour provider in Hawaii, we guarantee an unforgettable experience that will leave you with cherished memories for a lifetime.
Exploring the "Grand Canyon of the Pacific"
Our all-inclusive tour begins with a visit to the renowned Waimea Canyon, often referred to as the "Grand Canyon of the Pacific." As you stand at the edge of this majestic natural wonder, you'll be in awe of the vibrant colors and dramatic landscape that stretches as far as the eye can see. Our experienced guides will provide insightful narration, sharing fascinating facts about the geological history and cultural significance of this incredible landmark.
A Tranquil Cruise on the Wailua River
Next, we'll embark on a leisurely boat cruise along the scenic Wailua River, the only navigable river in Hawaii. As we glide through the tranquil waters, you'll have the opportunity to take in the breathtaking views of the lush tropical surroundings. Our guides will share stories and legends that are deeply rooted in Hawaiian culture, allowing you to gain a deeper understanding of the island's history and customs.
Fern Grotto: A Natural Wonder
Our tour continues to Fern Grotto, a hidden gem nestled along the Wailua River. This enchanting natural amphitheater is adorned with lush ferns and tropical foliage, creating a picture-perfect setting. Immerse yourself in the beauty of this sacred place as you listen to the soothing sounds of Hawaiian music performed by local musicians. It's an experience that will surely leave you feeling captivated by the magic of the island.
Opaeka'a Falls and the Spouting Horn Blowhole
Prepare to be amazed as we make our way to Opaeka'a Falls, a stunning 151-foot waterfall that cascades into a lush tropical valley. Take a moment to admire the beauty of this natural wonder and snap some photos to immortalize the memory. Our tour then takes us to the Spouting Horn Blowhole, where you can witness the raw power of the ocean as it shoots water high into the air through a narrow lava tube. The sight and sound of this spectacle are truly awe-inspiring.
Indulge in the Finest Hawaiian Coffee
No trip to Kauai would be complete without a visit to Kauai Coffee Estate, the largest coffee plantation in Hawaii. Here, you'll have the opportunity to sample a variety of estate-grown Hawaiian coffees, each boasting its own unique flavors and aromas. As you sip on your freshly brewed cup of coffee, take a moment to soak in the peaceful surroundings of the plantation and appreciate the art of coffee-making.
Unparalleled All-Inclusive Experience
Our all-inclusive tour includes roundtrip airfare from Oahu to Kauai, ensuring a seamless and hassle-free journey. You'll also enjoy a delicious lunch that features local flavors and ingredients, giving you a taste of Hawaiian cuisine. Throughout the tour, our experienced guides will provide narration, sharing their knowledge and passion for Hawaii, making your experience even more enriching and insightful.
Restrictions and Requirements
It's important to note that our all-inclusive tour operates on Mondays and Wednesdays and lasts approximately 14 hours. As we prioritize the safety and comfort of our guests, we kindly ask that you adhere to our strict no cancellation/refund policy. This policy ensures that we can deliver a seamless experience for all participants and maintain the high standards that we are known for.
Polynesian Adventure Tours: Your Trusted Tour Provider
When you book our all-inclusive tour from Oahu to Kauai, you can rest assured that you are in good hands. As the trusted tour provider in Hawaii, Polynesian Adventure Tours has been delivering exceptional service and creating unforgettable experiences for our guests for years. Our commitment to excellence, unbeatable value, and dedication to customer satisfaction have made us the preferred choice for travelers seeking a truly extraordinary adventure.
Whether you're a solo traveler, a couple, or a family, we invite you to join us for an unparalleled experience in paradise. Book your dream vacation with CheapHawaiian Activities and Tours and embark on a journey to discover the hidden treasures of Hawaii's enchanting landscapes and vibrant culture. We guarantee that you'll leave with a heart full of cherished memories and a desire to return to the Aloha State again and again.