Kauai, Hawaii, with its breathtaking natural beauty and an abundance of things to do make this a great vacation location for both people looking to relax and those looking for their next adventure. Nestled in the heart of the Pacific Ocean, Kauai is often referred to as the "Garden Isle" for its lush, green landscapes, cascading waterfalls, and pristine beaches. Our favorite free things to do in Kauai: Waimea Canyon, often called the "Grand Canyon of the Pacific," offers awe-inspiring vistas; snorkeling at Poipu Beach and Anini Beach; Wailua Falls; Hanalei Beach; Spouting Horn; Kalalau Lookout; Hanalei Valley Lookout; and all of the beautiful Kauai beaches. Kauai also offers unique cultural experiences, from traditional luaus to exploring historic sites like the Kilohana Plantation. If you enjoyed this video, subscribe to our channel to see our upcoming videos on recommended travel destinations. We truly appreciate your support.
It only took us a week to realize that Kawaii is now hands down our favorite Hawaiian island. We've always been told that you will never run out of things to do in Kawaii, including a terrifying Helicopter Tour, tubing down a mountain, enjoying gorgeous beaches, stunning waterfalls, and hiking in the Grand Canyon of the Pacific. And you know what? They were right. Thanks so much for joining us today, and by the way, don't miss out on our travels. Click the Subscribe button below. Also, if you don't wish to watch the entire video but would only like to view certain parts, scroll through the chapters using the timeline bar below. Click on the chapter you would like to view, and voila! To say that we fell in love with Kawaii is an understatement. Find out why this Hawaiian island easily became one of our most favorite destinations.
Snorkeling
Snorkeling is a must-do activity in Kauai, as the island boasts some of the best snorkeling spots in Hawaii. One popular spot is Poipu Beach, where you can explore vibrant coral reefs and swim alongside colorful tropical fish. Anini Beach is another great option for snorkeling, known for its calm waters and diverse marine life. Whether you're a beginner or an experienced snorkeler, there are plenty of opportunities to discover the underwater wonders of Kauai.
Kayaking
Exploring Kauai's stunning coastline by kayak is a fantastic way to get up close and personal with the island's natural beauty. One of the top kayaking destinations is Hanalei Bay, where you can paddle along the calm waters and admire the majestic cliffs that surround the bay. For a more adventurous experience, you can kayak the Wailua River, which takes you through lush rainforest and to the iconic Secret Falls. No matter which kayaking route you choose, you're guaranteed unforgettable views and a sense of tranquility.
Tubing
If you're seeking a unique and thrilling adventure, tubing down the mountains of Kauai is a must-try activity. The mountain tubing experience takes you through former irrigation canals that were once used for a sugar plantation. As you float down the gentle currents, you'll pass through a series of tunnels, marveling at the beautiful natural surroundings. It's a fun and exhilarating way to explore the island's hidden gems and learn about its history.
Helicopter Tours
For a truly awe-inspiring experience, consider taking a helicopter tour of Kauai. From the sky, you'll be treated to breathtaking aerial views of the island's iconic landmarks, including the Na Pali Coast, Waimea Canyon, and Hanalei Bay. The helicopter tour allows you to see Kauai from a unique perspective, with its lush landscapes, cascading waterfalls, and dramatic cliffs all on display. It's a thrilling adventure that will leave you in awe of Kauai's natural beauty.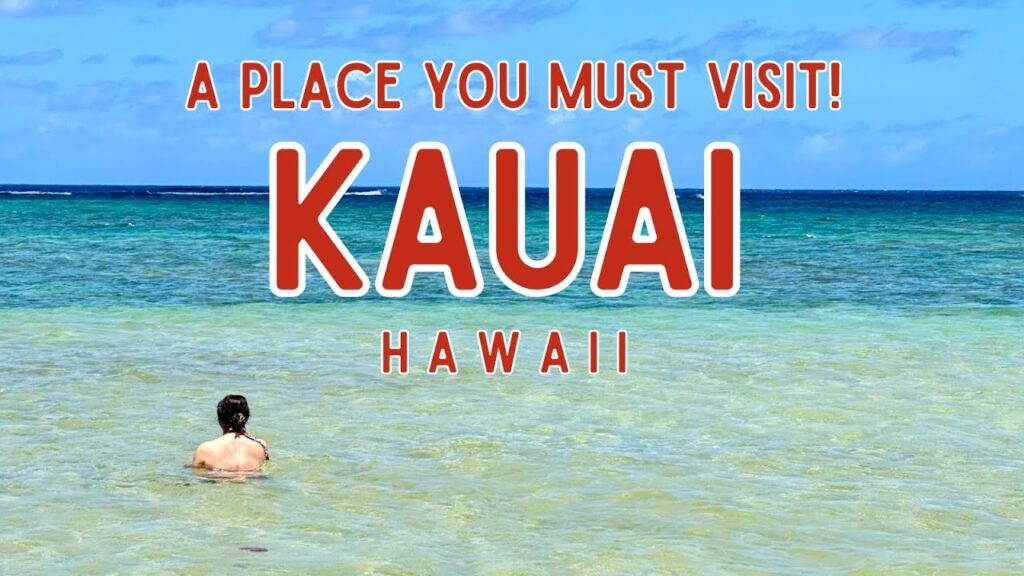 This image is property of i.ytimg.com.
Hiking Trails
Kauai is a paradise for hikers, with an abundance of trails that cater to all fitness levels. One of the most popular hiking destinations is the Kalalau Trail, which takes you along the stunning Na Pali Coast. This challenging trail rewards hikers with panoramic ocean views and access to secluded beaches. For a more leisurely hike, you can explore the lush rainforests of the Wailua River State Park or take a scenic walk to the top of the Waimea Canyon. Whatever hike you choose, be prepared to be surrounded by pristine nature and jaw-dropping views.
Beach Activities
With its miles of pristine coastline, Kauai offers endless beach activities for visitors to enjoy. Whether you're a sunbather, a surfer, or a beachcomber, there's a beach for everyone on the island. Hanalei Bay is a favorite spot for surfers, with its consistent waves and beautiful surroundings. Poipu Beach is perfect for families, with its calm waters and designated swimming areas. And for those seeking a more secluded beach experience, Secret Beach offers tranquility and untouched beauty. From swimming and snorkeling to picnicking and beachcombing, Kauai's beaches provide endless opportunities for fun and relaxation.
Luaus and Cultural Experiences
Immerse yourself in Kauai's rich cultural heritage by attending a traditional luau. Luaus are festive gatherings that showcase Hawaiian music, hula dancing, and traditional Hawaiian cuisine. Through live performances and storytelling, you'll learn about the history and customs of the island's indigenous people. In addition to luaus, Kauai offers other cultural experiences, such as visiting historic sites like the Kilohana Plantation or exploring local art galleries and museums. Engaging in these activities will allow you to gain a deeper appreciation for Kauai's unique culture and traditions.
Historic Sites
Kauai is home to several historic sites that offer insights into the island's past. One notable site is the Kilohana Plantation, a former sugar plantation that has been transformed into a cultural and agricultural hub. Here, you can take a tour of the historic estate, visit galleries featuring local artwork, and even enjoy a traditional Hawaiian feast. Another historic landmark is the Hanapepe Swinging Bridge, which dates back to the early 20th century and served as a pedestrian crossing over the Hanapepe River. Exploring these historic sites will transport you back in time and allow you to appreciate the island's rich history.
Shopping and Dining
Indulge in Kauai's vibrant shopping and dining scene, which offers a variety of options to suit every taste and budget. From charming local boutiques to upscale shopping centers, you'll find a wide range of shops that offer everything from unique souvenirs to high-end fashion. And when it comes to dining, Kauai has a thriving food scene that showcases the island's diverse culinary traditions. Whether you're craving fresh seafood, traditional Hawaiian dishes, or international cuisine, there's a restaurant or food truck to satisfy your appetite. Don't forget to try the local specialty, poke, a delicious dish made with marinated raw fish.
Scenic Views
No trip to Kauai would be complete without taking in its breathtaking scenic views. Whether you're standing at the edge of the Na Pali Coast, gazing out at the vast expanse of the Pacific Ocean, or marveling at the vibrant red and green hues of Waimea Canyon, each view is more awe-inspiring than the last. The natural beauty of Kauai will leave you speechless, and the memories of these scenic vistas will stay with you long after you've left the island.
Conclusion
Kauai, Hawaii offers a wealth of activities and experiences for all types of travelers. From snorkeling along vibrant coral reefs to kayaking down serene rivers, from exploring historic sites to indulging in fantastic shopping and dining, Kauai has something to offer everyone. The island's natural beauty, diverse culture, and range of outdoor adventures make it an unforgettable destination. Whether you're seeking relaxation or adventure, Kauai's attractions and activities will leave you with memories to last a lifetime. So pack your bags, embrace the aloha spirit, and get ready to experience all that Kauai has to offer.