Hey there! Are you planning a trip to Oahu, Hawaii? Well, you're in luck because we've got a list of 21 amazing things to do on the island. In this video by The Hawaii Vacation Guide, you'll find the top attractions and activities recommended by two residents who know Oahu like the back of their hands. From picturesque beaches like Lanikai and Makapu'u to historical sites like Pearl Harbor and 'Iolani Palace, there's something for everyone to enjoy. Whether you're interested in water sports, hiking, indulging in delicious Hawaiian food, or simply relaxing on the beautiful shores, Oahu has it all. So, grab a pen and paper, take notes, and get ready for an unforgettable Hawaii vacation!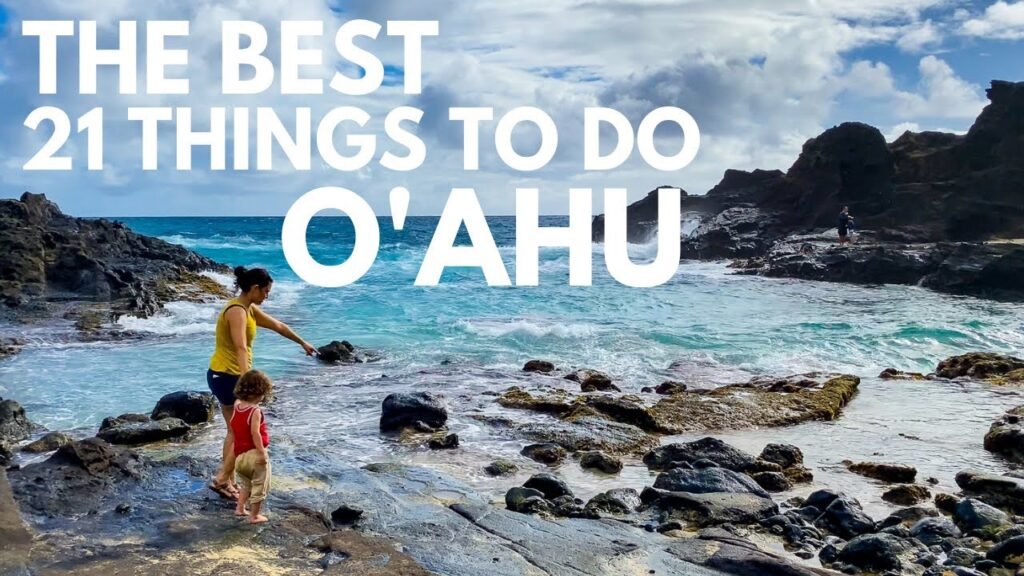 This image is property of i.ytimg.com.

Introduction
Welcome to Oahu, the heart of the Hawaiian Islands! If you're looking for a tropical paradise packed with amazing experiences, you've come to the right place. Oahu offers a perfect blend of natural beauty, cultural heritage, and adventure. In this article, we'll guide you through the best ways to get around the island, suggest some fantastic places to stay, and highlight the top attractions you simply cannot miss. So fasten your seatbelt and get ready to explore Oahu with all its wonders!
Getting Around Oahu
Getting around Oahu is an absolute breeze, thanks to its well-connected transportation system. The best way to explore the island is by renting a car. With a car, you'll have the freedom to venture wherever you want, whenever you want. The roads are well-maintained and offer stunning coastal views. Rental car companies are abundant, and you can easily book online or at the airport upon your arrival. Alternatively, if you prefer public transportation, Oahu has an excellent bus system called "TheBus." From Waikiki to the North Shore, TheBus provides a convenient and budget-friendly way to navigate the island. Additionally, rideshare services like Uber and Lyft are readily available if you prefer the convenience of door-to-door service.
Where to Stay in Oahu
When it comes to accommodations, Oahu offers a plethora of options to suit every budget and preference. If you're looking for luxury, Waikiki is the place to be. This vibrant neighborhood, located right on the beach, boasts world-class resorts, high-end shopping opportunities, and lively nightlife. Staying in Waikiki allows you to have the iconic view of Diamond Head and enjoy easy access to the beach. On the other hand, the North Shore is perfect for those seeking a more relaxed atmosphere and world-famous surf spots. You'll find charming beach cottages and cozy bed and breakfasts here, surrounded by the lush beauty of nature. For a more authentic and local experience, consider staying in neighborhoods like Kailua or Haleiwa, where you can enjoy the laid-back Hawaiian lifestyle and explore hidden gems.

1. Surf Waikiki Break
No visit to Oahu is complete without trying your hand at surfing, and there's no better place to start than Waikiki Beach. With its gentle waves and long, sandy shores, Waikiki is an ideal spot for beginners. Head out early in the morning when the waves are calmer and join a surf lesson to learn the basics. Experienced instructors will guide you through the process, ensuring you have a safe and enjoyable time in the water. If you're not keen on surfing, you can still soak up the sun, build sandcastles, or simply relax with a book and enjoy the stunning beach views. Waikiki Beach is also surrounded by numerous shops, restaurants, and entertainment venues, making it a vibrant and lively area to explore.
2. Ala Moana Beach Park
Just a stone's throw away from Waikiki lies Ala Moana Beach Park, a favorite spot among both locals and tourists. This sprawling park offers a beautiful crescent-shaped beach, perfect for swimming, picnicking, and catching stunning sunsets. The calm waters of Ala Moana Beach make it an excellent spot for families with children. The park itself boasts lush green spaces, ample picnic areas, and jogging paths, all with a backdrop of swaying palm trees. If you visit on a Saturday, don't miss the famous Kakaako Farmers Market nearby, where you can sample delicious local foods and pick up handmade souvenirs.
3. 'Iolani Palace
Immerse yourself in Hawaiian history and culture with a visit to 'Iolani Palace, located in downtown Honolulu. This majestic building serves as a testament to Hawaii's monarchy and was the official residence of King Kalakaua and Queen Liliuokalani. 'Iolani Palace is the only royal palace in the United States and is now a National Historic Landmark. Step inside to explore the opulent interiors, including the Throne Room and the private living quarters of the Hawaiian monarchs. Guided tours provide fascinating insights into the history and rich cultural heritage of Hawaii.
4. Chinatown
Escape to the bustling streets of Chinatown in downtown Honolulu and immerse yourself in the vibrant sights, sounds, and flavors of this multicultural neighborhood. Start your exploration at the impressive Chinatown Gateway, adorned with traditional Chinese architecture. As you stroll through the streets, you'll find an eclectic mix of markets, shops, art galleries, and restaurants. The vibrant street art adds a colorful flair to the area, providing endless photo opportunities. Don't forget to sample some of the delicious Hawaiian-Asian fusion cuisine or pick up unique souvenirs from one of the many local vendors.
5. Bishop Museum
Delve into Hawaii's rich cultural and natural history at the Bishop Museum, located in the lush surroundings of Kalihi Valley. This renowned museum showcases an extensive collection of artifacts, exhibits, and interactive displays that bring Hawaiian culture and heritage to life. Learn about the ancient Polynesians' incredible navigational skills, browse through the vast collection of Hawaiian artifacts, and explore the planetarium and the interactive science center. The Bishop Museum provides a fascinating and educational experience for visitors of all ages.
6. Pearl Harbor
Pay your respects to history and honor the memory of those who lost their lives at Pearl Harbor, a site of historic significance that forever changed the course of U.S. history. Visit the USS Arizona Memorial, a solemn tribute to the servicemen who lost their lives during the attack on Pearl Harbor. Take a guided tour of the USS Bowfin Submarine Museum and Park, where you can step aboard a real submarine and learn about the bravery of submariners during World War II. Visiting Pearl Harbor is a deeply moving experience that highlights the importance of remembrance and understanding.
Conclusion
Oahu is a tropical paradise that offers something for everyone. From its stunning beaches and world-class surf breaks to its rich history and cultural heritage, this island has it all. Whether you prefer lounging on the shores of Waikiki, exploring the vibrant streets of Chinatown, or immersing yourself in the island's past at 'Iolani Palace and Pearl Harbor, Oahu will captivate your heart and leave you with unforgettable memories. So pack your bags, grab your sunscreen, and get ready to embark on the adventure of a lifetime in beautiful Oahu. Aloha!
Here are our favorite things to do in Oahu, Hawaii. This is your guided tour of what Oahu has to offer, the best things to do for your Hawaii vacation! See our itineraries for more details and more places to visit.
There is so much to do on Oahu. We debated long and hard to make this list of our favorite things to do on #Oahu, #Hawaii. Jump in the car with us as we show you all The Gathering Place has to offer for your Hawaii vacation.
How to fit these things to do into your Oahu, Hawaii vacation? Download our Oahu Itinerary for your dream Hawaii vacation:
Chapters for 21 Things to Do on Oahu, Hawaii
Mahalo for watching our Hawaii family #travelvlog.
Click Subscribe for more of our adventures and tips on traveling to Hawaii (plus subscribing helps us out!).
Disclaimer. Your use of the information provided in our Content, Itineraries, Site and Services is for your informational purposes only and is subject to our Privacy Policy and Terms of Service. Your use of the information described in, your participation in activities presented in, and/or your engagement of any Travel Service Providers presented in our Content, Itineraries, Site and/or Services may carry the risk of illness, bodily injury, disability, death, or property damage. You voluntarily and freely assume all risks and dangers that may occur pursuant to your access, use, purchase or participation in any information, activity, good or service described in our Content, Itineraries, Site and Services or provided by any Travel Service Providers.
Credits:
——————————————————
Music is from the fabulous Epidemic Sound. Sign up here for licensed music for YouTube, Instagram, or any content creation your heart creates:
——————————————————
Follow us on Instagram for behind the scenes content: @thehawaiivacationguide
——————————————————
Sign up for our Hawaii Opens Update email here –
Here's Erica's FREE One Week Maui Itinerary here –
We also love to share our FREE 5-Day Oahu Itinerary here –
——————————————————
OUR CAMERA GEAR (keep it simple for your vacation!):
Underwater camera: GoPro HERO 8
Use your smartphone for video but keep it smooth with a gimbal: OSMO DJI
Don't lose your GoPro, invest in a floaty
Floaty stick:
Floaty cover:
Vlogging camera (but use your phone for a family holiday):
——————————————————
POPULAR VIDEOS
The Best Hawaiian Island for First-Timers video –
Which Hawaiian Island Should You Visit – • Which Hawaiian Island Should You Vis… The Best Time to Visit Hawaii – • The Best Time to Visit Hawaii | Best …