Planning a family trip to Waikiki and Honolulu? Look no further, because we've got you covered with our favorite family-friendly activities in these amazing Hawaiian destinations. In our video, "12 Things to Do in Waikiki with Kids," we'll take you through our top picks, from beaches and hikes to zoo visits and delicious eats. Whether you're traveling with a toddler or a teenager, there's something for everyone in this family-friendly itinerary. And if you want even more details and tips, be sure to check out our Oahu itinerary on the Hawaii Vacation Guide website. So, get ready to have an unforgettable vacation with the whole family in Waikiki and Honolulu!
After enjoying living on Oahu for a few years, we always find ourselves coming back to Waikiki with our little one in tow. That's why we're excited to share our list of our favorite things to do with kids in Waikiki and Honolulu, Hawaii. In our video, "12 Things to Do in Waikiki with Kids," we cover everything from the best kid-friendly beaches and hotel pools to delicious places to eat and fun activities like hiking Diamond Head and visiting the Honolulu Zoo. And if you want more detailed information, make sure to check out our Oahu itinerary on our website. So, get ready for an amazing adventure with the whole family in the beautiful islands of Waikiki and Honolulu!

Beaches
Waikiki Beach
Waikiki Beach is one of the most famous and iconic beaches in Hawaii. Surrounded by high-rise hotels and resorts, this beach offers a perfect mix of relaxation and entertainment. Whether you want to soak up the sun, build sandcastles with your family, or take a refreshing dip in the crystal-clear waters, Waikiki Beach has it all. The soft and sandy shoreline stretches for two miles, providing ample space for beachgoers to spread out and enjoy their time. The beach is also known for its gentle waves, making it ideal for swimming, boogie boarding, and even learning how to surf. And if you ever feel hungry or thirsty, you'll find a wide variety of beachfront restaurants and bars where you can grab a bite to eat or sip on a tropical cocktail while enjoying the stunning views.
Kuhio Beach Park
Located just a short walk away from Waikiki Beach, Kuhio Beach Park is a popular spot among locals and tourists alike. This sandy beach offers a more laid-back and relaxed atmosphere compared to its neighboring Waikiki Beach. Kuhio Beach Park is great for families, as it features a protected swimming area known as the "Queen's Surf" with calm and shallow waters that are perfect for young children to splash around in. The park also offers picnic tables and stands where you can rent beach equipment such as umbrellas and chairs, allowing you to spend a whole day enjoying the sun and sea. Additionally, if you happen to visit Kuhio Beach Park on a Saturday evening, you'll be treated to a mesmerizing sunset hula show, a truly magical experience that shouldn't be missed.
Sans Souci Beach Park
For those seeking a more secluded and tranquil beach experience, Sans Souci Beach Park is the perfect choice. Situated at the eastern end of Waikiki, this hidden gem offers a serene and peaceful setting away from the hustle and bustle of the city. The beach is fringed by palm trees, providing shade and a tropical vibe to its visitors. With its calm waters and gentle waves, Sans Souci Beach Park is ideal for swimming, paddleboarding, and snorkeling. The underwater world here is teeming with colorful marine life, making it a great spot for snorkelers to explore and admire the vibrant coral reefs. The beach park also features ample grassy areas where you can have a picnic or simply relax while enjoying breathtaking views of the turquoise waters and Diamond Head in the distance.
Hiking and Nature
Diamond Head State Monument
If you're up for a hiking adventure and breathtaking views, look no further than Diamond Head State Monument. This dormant volcanic crater is one of the most recognizable landmarks in Hawaii. The hike to the summit may be a bit challenging, but the panoramic views of Waikiki and the sparkling Pacific Ocean are well worth the effort. As you make your way up the trail, you'll pass through a series of tunnels and steep staircases until you reach the 760-foot summit, where a rewarding vista awaits you. On clear days, you can even see as far as the neighboring islands. Don't forget to bring your camera to capture the awe-inspiring scenery!
Kapiolani Park
Nestled at the foot of Diamond Head, Kapiolani Park is a lush and expansive green space that offers a variety of outdoor activities. Whether you want to take a leisurely stroll, have a picnic, or play a game of beach volleyball, Kapiolani Park has something for everyone. The park is also home to the Waikiki Shell, an open-air amphitheater that hosts concerts and events throughout the year, providing entertainment for both locals and visitors. If you're a fan of art, be sure to visit the nearby Honolulu Museum of Art, which houses an impressive collection of Asian, European, and Hawaiian art. Kapiolani Park offers a peaceful retreat from the hustle and bustle of Waikiki, allowing you to connect with nature and recharge your batteries.
Manoa Falls
For nature enthusiasts and waterfall lovers, a visit to Manoa Falls is a must. Just a short drive from Waikiki, this scenic hike takes you through a lush rainforest filled with tall trees, exotic plants, and the occasional chirping of native birds. The trail is well-maintained and relatively easy, making it suitable for hikers of all ages and fitness levels. After a 1.6-mile hike, you'll be rewarded with the sight of the majestic 150-foot-tall Manoa Falls cascading down into a pool below. Remember to bring a camera and capture the beauty of the waterfall, but be cautious as swimming is not allowed due to the unpredictable currents. Immerse yourself in the tranquility of nature and let the sound of the falling water wash away your worries.
Zoos and Animal Encounters
Honolulu Zoo
The Honolulu Zoo is a wonderful place to connect with animals from around the world. Located in the heart of Waikiki, this 42-acre zoo houses a diverse collection of wildlife, including elephants, lions, giraffes, and even Hawaiian monk seals. The zoo offers a well-designed layout, making it easy to navigate and explore at your own pace. You'll find educational exhibits that provide insights into the natural habitats and conservation efforts of various animal species. The zoo also hosts interactive programs such as behind-the-scenes tours, where you can get up close and personal with some of the animals and learn from the knowledgeable zookeepers. With its beautiful landscaping and shaded pathways, the Honolulu Zoo provides a delightful experience for animal lovers of all ages.
Sea Life Park Hawaii
If you've ever dreamed of swimming with dolphins or getting a glimpse of majestic marine creatures up close, Sea Life Park Hawaii is the place to be. Located on the east side of Oahu, this ocean-themed park offers a range of interactive experiences that allow you to learn about and interact with marine life. From swimming with dolphins and sea lions to watching thrilling dolphin and penguin shows, Sea Life Park Hawaii offers something for everyone. The park also has a variety of exhibits where you can see sharks, tropical fish, and even Hawaiian green sea turtles. If you're feeling adventurous, you can embark on an underwater sea trek to explore the vibrant coral reefs and encounter colorful marine life. Sea Life Park Hawaii promises a unique and unforgettable experience for the whole family.
Waikiki Aquarium
Situated next to Queen's Surf Beach, the Waikiki Aquarium is a hidden gem that showcases the rich marine biodiversity of Hawaii and the Pacific. With its focus on native Hawaiian marine life, this small but informative aquarium offers a window into the underwater world that surrounds the islands. You'll have the opportunity to see colorful coral reefs, tropical fish, mesmerizing jellyfish, and even endangered Hawaiian monk seals. The Waikiki Aquarium also hosts interactive exhibits, educational programs, and feeding demonstrations that provide valuable insights into the marine ecosystem. A visit to this aquarium is not only entertaining, but also educational, as it helps raise awareness about ocean conservation and the importance of protecting our fragile marine environments.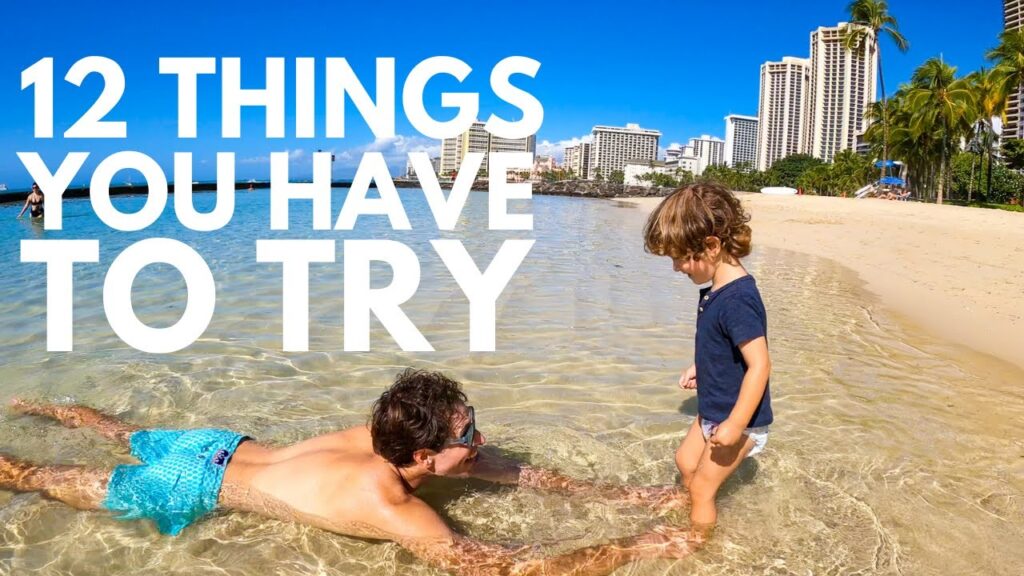 This image is property of i.ytimg.com.

Family-Friendly Dining
Duke's Waikiki
Located beachfront on Waikiki Beach, Duke's Waikiki is a beloved institution that offers a family-friendly dining experience with a touch of Hawaiian hospitality. Named after legendary surfer Duke Kahanamoku, this iconic restaurant captures the spirit of aloha with its laid-back atmosphere and delicious food. The menu features a variety of Hawaiian favorites, such as kalua pork, grilled fish, and fresh tropical cocktails. Kids will love the dedicated children's menu, which includes tasty options like mac and cheese and chicken tenders. The restaurant also hosts live music daily, providing a delightful backdrop to your dining experience. With its stunning ocean views, friendly service, and mouthwatering dishes, Duke's Waikiki is a must-visit for families looking to enjoy a memorable meal in paradise.
Ramen Nakamura
If you're in the mood for a comforting and flavorful meal, Ramen Nakamura is the place to go. Located just a short walk from Waikiki Beach, this local favorite specializes in delicious and authentic Japanese ramen. Step inside the cozy restaurant and embark on a culinary journey as you savor their rich and savory broth, perfectly cooked noodles, and a variety of toppings ranging from tender pork belly to crisp bamboo shoots. Whether you prefer a spicy miso ramen or a classic soy-based broth, Ramen Nakamura has a wide selection of options to satisfy your cravings. The friendly staff and welcoming atmosphere make this hidden gem a perfect spot for families to enjoy a warm and satisfying meal after a day of exploring.
Mac 24/7
If you're looking for a family-friendly dining option that offers generous portions and a diverse menu, look no further than Mac 24/7. Located in the heart of Waikiki, this 24-hour restaurant is known for its mouthwatering dishes and welcoming ambiance. The menu features an array of comfort food classics, including their famous and decadent oversized pancakes served in various flavors such as red velvet and guava chiffon. If you're in the mood for hearty burgers, sandwiches, or tasty pasta dishes, Mac 24/7 has got you covered. Kids will also love the dedicated children's menu, which offers smaller portions and kid-friendly options like chicken tenders and grilled cheese sandwiches. With its extensive menu, friendly service, and convenient location, Mac 24/7 is a fantastic choice for families looking for a satisfying meal at any time of the day.
Treats and Snacks
Dole Plantation
For a taste of Hawaii's sweetest tropical treat, a visit to the Dole Plantation is a must. Located in the heart of Oahu's pineapple fields, this popular attraction offers visitors the chance to learn about the history and cultivation of pineapples in Hawaii. Take a scenic train ride through the plantation, explore the Pineapple Garden Maze, or indulge in a refreshing pineapple ice cream. The plantation's gift shop also offers a wide range of pineapple-themed souvenirs, from clothing to edible treats. If you're feeling adventurous, try their famous Dole Whip, a pineapple-flavored soft-serve ice cream that will surely satisfy your sweet tooth. A visit to the Dole Plantation is a delightful way to learn about this iconic Hawaiian fruit and indulge in its delicious flavors.
Matsumoto Shave Ice
When it comes to iconic Hawaiian treats, shave ice is king, and Matsumoto Shave Ice is the go-to place to satisfy your cravings. Located in the charming town of Haleiwa on the North Shore of Oahu, this family-owned shop has been serving up delicious shave ice since 1951. Choose from a variety of flavors, ranging from classic favorites like strawberry and pineapple to unique combinations like coconut and lilikoi (passion fruit). Top it off with a scoop of vanilla ice cream or sweet azuki beans, and you've got yourself the perfect refreshing treat on a hot day. The colorful and vibrant atmosphere of Matsumoto Shave Ice adds to the overall experience, making it a popular destination for locals and tourists alike.
Leonard's Bakery
No visit to Hawaii is complete without indulging in malasadas, and Leonard's Bakery in Honolulu is the place to get them. A malasada is a Portuguese-inspired fried doughnut without a hole, typically coated in sugar and filled with a variety of delectable flavors such as custard, chocolate, or haupia (coconut). Leonard's Bakery has been churning out these mouthwatering treats since 1952, and their popularity has only grown over the years. Step into the bakery and be greeted by the heavenly aroma of freshly fried malasadas. Whether you opt for a classic sugar-coated malasada or go all out with a filled version, one bite is all it takes to understand why Leonard's Bakery is a must-visit for anyone with a sweet tooth. Don't forget to grab a box of malasadas to take back to your hotel or share with friends – they make for a perfect edible souvenir.
Kahanamoku Lagoon
When it comes to enjoying the water without battling the ocean's waves, Kahanamoku Lagoon is the ideal spot. Located between the Hilton Hawaiian Village and Ala Moana Beach Park, this man-made lagoon offers a safe and tranquil environment for swimming, paddleboarding, and other water activities. The lagoon is protected by a breakwater, creating calm and clear waters that are perfect for families with young children or those looking for a leisurely swim. Lounge chairs are available for rent, allowing you to relax and soak up the sun while admiring the beautiful surroundings. Kahanamoku Lagoon also offers convenient access to nearby hotels, restaurants, and shopping centers, making it a convenient and enjoyable destination for a day of fun in the water.
Waikiki Pools for Kids
In addition to the beautiful beaches, Waikiki offers several pools specifically designed for kids to splash around and enjoy their time. These pools often have shallow areas, water slides, and other interactive features that make them perfect for children of all ages. The pools are typically located at beachfront hotels and resorts, providing a safe and controlled environment for families to have fun and cool off. From water cannons to lazy rivers, these pools offer a variety of exciting activities that will keep your little ones entertained for hours. Whether you're staying at one of the beachfront hotels or visiting as a day guest, the kid-friendly pools of Waikiki provide a fantastic alternative to the ocean for a day of water play.
Surf Lessons
If you've always dreamt of riding the waves and experiencing the thrill of surfing, Waikiki is the perfect place to learn. This iconic beach destination offers a variety of surf schools and private instructors that cater to beginners of all ages. Whether you're a family looking to take a lesson together or an individual seeking personalized instruction, there's a surf lesson option for you. Experienced instructors will guide you through the basics, teach you proper techniques, and ensure your safety in the water. With its warm and gentle waves, Waikiki Beach provides an ideal learning environment for novice surfers. So grab a board, paddle out, and catch your first wave – it's an experience you'll never forget!
Honolulu Museums
Bishop Museum
For those interested in Hawaiian history and culture, a visit to the Bishop Museum is a must. Located in Honolulu, this renowned museum is home to an extensive collection of artifacts, exhibits, and interactive displays that offer a fascinating glimpse into Hawaii's rich past. Explore the Polynesian Hall and learn about the migration and settlement of Polynesians throughout the Pacific Islands. Marvel at the intricate featherwork in the Hawaiian Hall, which showcases the art, traditions, and customs of the Hawaiian people. The museum also offers educational programs and live demonstrations that allow visitors to immerse themselves in the vibrant culture of Hawaii. With its beautifully curated exhibits and dedication to preserving the heritage of Hawaii, the Bishop Museum is a cultural treasure that should not be missed.
Hawaiian Children's Discovery Center
For families traveling with young children, the Hawaiian Children's Discovery Center is a fantastic destination for interactive learning and play. Located in the Kakaako district of Honolulu, this hands-on museum offers a variety of exhibits and activities that engage children's curiosity and imagination. From exploring a replica volcano and learning about the forces of nature to experiencing the wonders of Hawaiian marine life in the Tide Pool, children can embark on a journey of discovery. The center also hosts educational programs, workshops, and special events that encourage children to explore science, art, and culture in a fun and engaging way. With its emphasis on interactive learning and play, the Hawaiian Children's Discovery Center provides a unique and enriching experience for the whole family.
Conclusion
Whether you're looking for relaxation, adventure, or educational experiences, Waikiki offers a wide range of activities and attractions to suit every taste. From basking in the sun on the world-renowned beaches to exploring the lush hiking trails and indulging in local treats, there's no shortage of things to do and see in this tropical paradise. So pack your bags, grab your sunscreen, and get ready to create unforgettable memories in Waikiki – a destination that truly has something for everyone.