Planning a trip to Kauai? Don't settle for the same old touristy activities. Crafted Travel Company has got you covered with their video on 10 unique things to do in Kauai that no one else is talking about. From hiking the Pihea Trail and enjoying breathtaking views of the Pacific Ocean and Kalalau Valley, to borrowing a dog from the Kauai Humane Society for a day of adventure, this video offers a fresh perspective on the hidden gems of Kauai. You'll also learn about must-visit spots like the Pono Market for delicious local food, the lithified sand dunes on the southern shore, and the Kilauea Fish Market serving authentic Hawaiian cuisine. Get ready to explore Anahola beach for beginner surfing, discover the ancient Menehune Fishpond, and immerse yourself in the tropical paradise of Smith's Tropical Paradise. Crafted Travel Company wraps up the video by expressing their gratitude to viewers and wishing them an unforgettable Hawaiian vacation.
Hiking the Pihea Trail
Are you ready for an unforgettable adventure with some breathtaking views? Look no further than the Pihea Trail in Kauai. This stunning trail spans approximately 3.2 miles and offers panoramic views of the Pacific Ocean and the Kalalau Valley below. As you hike through the trail, you'll find yourself surrounded by lush greenery, wildflowers, and the sound of birds chirping in the distance. It's a moderate-level hike that will take you through different terrains and elevations, but the payoff is definitely worth it. Whether you're an avid hiker or just looking for a leisurely stroll, the Pihea Trail is a must-do activity in Kauai.
Borrowing a dog from the Kauai Humane Society
Do you love adventure and have a soft spot for furry friends? Then you'll absolutely love borrowing a dog from the Kauai Humane Society. This unique activity allows you to spend a day of fun and exploration with a furry companion by your side. The Kauai Humane Society has a program in place where visitors can take a dog on an adventure for the day. They provide everything you need, from leashes to snacks, so you can make the most of your day with your new furry friend. Whether you take them for a hike, a walk on the beach, or just explore the island together, it's a fantastic way to give a shelter dog a memorable day and have an incredible experience yourself.
Pono Market
Are you a food lover looking to explore the local culinary scene in Kauai? Look no further than the Pono Market. Located on the East Coast of Kapa'a, this local hidden gem is a favorite amongst both locals and tourists. Pono Market is known for its delicious local food that reflects the diverse cultures of Hawaii. From mouthwatering plate lunches to fresh poke bowls, their menu offers a wide range of options that will satisfy any food craving. Be sure to head there early, as it can get quite busy with locals and tourists alike. If you're looking to experience the authentic flavors of Hawaii, Pono Market is a must-visit.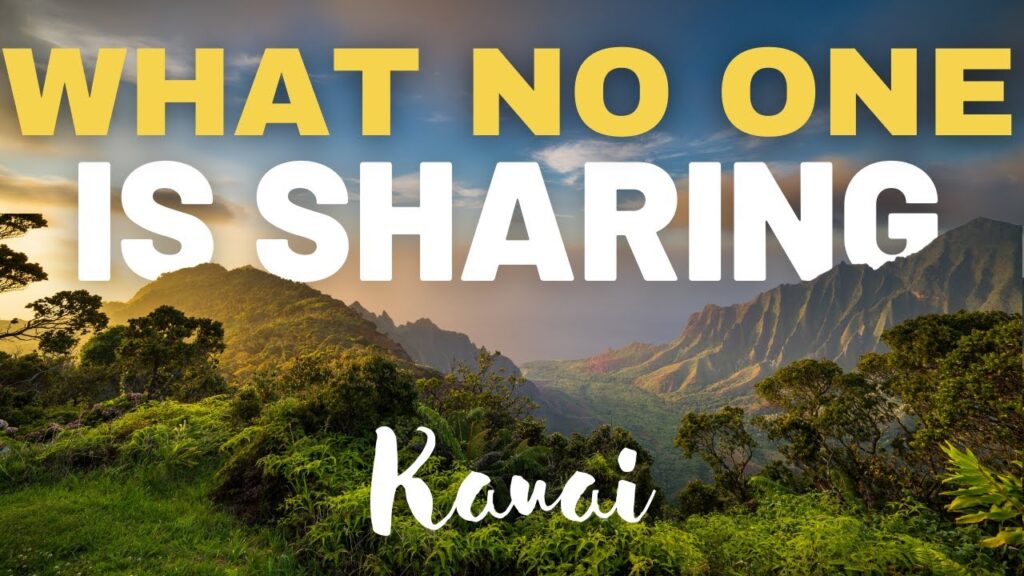 This image is property of i.ytimg.com.
Lithified Sand Dunes on Kauai's Southern Shore
Prepare to be transported back in time as you witness the unique and prehistoric sight of the lithified sand dunes on Kauai's southern shore. Unlike traditional sand dunes, these dunes are composed of sand that has turned into stone over time. The bright yellow stone creates a stunning contrast against the backdrop of the deep blue ocean, making it a sight to behold. As you explore this area, you'll feel like you've stepped into a different era, untouched by modern development. It's a truly mesmerizing and otherworldly experience that offers a different perspective of the island's natural beauty.
Kilauea Fish Market
Are you a food enthusiast looking to try authentic Hawaiian cuisine? Look no further than the Kilauea Fish Market. Located at the end of Kilauea Road, this local gem is known for serving up delicious dishes that reflect the local flavors and cultures of Hawaii. Whether you're craving fresh seafood or hearty barbecue options, the Kilauea Fish Market has something for everyone. With its laid-back atmosphere and friendly service, it's the perfect place to grab a bite to eat after a day of exploring the island. Don't miss out on this culinary treasure during your visit to Kauai.
Mokulea Lava Pools
If you're a nature lover and have a fascination with marine life, then a visit to the Mokulea Lava Pools is a must-do activity in Kauai. Located near the Kilauea Lighthouse, these rocky areas are home to tide pools and water spouts. As the waves crash against the rocks, they create an intricate network of tide pools filled with marine life. It's the perfect opportunity to get up close and personal with creatures like hermit crabs, colorful fish, and even sea turtles. The Mokulea Lava Pools offer a unique and immersive experience that allows you to witness the wonders of the ocean firsthand.
Anahola Beach
Have you ever wanted to learn how to surf? Then Anahola Beach is the perfect place for beginners. Situated on the eastern coast of Kauai, this beach is known amongst the surfing community as an ideal spot to learn. The beach is protected by a reef, which creates gentle waves that are perfect for beginners to practice on. Not only does Anahola Beach offer a safe and controlled environment for learning, but it also boasts stunning natural beauty. The beach is surrounded by lush greenery and offers a picturesque backdrop for your surfing adventures. Whether you're a novice or looking to brush up on your skills, Anahola Beach is a must-visit location for surf enthusiasts.
Menehune Fishpond
Step back in time and get a glimpse into ancient Hawaiian aquaculture at the Menehune Fishpond, also known as the Ale Coco Fish Pond. This fishpond is shrouded in myth and legend, dating back to the 15th century. According to ancient Hawaiian folklore, the Menehune, mythical dwarf-like creatures, built this ingenious fishpond overnight. The fishpond consists of strategically placed holes that trap fish as the water flows in. While you can't explore the fishpond up close, you can admire it from the overlook at Hule Malie Road or take a kayak tour to get a closer look. It's a fascinating piece of Hawaiian history and a testament to the resourcefulness and ingenuity of the ancient Hawaiians.
Smith's Tropical Paradise in Wailua River State Park
Escape to a tropical oasis at Smith's Tropical Paradise in Wailua River State Park. This 30-acre paradise is a haven of waterfalls, lush greenery, and tranquil beauty. Take a leisurely stroll through the park and marvel at the natural wonders that surround you. Smith's Tropical Paradise is also known for hosting weddings and events, thanks to its breathtaking scenery. You can even explore replicas of ancient huts, which offer a glimpse into Hawaiian history and culture. Whether you're looking to connect with nature, attend a special event, or simply relax and unwind, Smith's Tropical Paradise is the perfect destination.
Conclusion
Thank you for joining us on this virtual tour of 10 unique things to do in Kauai. We hope that this article has provided you with new and exciting ideas for your Hawaiian vacation. From hiking the Pihea Trail to borrowing a dog from the Kauai Humane Society, there are plenty of activities that offer unforgettable experiences. Don't forget to visit the Pono Market for a taste of local cuisine, explore the lithified sand dunes for a prehistoric sight, and indulge in authentic Hawaiian food at the Kilauea Fish Market. Experience the wonders of the Mokulea Lava Pools, catch some waves at Anahola Beach, and get a glimpse into ancient Hawaiian aquaculture at the Menehune Fishpond. Finally, unwind and immerse yourself in the beauty of Smith's Tropical Paradise. We wish you a fantastic Hawaiian vacation filled with adventure, relaxation, and unforgettable memories. Aloha!