Looking to explore Oahu's North Shore in a unique and exciting way? How about going on a horseback trail ride with North Shore Stables? In this article, we'll dive into the details of this unforgettable experience and let you know everything you need to know!
When you choose to go on a horseback trail ride with North Shore Stables, you'll be in for a treat. The ride takes you through a picturesque Hawaiian farm, where you'll get to see native plants and experience the beauty of the island. As you make your way along the coastline, you'll be greeted with stunning ocean and mountain views that will take your breath away.
Safety is a top priority at North Shore Stables, so helmets are provided for your protection. And if you're traveling with kids, they'll absolutely love the free petting zoo at the stables! Another convenient feature is the option for roundtrip transportation from Waikiki hotels, making it easy for you to get to and from the stables.
Now that you know the basics, there's even more to discover about this incredible experience. From the available tour times to the weight limit and required attire, we've got you covered. Stay tuned to learn more about how you can explore Oahu's North Shore on a horseback trail ride with North Shore Stables. Get ready for an adventure you won't forget!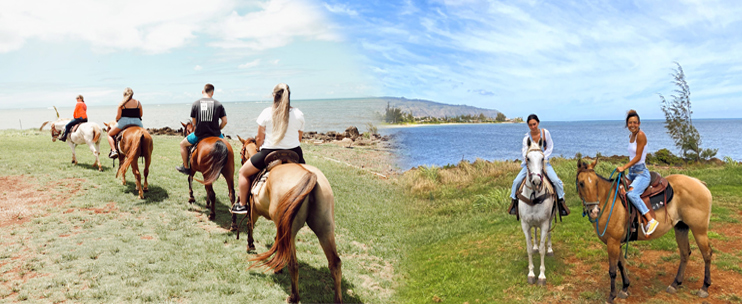 Explore Oahu's North Shore on a Horseback Trail Ride
If you're looking for a unique way to explore the stunning beauty of Oahu's North Shore, look no further than North Shore Stables. Known for their horseback trail rides, North Shore Stables offers an unforgettable experience that takes you through a Hawaiian farm, past native plants, and along the breathtaking coastline.
The tour begins with a 45-minute horseback ride that allows you to soak in the natural beauty of the area. As you ride along, you'll be treated to beautiful views of the ocean and mountains, creating a truly picturesque experience. And don't worry about safety – helmets are provided for your peace of mind.
But the fun doesn't end there. North Shore Stables also offers a petting zoo that is free with a horseback riding tour. This is perfect for families and animal lovers who want to get up close and personal with some adorable farm animals. It's a great way to unwind after your ride and make some unforgettable memories.
Getting to North Shore Stables is easy, thanks to their roundtrip transportation from Waikiki hotels. For an additional fee, you can sit back, relax, and enjoy the scenery as you are transported to the stables. This convenient service allows you to focus on the experience and not worry about the logistics of getting there.
The horseback trail ride at North Shore Stables is available Tuesday through Sunday, with multiple tour times throughout the day. This flexibility ensures that you can find a time slot that fits your schedule. Whether you're an early bird or prefer a late afternoon adventure, there's a tour that's perfect for you.
Children ages 6-9 can also participate in the horseback trail ride, with an added fee. This is a fantastic opportunity for families to bond and create lasting memories together. However, it's important to note that there is a weight limit of 200 lbs (90 kg) for the safety of both the riders and the horses.
When preparing for your horseback trail ride, be sure to wear closed-toed shoes. This will ensure your safety and comfort throughout the tour. And remember, helmets are provided, so you don't have to worry about bringing your own. It's all taken care of to make your experience hassle-free.
One thing to keep in mind is that backpacks, bags, and bulky camera equipment are not allowed on the horse for the ride. This is to ensure the safety and comfort of both the riders and the horses. It's best to leave these items behind or secure them in a locker before the ride.
At CheapHawaiian Activities and Tours, we're proud to offer you the opportunity to experience the magic of Oahu's North Shore on a horseback trail ride. We believe that everyone deserves the chance to explore the beauty of Hawaii, and we strive to do so while providing unbeatable value.
Our commitment to delivering exceptional service sets us apart from the rest. We believe in giving you the best experience possible, from our extensive selection of activities and tours to our experienced and knowledgeable guides. We take pride in ensuring your satisfaction, and we continuously strive to exceed your expectations.
Your safety is our top priority, which is why we adhere to strict safety standards and guidelines. We want you to have a worry-free and secure journey as you enjoy the beauty of Oahu's North Shore. And as a locally-rooted tour provider, we have a deep understanding of Hawaii's culture, history, and hidden gems. We make it our mission to showcase the best of the islands, off the beaten path.
But it doesn't stop there. We're also committed to preserving Hawaii's natural beauty through eco-friendly practices. We understand the importance of minimizing our environmental impact and preserving the paradise that is Hawaii for generations to come.
So what are you waiting for? Join us at CheapHawaiian Activities and Tours for an unparalleled adventure in paradise. Whether you're a solo traveler, a couple, or a family, we guarantee you a memorable experience that will leave you with cherished memories of Hawaii's enchanting landscapes and warm hospitality.
Book your dream vacation with us today and discover why we are the best tour provider in Hawaii. We can't wait to show you the beauty of Oahu's North Shore on a horseback trail ride that you'll never forget.