About 30 million years ago, Hawaii's volcanoes emerged from a "hotspot" under the Pacific plate, where experts estimate began producing the Hawaiian Islands.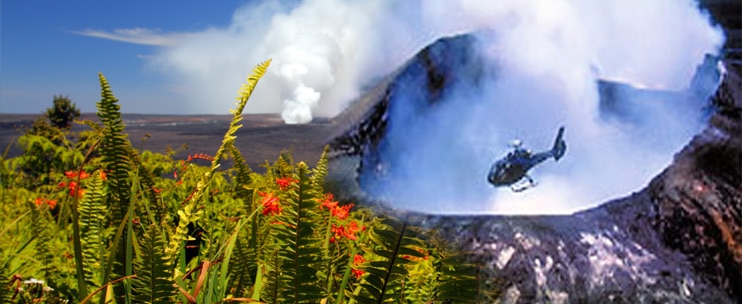 In other words, volcanoes played a vital role in the existence of this paradise, where you can visit and enjoy many activities. Depending on your preferences and budget, you can choose from hundreds of adventures, either by land or air. 
But we tell you: Nothing compares to exploring the most active volcano and lush rainforest in the land of Aloha by air. Luckily, Paradise Helicopters offers its Lava and Rainforest Adventure, wherein you soar above the volcano and rainforest in Big Island while capturing their beauty in 45 minutes!
With their premier, safe, and comfortable helicopters, Paradise Helicopters ensures your safety and total satisfaction. You will fly with your experienced pilot and a knowledgeable and friendly crew who tells you untold stories and history of the places you will visit. So, book your tickets now and start flying!
 Your expedition starts in Hilo, where your ride is waiting. Hilo itself is like a promised land. With so many exciting spots to see, you would always love to come back. Offering its breathtaking natural beauty, it also has modern facilities, which you can see in big cities. Perhaps, after your air tour, you can go see Hilo's dramatic waterfalls, fertile rainforests, and blooming gardens.
For the meantime in your aerial trip, your first destination is the Kilauea volcano. Did you know that this volcano is the most active in the world, having stopped erupted last in April 2018? It emerged above sea level about 100,000 years ago, and in May 2018, it threw ash 30,000 feet into the air after it explosively erupted. That's massive! Your pilot, then, takes you to Pu'u 'Ō'ō Vent – a volcanic cone of the Kilauea. Here's a little trivia for you: In January 2005, Pu'u 'Ō'ō Vent erupted and claimed 189 buildings and 14 kilometers of highways, including a church, a store, the Wahaʻula Visitor Center, and other ancient Hawaiian sites. You can really say that volcanoes in Big Island are the most active.
As you continue your journey, you will see that the windward side catches sufficient rain to make Hilo the wettest place all over the United States. You will observe that this water fills tunnels where lava once flowed. As a result, it is unbelievably creating incredible rivers, waterfalls and pools all over East Hawaii! You will also soar above Hilo's rich rainforests, which feature hidden treasures such as brightly colored birds, peacocks strutting free, and a white Bengal tiger. You can see they are covered with palm trees, bamboo, and vibrant tropical flowers worth having a leisure walk by land.
The next vistas you are about to view are the Mauna Loa and the plunging Wai'ānuenue or Rainbow Falls that are inaccessible in any other means but by air. This is actually one of the highlights of this trip. It is named such because you can see rainbows in the mist when the early morning sunshine hits the water. Your pilot allows you to fill your hearts with satisfaction by looking at this jaw-dropping site for a while before heading back to the Hilo Airport.
TOUR HIGHLIGHTS:
45-minute helicopter tour adventure

Soar above Kilauea, the most active volcano in the world, and discover its current activity

See the natural wonders of Hilo and the surrounding lush rainforests and towering waterfalls

Many great photo opportunities

Fully-narrated helicopter tour by a knowledgeable crew

Two-way communication, which allows you to speak directly with your pilot