Are you getting excited yet?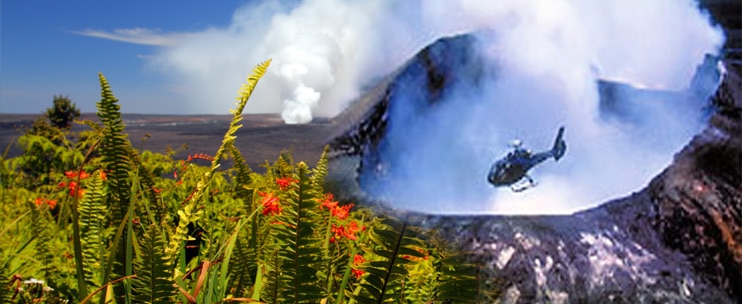 Explore the mesmerizing beauty of Hawaii's Big Island in just over two hours through an exciting helicopter ride, which Paradise Helicopters only can offer!  What if we tell you that along with your aerial tour, you will also have a land adventure and have a picnic, have a walk or hike, or simply relax while enjoying the unimaginable beauty of Kohala?
Are you looking for a unique way to experience Big Island? Book your tickets now for Paradise Helicopters' Volcano and Kohala Landing, wherein you fly over the island passing through Kona coffee district towards Hawai'i Volcanoes National Park. Whether you are a solo backpacker or travelling with family, friends or colleagues, this one-of-a-kind escapade doesn't leave you with empty pockets – only a satisfied heart and long-lasting memories!
After departing from Kona International Airport en route Hawai'i Volcanoes National Park, you will fly over and have a bird's eye view of the world-famous Kona coffee country and rich agricultural zones. By now, we assume you have already prepared your cameras for those postcard-like photos and amazing videos. With their skilled and professional pilot, he will let you see lava from the volcano and jaw-dropping waterfalls! Also, you will hear informative and untold stories of the island's history, including its beautiful shoreline, beaches, valleys, canyons, and of course volcanoes.
Along the way, you will skirt three of Hawaii's towering volcanoes such as Hualalai, Mauna Kea, and Mauna Loa. Then, your pilot maneuvers towards the north to see Hilo town and the rich rainforests of East Hawaii. We want to warn you that you might be surprised by the windward side of the island, which is transformed by the water caught by the mountains.
You will then land in an area, where you can clearly view the historic Kohala, the oldest of five volcanoes that make up the island of Hawaii. Did you know that Kohala is estimated to be one million years old? So old that it experienced, witnessed, and recorded the reversal of earth's magnetic field some 780,000 years ago!
One of this tour's highlights is a chance to have an hour picnic in this area, where you can also find picnic tables. If you couldn't prepare your own picnic baskets for some reasons, we recommend you ask your In-Room Dining at your resort to prepare for you. You can request for some specific food preferences or perhaps, select from their menu.
If you wish to do other activities rather than eating during your landing, you can relax or better yet, have a walk in the same fertile valleys that King Kamehameha I did when he was a child. Get intimate and learn about the culture and the diverse natural habitat. In one hour, you can go hiking, wherein you will be treated to the undiscovered freshness of this serene location that only a few people are privileged to see, including you. Though normally, the area is accessible by hours of hiking, you can explore some equally majestic parts.
After your land adventure, you will take off your helicopter again and enjoy aerial views of the drastic landscape change from windward to leeward. On your way back to Kona, you will fly over the world-famous white-sand beaches and resorts of Waikoloa.
TOUR HIGHLIGHTS:
3-hour helicopter adventure, including landing

American-made helicopter with executive seating

Witness the Big Island's volcanoes, lush rainforests and beaches

Kohala landing site overlooking the valley and ocean

Chance to have a walk like King Kamehameha I did as a child

Hike to an untouched pristine location

Chance to have a picnic at the beautiful picnic area

Plenty of great photo opportunities

Fully-narrated helicopter tour

Two-way communication allowing you to speak directly with your pilot