Have you been wondering how it feels to get closer to the most active volcano in the world?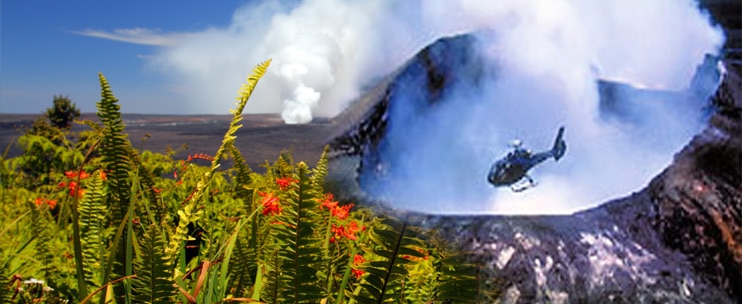 Thankfully, Paradise Helicopters have come up with a brilliant idea to let guests enjoy a helicopter tour to view the most stunning sceneries in Hawaii. You can choose from a wide range of tours, depending on the spots you wanted to see. But, with this 1 hour and 45-minute adventure, you will not regret spending on unforgettable memories with your loved ones that buying expensive material things cannot beat!
If this is your first time with a lot of concerns, rest assured that Paradise Helicopters' top priority is your safety and enjoyment. Being in the business for 17 years, utilizing their state-of-the-art helicopters, you know you are in good hands. Also, with their experienced and professional pilots, along with their knowledgeable and helpful guides, your 100% satisfaction is guaranteed.
After picking you up from your hotel or resort, you will depart with your premier touring helicopter at the Kona Airport. Make sure to bring your cameras because you don't want to miss this rare opportunity to take pictures of Hawaii's beauty that not many people can see. With the same route with other Paradise Helicopters' tours, you will first soar over the Kona coffee district where you can find one of the most expensive coffees in the world.
Your pilot then will take you to the slopes of Hualalai and Mauna Loa on your way to Hawaii Volcanoes National Park. Here, you can view and take photos of the breathtaking Kona coastline and Hualalai Mountain. As you continue your air tour, brace yourself to see the world's most active volcano Kilauea. Did you know that Kilauea had continuously erupted since 1983 until recently in April 2018? Wow! That was more than 30 years of spewing lava!
Your next destination would be the Pu'u 'Ō'ō Vent, a volcanic cone in Kilauea's eastern rift zone. As your tour guide narrates untold stories about the island, your pilot maneuvers and heads over to the north, where you can view the island's rugged coastline, jagged cliffs, and lava fields where water gushes and nourishes a massive vegetable plantation.
The next part of your expedition is a ground tour after touching down in Hilo. This vibrant town may be small, but it is surprisingly complete with modern amenities that perfectly blend with natural beauty in the surroundings, which make it hard for tourists to leave after a holiday. Here, Paradise Helicopters offers complimentary ground transportation, which you can utilize to visit the downtown area. We recommend walking to the farmer's market, Pacific Tsunami Museum, Lyman Museum, and other interesting spots. If you love shopping, you can head over to many unique shops for rare finds at best deals that are perfect for souvenirs.
If you feel like you want to venture on your own, you can go for a self-guided walk to Akaka Falls, the World Botanical Gardens, Hawaii Volcanoes National Park, and Imiloa Astronomy Center. These are all within driving distance, so you don't really need a guide.
To end your excursion, you will be treated to the second part of your air tour wherein you will fly over lush rainforests and the out-of-this-world beauty Kohala valleys. You will circle hidden gems, including iconic beaches such as Hapuna Beach and Kua Bay before returning back to Kona.
TOUR HIGHLIGHTS:
A visit to Hawaii Volcanoes National Park

Land in the beautiful town of Hilo, where many unique hops are

Travel through the remote and rugged Ka'u district

Walk across a crystal-fine black sand beach while searching for basking green sea turtles

View Rainbow Falls from a private gazebo

Sample award-winning farm fresh coffee, along with other island treats, such as macadamia nuts, honey and chocolate at the Ka'u Coffee Mill

Discover breathtaking views of Kilauea and the Kau coast and catch a glimpse of the Halemaumau Crater from a private viewpoint on Mauna Loa

Indulge in ancient Hawaiian legends and mythology, understanding Hawaii's fire goddess Pele

View spectacular island attractions on your way back to Kona, including remote waterfalls, Pololu Valley and beautiful white sand beaches south of Kawaihae

Stroll through a native Hawaiian rainforest at the Volcano Art Center, see locally made art and learn about the latest eruption information

Explore a historic 165-year-old working ranch known for its sprawling view planes, native forest and wildlife, such as cattle, goats, sheep and horses