Are you looking for something unique to do in Kauai? How about a 7-mile kayak on the island's south shore? It is a thrilling but fun-filled whole day adventure on the Hawaiian waters, where you paddle with your group from Poipu to Port Allen. And if you get lucky, you may catch a glimpse of some sea turtles, spinner dolphins, seals, and even humpback whales! Plus, you get to relax on the breathtaking scenery along the way.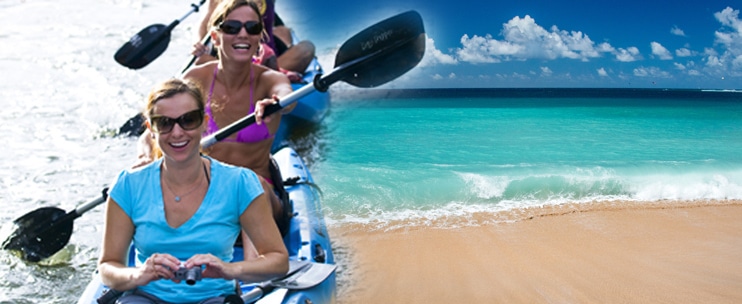 What's so special about this tour? Kauai's south shore is a paradise where you can enter through the Tree Tunnel (Maluhia Road). It has captivating and secluded beaches, great food, and many luxurious vacation hotels and rentals. At the same time, it boasts rich, natural wonders where some are hidden that can only be reached through the waters. In other words, it promises an experience of a combination of sophistication and old-fashioned flavor. With the South Shore Sea Kayak Tour by Outfitters Kauai, you will surely head back home with a lot of beautiful memories.
After checking-in and listening to a short safety briefing and basic paddling instructions, you will begin your journey at the Kukui'ula Small Boat Harbor. Along the way, you will pass by the scenic Spouting Horn saltwater blowhole, one of the most photographed spots in Kauai that's truly worth capturing. The Poipu surf enters into a natural lava tube here, and releases a large spout of water as high as 50 feet into the air. You will also hear a roar and a hiss, which started the Hawaiian legend about Kaikapu and Liko.
According to the legend, this coastline was once guarded by Kaikapu – a giant lizard (moo). Nobody could fish or swim in the area because it would eat them. One day, a young boy named Liko bravely entered the ocean to face it because everyone was afraid. The lizard attacked him but Liko stabbed a sharp stick into its mouth, swam under the lava shelf, and escaped through a small hole to the surface. The angry moo tried to follow the boy, but got stuck in the lava tube. To this day, you can hear its roar and see its breath squirting from the blowhole.
After 45 minutes of paddling, you will surf your kayaks up on the beach at Lawa'i Kai to see another jaw-dropping site called Queen Emma's Summer Home. Here, you will have a cup of coffee with delicious muffins. You can also take a stroll at the beach and enjoy the mood before paddling again, wherein you'll pass by fascinating white sand beaches, barrier reefs, and volcanic craters of Palama's Point. As you paddle, it's most likely that you will encounter endangered sea turtles or spinner dolphins that are both common in this spot. During the months of migration from November to April – chances are you can also catch a glimpse of humpback whales!
After paddling 7 miles or 11 kilometers, you are now ready to eat lunch and do some other activities. You will land at a protected bay called Wahi'awa. Here, you will have an opportunity to explore the crescent-shaped sandy beach, take a plunge, and even snorkel. Your guide, then, prepare a tasty picnic-style lunch, including mouth watering brownies and smoked turkey. Before your driver will take you back to the Poipu resort area, you will have another short paddle to complete this experience!
Tour Highlights
Kayak tour along Kauai's south shore with an expert guide

Opportunities to take snapshots of the Spouting Horn saltwater blowhole

See Queen Emma's Summer Home

7-mile paddle from Poipu to Port Allen

See unique and beautiful remote white sand beaches

Chance to see a variety of marine life, including turtles, dolphins and humpback whales
Tour Inclusions
Deluxe two-person kayak, open-cockpit rudder sea kayak

Dry bag/day pack

Life vest

Lunch, snacks, and beverages

Local taxes
Note: Roundtrip transportation from your hotel is not included in the package, as well as gratuities.
Lunch Menu
Turkey Watercress Wrap: Smoked Turkey, Watercress, Cream Cheese,    Sprouts, Cucumber, Tomato, Onion and Black Olives in a Tortilla OR Mediterranean Veggie Wrap: Hummus, Lettuce, Tomato, Kalamata Olives, Cucumber and Feta Cheese in a Tortilla
*Lunch comes with a pasta salad and Chocolate Chip Cookie, while cold drinks are available throughout the day.
Special Instructions
Check-in time and location:

7:00 am at Outfitters Kauai, 2827A Poipu Rd, Poipu, HI 96756. Returns to Poipu at around 3:00 pm.

Restrictions:

Participants must be at least 12 years old and are able to swim and be moderately fit. This is a moderately strenuous open ocean kayak tour.

Operations:

Tuesday and Thursday (This activity is offered only from November to May)

Duration:

8 hours