There are many reasons why Holo Holo's Na Pali Sunset Sail must be on top of your Kauai's bucket lists.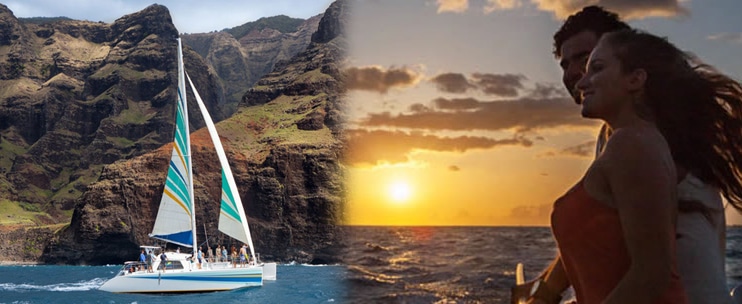 Apart from the fact that Na Pali coast is the oldest inhabited island in Hawaii, it is also almost inaccessible, which can only be viewed through hiking by land, a helicopter or by boat. Along the shoreline are 4,000-foot cliffs above the Pacific Ocean. Its magnificence is indeed worth the adventure.
Through Holo Holo's Leila Catamaran, you get to see all of these and more! This modern 50-foot vessel lets you sail safely and smoothly while enjoying stunning views like towering sea cliffs,  cascading waterfalls, secluded bays and marine life. Not to mention the sunset, giving vibrant colors from the skies, while you are having a sumptuous dinner with your significant others. While cruising, sip your favorite cocktail, including mai tai. And watch out! You might spot beautiful sea creatures along the way so always ready your camera. Above all, the crew ensures your safety and attends to all your needs all the time. So buy your tickets now and come aboard!
Holo Holo Na Pali Sunset Sail: What to Expect?
Just like other Holo Holo tours, this is a barefoot cruise, so you need to remove your footwear before boarding. We suggest bringing a waterproof cellphone case, waterproof rain jacket and motion sickness medications. If you want to add thrill to your escapade, bring a swimsuit because when you stay at the bow, you can get splashed as the boat slips quickly through the water. Also, remember to bring reef-safe sunscreen. Otherwise, the crew has a spare for you. 
As always, the crew and the Captain are welcoming, wearing a smile. They greet and welcome you aboard Leila, a coast guard certified with a capacity of 45. But to allow ample space for you to move freely, the boat only caters up to 37 guests. When everybody's settled, you will listen to a short briefing regarding safety, and then you're on your way. 
At this time, the server goes around for your first round of drinks and keeps pouring your cup until the end of the trip. As you sail along, always have your camera prepared because everything is worth capturing on this 4.5-hour journey. Take precautions though, since some guests have already dropped their precious phones on the water, which the crew willingly recovered. There's never a dull moment on board because the knowledgeable team shares stories and fun facts about marine mammals, caves, cliffs and the islands as you pass by them. 
Passing by the white sand beaches of the south side of Kauai towards the Na Pali coastline, you can vividly see the afternoon sunlight illuminating on the cliffs, which is so much brighter than the morning sunlight. Then the Captain positions the boat where you can see best spot marine creatures. If you get lucky, you get to see whales, dolphins, sea turtles and manta rays. And when the water is calm, usually in June, he can go all the way to Kalalau Valley (regarded as Kauai's cathedral), where you could see waterfalls and sometimes colorful rainbows. As the sunset begins, dinner is served in a buffet-style, so help yourself with the foods. Before heading back to Port Allen, together with the crew and the Captain, all of the guests celebrate the sunset with a champagne toast.
TOUR HIGHLIGHTS:
See the Na Pali Coast with 4,000-foot cliffs backdrop

Chance to see marine lives including humpback whales and sea turtles

Hot buffet dinner with refreshing island-style beverages

Watch the sunset illuminates hues of oranges and red to the clear Kauai waters

Sunset champagne toast
MENU:
Appetizer:

Meat, Cheese served with Cracker Platter, Homemade Roasted Red Pepper Hummus

 Dinner:

Fresh pineapple, Cold Japanese Noodle Salad, Locally-grown greens accompanied with Lemon-Herb Vinaigrette, Hapa Rice, Teriyaki Chicken, Kalua Pork and Cabbage, Tofu and Stir-fried Vegetables, Local Poi

Dessert:

Pineapple Cake topped with Haupia

Beverages:

Wine, Beer, Ginger Spritzer Mai Tai, Champagne, Water, Variety of Soft Drinks and Island Juices
Know Before Booking:
Check-in time:

No parking at harbor or pier, instead use the Holo Holo parking lot only.
Oct-Jan: Check in at 2:00 pm and return at 5:30 pm

Feb-March: Check in at 2:30 pm and return at 6:00 pm

Apr-Aug: Check in at 3:00 pm and return at 6:30 pm

Sept: Check in at 2:30pm and return at 6:00 pm
*Departs from Port Allen Harbor
Important Reminders: 
Not suitable for physically-challenged individuals and pregnant women.

Not recommended for persons who have a history of back problems, recent injuries or surgeries.

No children below five years old are allowed.

Individuals suffering from motion sickness should take some precautions.

All tour routes are subject to change due to weather changes. 

Smoking is prohibited in the dock and vessel.

Drones and unmanned aircraft are prohibited in this cruise.

This is a barefoot cruise, so you need to remove all footwear prior to boarding.

You are responsible for the cost if you may happen to flush something that clogs the toilets other than what your body produces and the tissue paper they provide.