Combine a visit to Pearl Harbor and the Arizona Memorial with a tour of Honolulu's city highlights.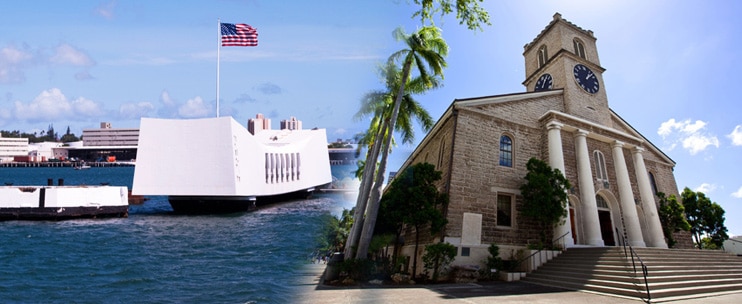 This is a great tour that takes you to some of Oahu's best attractions in one day! You'll travel in a comfortable motorcoach and will learn many interesting facts about an important part of world history from your state certified tour guide.
Upon your arrival at Pearl Harbor, you'll watch a 23-minute documentary showing footage of the attack on Pearl Harbor. A Navy shuttle boat will then take you out to the Arizona Memorial where visitors can pay their respects to the hundreds of American servicemen entombed in the battleship below.
After spending some time at the Pearl Harbor Visitors Center and the exhibit galleries featuring a variety of World War II memorabilia, you'll head to the rolling green hills of the Punchbowl National Cemetery. As somber as it is beautiful, this famous site stands in honor of the sacrifices and achievements of the American Armed Forces and commemorates the soldiers of 20th century wars, including those who were killed during the attack at Pearl Harbor.
Your day excursion ends with a tour through downtown Honolulu with more historical sights, including impressive Hawaii state buildings, Kawaiahao Church and Iolani Palace, the one and only royal palace in the United States. By the time you get back to your hotel, you'll feel part of Hawaiian and American history.
Tour Highlights
See Pearl Harbor and the Arizona Memorial
Watch the documentary at Pearl Harbor showing footage of the actual attack
Navy shuttle boat ride to the Arizona Memorial  (

Shuttle operations are subject to the schedule of the navy launch and may be subject to weather conditions or maintenance and repair schedules of the navy without notice.

)
Spend some time at the Pearl Harbor exhibit galleries
Visit the Punchbowl National Cemetery of the Pacific 

Honolulu City Hall
Kawaiahao Church – built between 1836 and 1842 of some 14,000 thousand-pound slabs of coral rock
Hawaii State Capitol grounds
Iolani Palace – only royal palace in the United States
Maui Divers Jewelry (optional stop)
Special Instructions
Where and When
Pick-up from major Waikiki hotels. Pick-up for Tour A starts at 6:00 am. Pick up for Tour B starts at 8:35 am.
Pick up from a Kahala Hotel area is an additional fee. If you need it and did not select it, please call 866-482-9775 to add Roundtrip Kahala Transportation.
Requirements
Shirt and shoes are required to board the Arizona Memorial.
Restrictions
While tickets to Pearl Harbor are pre-reserved for the tour, the National Park Service requires the group to stand in line where Park Rangers will distribute the pre-reserved tickets directly to the guests. Due to this change, guests will not have time to store any bags that are unapproved by the National Park Service No Bag Policy in the lockers outside the entrance to the park. If guests have a non-approved bag with them at their pick up location they will be denied boarding with NO refund. Please go over the following National Park Service No Bag Policy. Non-approved bags CANNOT be kept on the bus either.
National Park Service No Bag Policy: Visitors may not carry any concealing times. This includes purses, handbags, fannypacks, backpacks, diaper bags, etc. Small cameras are permitted but no camera bags. Allowable vital items may be placed in your pockets.
Strollers are not allowed in the movie theater, on Navy shuttle boat to the USS Arizona Memorial, or on the USS Arizona Memorial.
FULL BAG POLICY & SAFETY INFORMATION PAGE
Locations/routes and times may be modified or restricted due to national park and state park advisories.
Shuttle Operations to the Arizona Memorial are subject to the Memorial's run time, maintenance, repair schedules and to weather.
Special Notes
Infant pricing does not buy a seat. The child must sit on your lap at all times while en route. If you require a seat, please purchase a child ticket.
Wheelchair accessibility
Please book early to secure arrangements. A transfer vehicle equipped with a lift is available upon request with prior booking and notification of at least 48 hours, please indicate during booking.
Operation Days
Operates daily, except Thanksgiving, Remembrance Day (December 7), Christmas and New Year's Day.
Duration
Approximate Times:
Tour A : 6:00 am – 11:45 am
Tour B : 8:35 am – 2:30 pm
Capacity
Maximum 60