Who would have thought that you can splurge into the splendor of Hawaii and at the same time, golf at its finest? 
Offering stunning views of rain-eroded Waianae Mountains, Hawaii Prince Golf Club measures 270 acres with long, lush fairways. These are lined with ninety white sand bunkers and ten picturesque lakes that are strategically positioned and serve as protection to the manicured greens. It also boasts a practice facility with an expert golfer at your service, full-service clubhouse, and a fine dining restaurant.
Located at the sunny Ewa Beach, it is designed by Arnold Palmer and Ed Seay, and features 27 dramatic holes! It truly is challenging even for a pro. It's not because of the bunkers, lakes or ponds, but due to trade winds. It has three courses with interchangeable nines that test your skills, whether you are beginner or veteran. Well, the "A" loop is the easiest, but when you get to "C" nine, you may find six holes with water obstacles.
What to Expect?
About 35 minutes away from Waikiki, Hawaii Prince Golf Club is located on the far west side of the iconic Pearl Harbor. For complimentary shuttle pick-up from selected major hotels, we highly suggest calling them beforehand for reservations and other necessary information. When you reach the golf course, you'll be greeted with friendly and accommodating staff members. In case you didn't bring any equipment, they have everything for rental (including TaylorMade M6). Head to the clubhouse to purchase your basket and off you go. Also, ask them for a cart for free, which can be shared. During twilight, you can walk if you want to savor the beautiful surroundings and feel the gentle breeze of the wind.
If it's your first time, or haven't played for a long time, the practice facility, where you can warm-up before the real deal is available. To complete the experience, they also installed locker rooms and shower rooms. If you are a cardholder, you can play all three nines and have a sumptuous lunch in less than 7 hours at a very reasonable price.
Some guests find it more interesting to play the B-C combination because any level can enjoy it due to its design. The B nine is tree-lined, whereas the C nine is more open to the wind. But if you can work the ball in both directions, it helps you stay away from the water. When the weather becomes uncooperative, and trade winds kick-off, the 4th hole at B nine gives you an extended and tougher play. While the par 5, 8th hole is the number one handicap on the A nine, the 5th hole is a straightforward par 3. And when you go to the 7th hole, the water becomes the challenge. 
However, we think that A-C is the most challenging combination with its 134 slope rating from the back tees, while A-B is the easiest. And the toughest course? B is probably the most difficult overall. With a par-4 that usually plays with trade winds, water to the left, front and right of the tee. 
Because they understand every guest's needs, you can order lunch from their clubhouse. And they're superb! You can have it from the menu or be served in a buffet-style. If you wish for cocktails, you can order from the bar. As a part of your package, the shuttle service picks you up from the course and brings you to Waikiki. 
PACKAGE INCLUSIONS:
Shared Cart

Bottled Water

Range Balls

Shuttle service from selected locations: Hawaii Prince Hotel, Waikiki Beach Marriott, Sheraton Princess Kaiulani and Sheraton Waikiki.
*Available between 6:00 – 6:30 am and 10:00 – 10:30 am
COURSE DETAILS (HAWAII PRINCE GOLF CLUB):
Spike Policy: Soft Spike Only

GPS Tracking: No

Course Type: 27 holes (A, B, & C)

   

Rating: 73.8 – 74.8, 72.2 – 72.9 & 69.7 – 70.0

Greens: Paspalum

Fairways: Bermuda

Bunkers: 90 white sand bunkers

   

Water Holes: Yes

Practice Green: Yes

   

Driving Range: Yes

Yardage: 7117 – 7255, 6746 – 6801, 6175 – 6237, 5205 – 5300

   

Slope: 136 – 137, 129 – 130, 123 – 126, 117 – 120

Yardage Markers: Sprinkler heads

Club Rental: TaylorMade $50 (estimate)

Lessons: Yes

Pull Carts: No

   

Golf Carts: Yes

Caddies: No

   

Fivesomes Policy: Yes

Rider Fee: $22 (approx.)

   

Walking Allowed: During Twilight

Lockers: Available

Showers: Available

Club House: Available

   

Pro Shop: Available

Restaurant: Available

Bar: Available

Conference Facilities: Available

   

Banquet Facilities: Available

Lodging: Available
SCORE CARD (HAWAII PRINCE GOLF CLUB):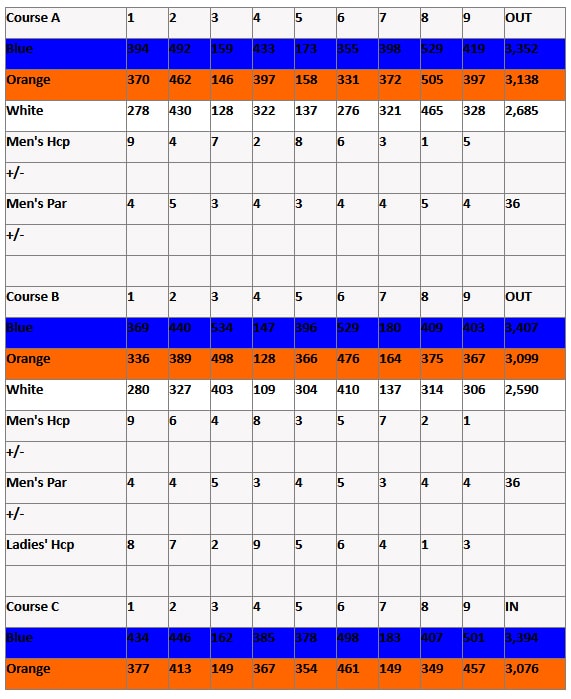 Know Before Booking:
Located at 91-1200 Fort Weaver Road, Ewa Beach, HI 96706

Dress Code: Proper Golf attire

Tee Time: Around 90 minutes after the pick-up time

First Shuttle (Pick-up at around 6:45 am): Choose tee times between 8:00 am – 8:44 am

Second Shuttle (Pick-up at around 10:15 am): Choose tee times between 11:30 am – 12:12 pm

Special Notes: Golf club rentals are excluded in your package. Call them beforehand to make arrangements if you need golf club rentals.

Opens daily