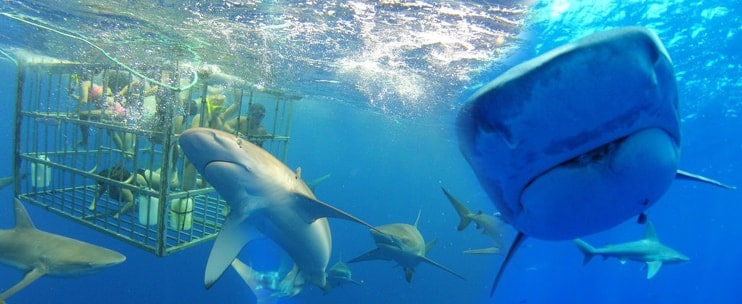 On this ultimate open ocean adventure, you'll get to see sharks from up close, not in a zoo, but in their natural territory. Not to worry though, this Oahu shark cage tour is completely safe. But it will still get your adrenaline flowing!
Oahu shark encounter tours depart from the island's North Shore. You'll head out into the open ocean, and about 3 miles offshore you'll have the opportunity to get into the shark cage. This is more than just an exciting adventure. It's an educational experience as well, something very few people ever get to do.
Shark species that you're most likely to see include Galapagos sharks, sandbar sharks, grey reef sharks and the occasional tiger shark. Best of all, no scuba diving experience is necessary. You'll enter the shark cage from the boat and stay on the surface using a snorkel and mask. The shark cage has large polyglass windows that let you observe she sharks from a safe vantage point.
Oahu Shark Encounters
[get_activities location = "oahu" category = "hawaii-shark-encounters"]
Maui Shark Encounters
[get_activities location = "maui" category = "hawaii-shark-encounters"]
Kauai Shark Encounters
[get_activities location = "kauai" category = "hawaii-shark-encounters"]
Big Island Shark Encounters
[get_activities location = "big-island" category = "hawaii-shark-encounters"]