See the afternoon beauty of Big Island with Paradise Helicopters' Sunset Experience! When was the last time you were swept away by awe-inspiring wonders of nature?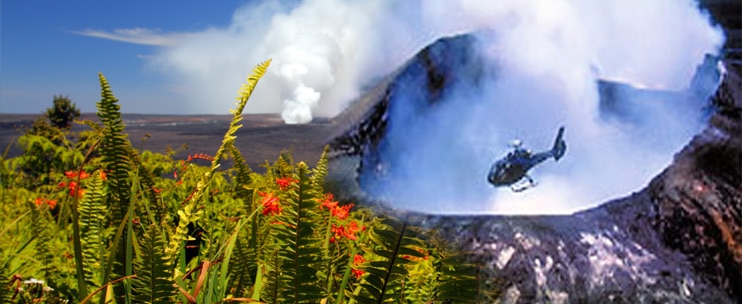 Book your tickets now and experience a once in a lifetime air tour, hovering above the island just when the sun descends below the horizon, creating hues of oranges and reds in the sky.
If you arranged for a pick-up from your hotel or resort, the time and location will be emailed. From there, you will begin your over 2 hours expedition at Kona Airport, where your world-class and comfortable helicopter awaits. Ensure to bring your camera because you don't want to miss capturing all the magical moments that will unfold right before your eyes!
The first sceneries that you will watch are the gorgeous beaches tucked below lava fields along Kohala and Kona coasts. You will observe big white sandy beaches. Did you know that Kohala was where Big Island began some 1 million years ago? It started from a hot spot on the seafloor, and when the Kohala volcano last erupted 120,000 years ago, it formed some of the most beautiful natural sceneries on the entire island. Anyhow, this aerial trip comes along with a knowledgeable crew with an Aloha spirit, who will tell you interesting and informative facts about these places, including their history.
Next, your pilot will take you to the far side of the Kohala Mountains. Here, you will discover a secluded and almost inaccessible series of valleys. And then, you'll fly over crest Mauna Loa – the world's largest volcano. Meaning "long mountains" in English, Mauna Loa has erupted at least 33 times since it's first documented historical eruption in 1843. As a result of this explosion 49,000 years ago, you can now enjoy one of only four green sand beaches in the world nearby!
As you pass over Pu'uhonua 'o Hōnaunau and Kealakekua Bay, you'll notice that the sun begins to set. If you haven't heard it yet, Kealakekua Bay is where Capt. James Cook first came through his ship in the 1700s. The next moments will be the highlight of your tour so prepare your camera. The sky will turn shades of bright yellow, deep orange, fiery red, and sometimes brilliant purple if you get lucky! If you were wowed by its pictures before, we think the real one will make your jaws drop. This is the reason why even locals, who have been witnessing it many times, will pause what they're doing and look up at the skies most evenings.
If you even get luckier, chances are – you'll see a green flash on the horizon as the sun sinks below. Remember to turn around because the last rays of the sunlight will illuminate the clouds behind you. Before the surroundings turn to dark, the colors will slowly fade, creating delicate pastel hues, as if masterfully painted by an artist. As you head back to Kona, you know you didn't regret spending on these priceless memories over expensive material things that will wear away someday.
TOUR HIGHLIGHTS:
American-made premier and safe helicopter with executive seating manned by an experienced pilot

Two-way communication, allowing you to speak directly with your pilot

Fully-narrated helicopter tour by knowledgeable crew

Kona and Kohala coasts sightseeing

Seeing Kohala mountains and valleys

Several towering waterfalls

Opportunity to see and capture the beauty of Mauna Loa, the world's largest volcano

The glow of Halema'uma'u Crater and lava (sightings are not guaranteed and entirely dependent on conditions)

Black and green sand beaches

Kealakekua Bay

Sunset view and if conditions are right, the "green flash"